Members of Eagles of Death Metal, the band that was playing at the Bataclan concert hall when the deadly Paris Attacks occurred, attended a town hall memorial in the city Saturday to remember the 130 people killed in coordinated terrorist attacks across Paris one year ago.
Related: Full Coverage of the Paris Terror Attacks
Dozens were killed and hundreds were injured at the Bataclan after jihadists opened fire during the band's set on Nov. 13, 2015, taking fans of the band and venue workers hostage in the hall.
"I wouldn't imagine anyone not wanting to be here. This city is a shining example of really the best possible way to react to something that's awful and evil," said Jesse Hughes, Eagles of Death Metal's controversial frontman. "This is the leadership core of what to do, and I'm very proud that I get to count so many people amongst my family and friends now."
On Saturday, Sting, the British pop legend and former frontman of the Police, played the first show at the Bataclan since the tragedy. Hughes was not admitted entrance to the concert, according to the Agence France-Presse (AFP).
The AFP reported that the venue's co-director would not allow Hughes to enter after he told Fox Business Channel that he thought Muslim security personnel at the venue collaborated with attackers.
Hughes later apologized and retracted his statement.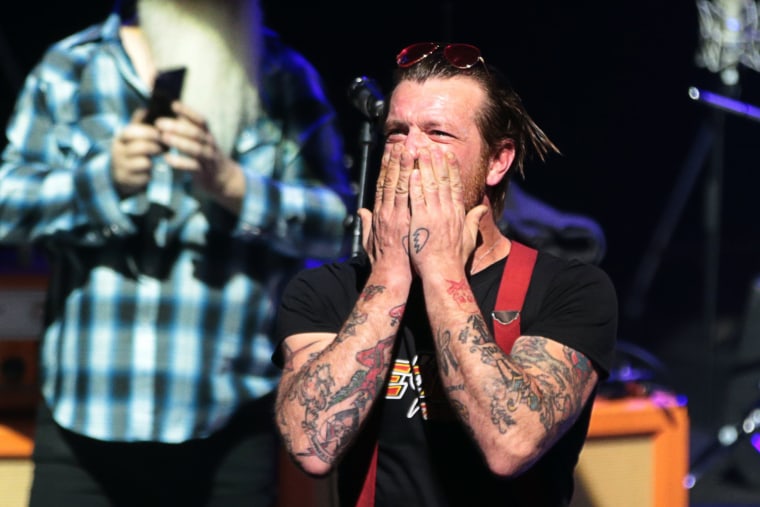 The band's manager, Marc Pollack, refuted the claim that Hughes was not admitted to the concert in an interview with Billboard, describing the co-director's description of the situation as false.
Hughes, at the town hall, offered his gratitude to the people of France.
"And from the second that the first bullets started flying, this country took care of us. And we are grateful forever, and I just hope everyone here knows how much we love this country and every person in it," he said.
Sting's performance at the newly restored Bataclan included a moment of silence and statement in French, saying he hoped "to remember and honor those who lost their lives in the attacks a year ago and to celebrate the life and the music of this historic venue."