Tuesday's explosions at Brussels airport and on the subway network will turn the spotlight on the Belgian capital's Molenbeek suburb — which has long been a hotbed of Islamist extremism. Paris attacks suspect Salah Abdeslam was also nabbed there on Friday. In November, NBC News took a look at the neighborhood.
As France bombs ISIS targets in Syria following the horrific attacks in Paris, experts warned the roots of the onslaught were much closer to home: young people turning to radical Islam because they don't feel they belong in Europe.
At least half of the extremists who killed nearly 130 people on Friday are thought to have been raised in France and neighboring Belgium.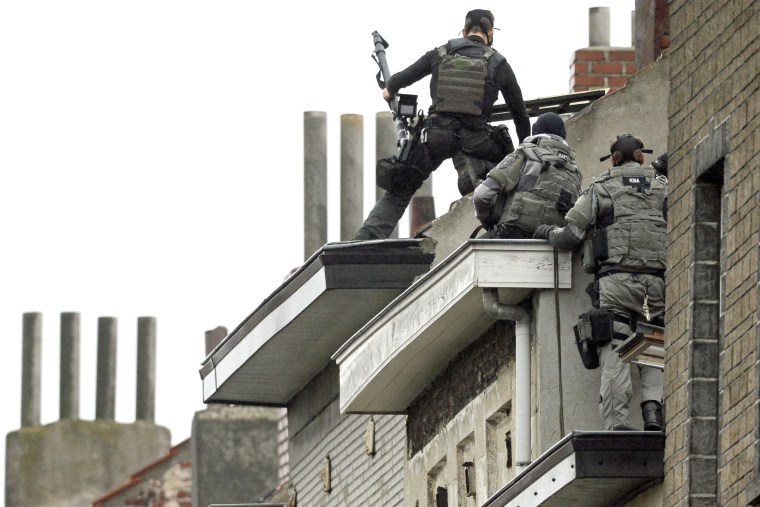 "We are breeding a generation of kids who are estranged from their own societies," U.K.-based expert on radicalization Bill Durodie said.
Security forces have zeroed in on a poor Molenbeek suburb of Brussels, where several people were detained in a series of raids since the ISIS-linked attacks. Tiny Belgium — with a population of just 11 million — has the highest number per capita of militants fighting in Syria and Iraq, experts say. Many are from Molenbeek, which has a long history of links to extremism.
According to Claude Moniquet, a former Belgian intelligence agent and co-founder of the European Strategic Intelligence and Security Center, poverty and segregation are feeding extremism in the area.
He said some parts of Molenbeek are 80 to 90 percent Muslim, "so there is no mixing, no interaction with other communities."
"You begin to hate the society you were brought up in"
On top of this, officials have not taken on the extremist ideology head-on, Moniquet said.
"They completely let the bad guys do absolutely what they wanted," he said. "They have been too nice, too tolerant, too bland. They didn't want to see radical Islamism in this part of the country because the only thing interesting for them is peace [and quiet] and to be reelected."
Belgian Abdelhamid Abaaoud, the suspected lynchpin behind the Paris attacks, lived in the district but is now believed to be in Syria. He is also said to be linked to thwarted attacks targeting a Paris-bound high-speed train and a church near the French capital earlier this year.
Reuters reported that Brahim Abdeslam, one of the suicide bombers who blew himself up outside a Paris café, owned a bar in Molenbeek.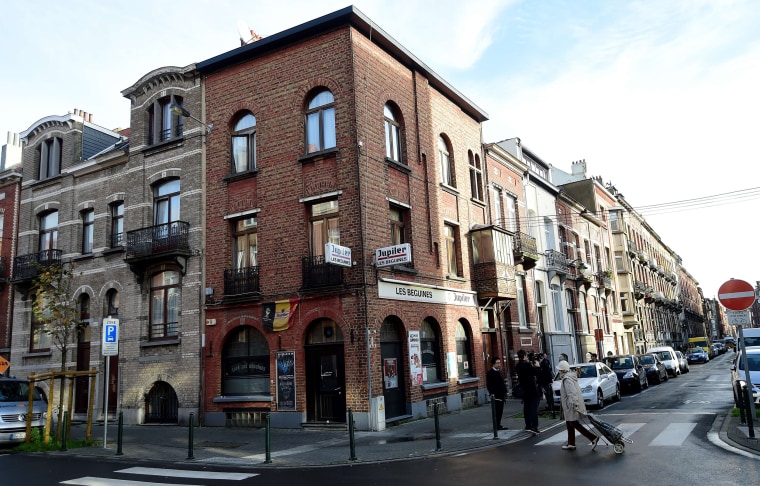 His younger brother Salah, whose name was on rental documents for a car found outside the Bataclan concert hall where most of the Paris victims were killed, was one of the most wanted men in Europe after escaping to Belgium and eluding a dragnet in Molenbeek, where he lived with his two brothers. He was captured last week.
Two men who allegedly drove him back there hours after the assaults were charged with participating in a terrorist activity on Tuesday, Belgian officials said.
Molenbeek Mayor Francoise Schepmans acknowledged that a small number of the neighborhood's Muslims had been radicalized but denied it was a big problem, according to The Associated Press.
Long a way-station for immigrants to Belgium, Molenbeek has been linked to other terror attacks and attempted attacks. Moroccan-born Ayoub El-Khazzani, who opened fire on a high-speed Paris-bound train on August 21, lived there. So did another French Muslim, Mehdi Nemmouche — who is believed to have fought in Syria — is facing trial for the deaths of four people shot at a Jewish museum in Brussels, Belgium, in May, 2014.
"The global picture is of the community left alone with no one from the state or authorities really wanting to know what's happening inside, letting people organize themselves — for good things and bad things," Moniquet added.
Molenbeek provides a grim lesson of what is happening in other parts of Europe, according to Adam Deen, a former British radical who is now part of U.K. anti-extremist organization the Quilliam Foundation. Muslims are increasingly being offered a very narrow interpretation of Islam — Wahhabism, the strict sect aggressively promoted by Saudi Arabia throughout the world, he said.
"What this does is create a sense of alienation from the place you were born and brought up. You begin to hate the society you were brought up in," said Deen, who says he still practices Islam but has abandoned extremism. "Now what happens is that any Muslim who wants to be active within the Muslim community, the default position is Wahhabism or a varied form of it."
He added: "Wahhabism creates a binary outlook on the world. That kind of indoctrination [which preaches that] all non-Muslims are non-human make it is quite easy to put a bomb in a public place."
With no "counter-narrative," a small number of adherents find themselves at ISIS' door, Deen added. Indeed, there were believed to be around 1,200 French ISIS recruits in Syria and Iraq in by the end of 2014, according to a January study by the International Center for the Study of Radicalization and Political Violence. Belgium sent some 440, the report said — the highest per capita of any European nation. Germany and the U.K. both sent more than 500.
And many European countries, including Belgium and France, are ill-equipped or unwilling to deal with the threat, according to Deen and Durodie.
While the vast majority of Muslims in France, for example, are integrated and see themselves as fully French, the minority who see their nationality as antithetical to their religion are not being offered a proper alternative, Durodie said.
"They are caught between no cultures," he said. "The West is not very good about promoting its own culture" and as a result some young people looking for an identity or somewhere to belong fall into extremism.