PARIS — French authorities were scrambling Tuesday to find possible eighth and ninth suspects involved in the deadly terror plot in Paris — as new surveillance footage revealed two gunmen firing into a bar at one of the targeted attack sites.
Officials had not previously specified how many people were involved in the slaughter at a sidewalk bar on Rue de la Fontaine, one of six locations targeted in the assaults. Five people were killed and eight were seriously wounded; witnesses report that the shooters were in a black vehicle.
Surveillance video of the shooting obtained by The Associated Press shows a team of three attackers: two black-clad gunmen calmly firing on the bar, then returning slowly toward a waiting car, whose driver was maneuvering behind them.
Related: Salah Abdeslam's Alleged Getaway Drivers Charged
Three French officials, who spoke on condition of anonymity because they were not authorized to comment on the investigation, confirmed to the AP that an analysis of the series of attacks on Friday indicated that one additional person directly involved in the assault remains unaccounted for.
That's in addition to another known accomplice — Salah Abdeslam, 26, who remains the subject of a global dragnet.
Authorities told the AP that the second fugitive had not been identified.
Seven attackers died Friday night — three around the national stadium, three inside the Bataclan concert hall, and one at a restaurant nearby.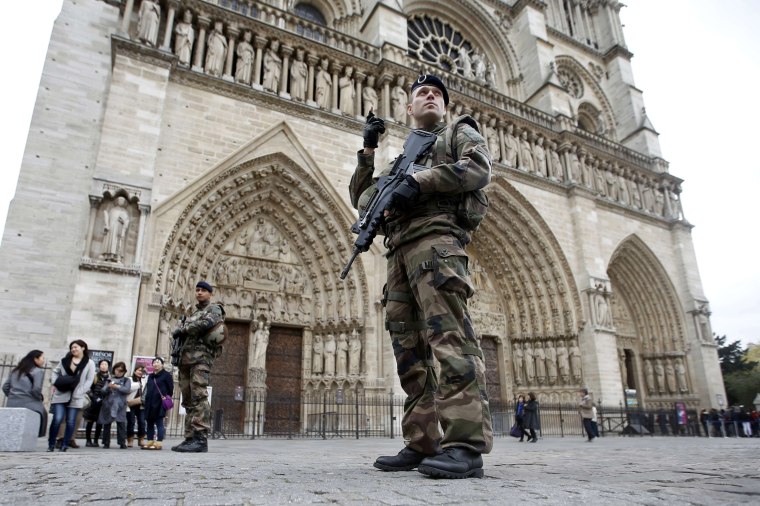 The disclosure of a second fugitive came as France launched new airstrikes against ISIS, which has claimed responsibility for Friday's coordinated carnage.
Meanwhile, Vladimir Putin ordered a Russian military cruiser to work with France on fighting ISIS in Syria and U.S. Secretary of State John Kerry hinted at a possible Syrian cease-fire so the world could focus on crushing the terrorist extremists.
French and Belgian police were already looking for key suspect Abdeslam, whose suicide-bomber brother, Brahim, died in the attacks Friday night that killed at least 129 people and left over 350 wounded in Paris.
French police appealed Tuesday for help identifying one of the suicide bombers — a man whose face appeared on a Syrian passport bearing another name.
Related: Video Purportedly Shows Attack Accomplice's Hotel Room
The appeal for information and accompanying photo circulated described the individual as the "dead mastermind" of one of Friday's attacks on Paris's Stade de France.
The man's face matched one Greek officials previously said appeared on a Syrian passport bearing the name Ahmad Almohammad which was presented for registration on the Greek island of Leros. French justice minister Christiane Taubira told NBC News the passport used in Greece bearing the name Almohammad was likely not genuine — and the appeal for information appeared to confirm that.
As police teams race to locate the two fugitives believed to have helped the attackers, two men have been charged as accomplices.
Hamza Attou and Mohammed Amri are accused of picking up Salah Abdeslam from Paris and taking him back into Belgium early Saturday, Belgian prosecutor spokesman Eric Van Sypt told NBC News.
Attou and Amri were among seven people detained following a major sweep in the Brussels neighborhood of Molenbeek on Saturday.
German authorities also confirmed Tuesday that three people were arrested near the city of Aachen in connection with the ongoing investigation, but Abdeslam was not among them.
A top French official told NBC News on Monday that police had stopped Abdeslam near the Belgian border hours after the attacks, but released him because they had not yet received an international warrant for his arrest.
Another of Abdeslam's brothers, Mohammad, was briefly detained in Belgium, but was released and pleaded for him to turn himself in.
France's prime minister conceded Tuesday that authorities still don't know how wide-reaching the plot is in the attacks and how many people are involved.
Four of the attackers were "known to U.S. intelligence, but not to the Europeans," Sen. James Risch, a Republican from Idaho and member of the Senate Select Committee on Intelligence, said on CNN on Tuesday.
But a U.S. intelligence official said the statement is misleading. While their names were in the master database of all terrorism suspects, nothing about them stood out, the official said, and there was no indication they were a threat.