Their end goals are the same — defeat ISIS.
President Barack Obama and French counterpart François Hollande will meet on Tuesday to discuss the means.
As his nation reels from attacks that left 130 dead just under two weeks ago, Hollande has been on a mission to boost the coalition that's aiming to defeat ISIS in Syria and Iraq.
"The most interesting dimension of this will be whether Hollande can coax more action and commitment of resources out of Obama than he has been willing to make thus far," said David Rothkopf, a former Clinton administration official and editor of Foreign Policy Group, a collection of foreign policy publications. "Hollande has public sentiment on his side at the moment, so this may be his point of maximum leverage on this front."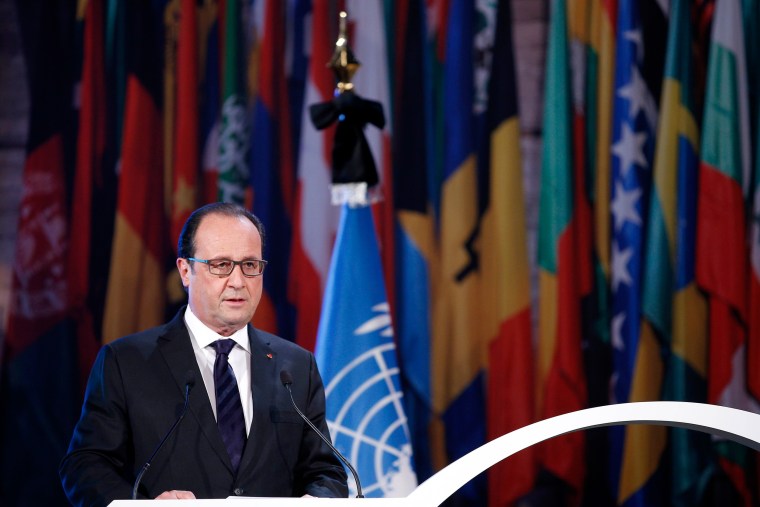 Hollande met with British Prime Minister David Cameron on Monday and will meet with German Chancellor Angela Merkel on Wednesday.
On Thursday, Hollande will meet with Russian Prime Minister Vladimir Putin in Moscow.
The U.S. and Russia have been at odds over Moscow's support of Syrian President Bashar Assad's regime. The White House asserts that Assad's brutal response to anti-government protests plunged the country into civil war — a protracted bloodshed which has destabilized the region.
Russia counters that Assad's leadership is key to regional stability and Moscow's airstrikes were aimed at crippling ISIS fighters, not anti-Assad rebels.
"The question at this point is whether [Russia] can make the strategic adjustment that allows them to be effective partners with us," Obama told reporters during a press conference in Malaysia on Sunday. "And we don't know that yet."
Into this fray, or rather, delicately around it, wades Hollande.
"Hollande needs to try to create a reasonably coherent coalition to fight ISIS, and even though the U.S. and Russia are stuck on the Assad issue," said Nina Khrushcheva, dean of the New School's Milano School of International Affairs. "I imagine Hollande hopes to convince the two to partner with France even if they can't partner with each other."
Hollande's meeting with Merkel may also prove beneficial in that the German chancellor could potentially influence Putin's position on Assad, Khrushcheva said.
Cameron announced on Monday that he will ask the British parliament for approval to begin bombing ISIS targets in Syria. Last week, in an operation that was in coordination with U.S. forces, French fighter jets launched a series of airstrikes on ISIS targets in Syria — efforts that came just two days after the terrorist group claimed responsibility for coordinated attacks in Paris.
Still, Hollande may not get the kind of support he's seeking, foreign policy experts said.
"While the outward appearances will be of two allies aligned in the fight against [ISIS], behind the scenes France will actually be the more aggressive and the more committed to bringing the fight to the terrorists," Rothkopf said. "The recent attacks in Paris has only heightened their resolve, but they have been more forward-leaning on these issues throughout the Obama administration."