The fate of the suspected lynchpin behind the Paris massacre was still unclear Thursday as police staged six new raids and made another arrest linked to last week's atrocity.
Forensic scientists were working to confirm if two or three people were killed during a firefight and explosions in Wednesday's raid on an apartment in the suburb of Saint-Denis.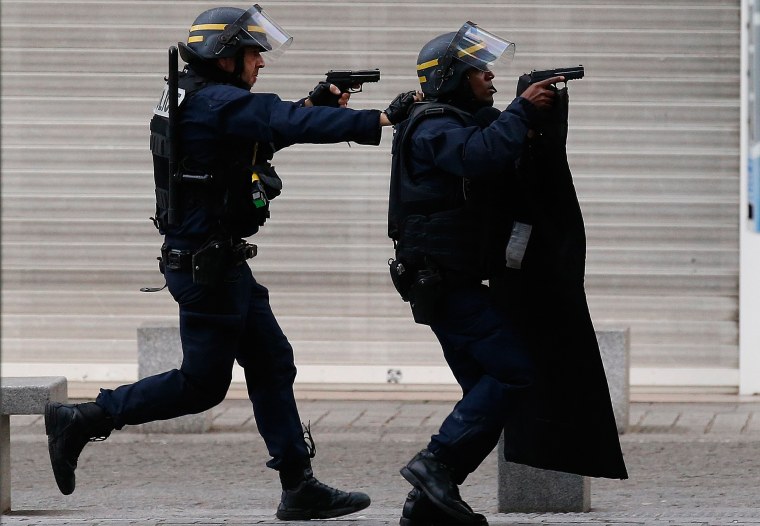 At least two suspected terrorists — a woman who blew herself up with a suicide belt, and another man — were killed, and eight others arrested.
A source close to the investigation told The Associated Pres that the dead woman might have been the cousin of Belgian jihadist Abdelhamid Abaaoud, while the Washington Post quoted senior intelligence officials as saying Abaaoud himself died in the shootout. NBC News could not verify either report.
Paris prosecutor Francois Molins could only confirm that neither Abaaoud — who is accused of playing a key planning role in last Friday's Paris assault — nor suspected accomplice Salah Abdeslam were among those arrested.
Authorities launched six raids in Brussels early Thursday, including in the impoverished Molenbeek neighborhood where Abaaoud grew up, a spokesman for Belgium's federal prosecutor told NBC News.
Related: Why Is This Suburb Home to So Many Extremists?
The raided homes belonged to family and friends of Bilal Hadfi. The 20-year-old was one of three suicide bombers who attacked the Stade de France during a soccer game between France and Germany. One person was arrested, the spokesman said, adding that the operation was "ongoing."
Meanwhile, the head of the coordinating organization of EU countries' police forces told lawmakers that Europe is likely to face further ISIS attacks.
"It is reasonable to assume ... that further attacks are likely," Europol director Rob Wainwright told a hearing at the European Parliament in Brussels.
Related: Who Was Killed in Paris Attacks — and Who's Still on the Run
He compared Friday's events in Paris to those in Mumbai in 2008, when militants killed 166 people at different locations across the Indian city. "The reality of what happened in Mumbai then has now arrived in Europe," Wainwright said.
An extension to emergency anti-terrorism powers is being considered by French lawmakers.
Prime Minister Manuel Valls also warned that France could face the risk of chemical or biological attack by terrorists.
"We must not rule anything out," he said in a speech to the French parliament. "The macabre imagination of the masterminds is limitless."