PARIS, France — The Bataclan concert hall where terrorists massacred 89 people — including two workers — is to reopen next year, local media reported Wednesday.
The Paris venue, where California band Eagles of Death Metal was playing at the time of the attack, will be internally rebuilt, managers told Le Figaro newspaper.
The announcement came as another of the Nov. 13 attack sites, the Café Bonne Biere, prepared to reopen on Friday.
In total, 130 people died in the deadliest attacks on French soil in more than a half-century, plunging France into a state of emergency.
In their first interview since the attacks, Jules Frutos and Olivier Poubelle, who together own 30 percent of the Bataclan, told Le Figaro they hope to reopen the venue at the end of 2016.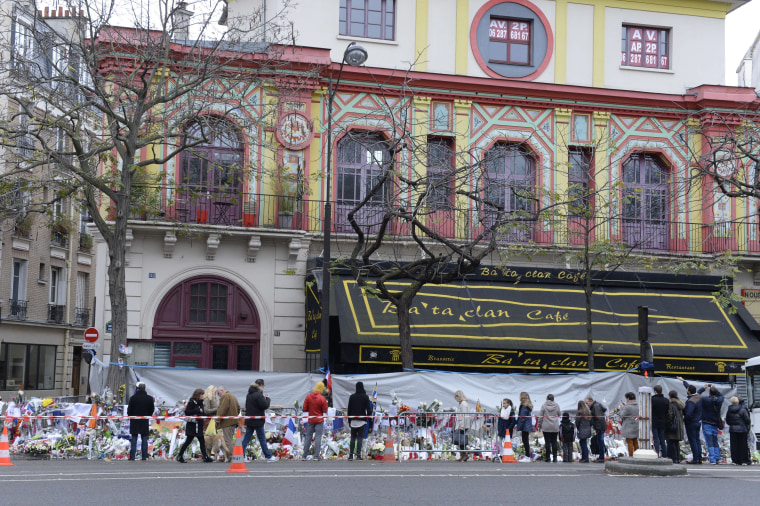 "The Bataclan should not be a mausoleum or a place of pilgrimage ... it's necessary to see the doors open again," Frutos said.
"The teams want reconstruction, the artists, too. It will be a cross to bear," he added.
Poubelle noted: "No carnage of this magnitude has occurred in another music hall in the world."
He also expressed his frustration at the emergence of the term "Generation Bataclan" to describe the victims, saying he did not think the term was appropriate.
"The only thing to say is that joy of living was murdered," he said. "I have worked for 20 years in this district, which is one of the most mixed in France and also one of the most open."
Poubelle added: "Here we fight to live together … but the terrorists have chosen this area, not for these reasons, but to kill as many people as possible. Beware of simplistic analyses."
Meanwhile, Café Bonne Biere, where 5 people died, will reopen on Friday according to a message posted on Facebook signed by "the team."
"It is time for us to gather together in unity, move forward and not forget," the statement said.