PARIS — More than a dozen victims of the Paris terror attacks have yet to be formally identified, France's prime minister said Sunday after meeting with grieving relatives.
Prime Minister Manual Valls said that as of Sunday morning, authorities had identified 103 of 129 killed in the spate of terror attacks which has plunged France into deep mourning.
He described families he'd met with at a counseling center as "inconsolable."
Related: Race Is on to Find Paris Terror Accomplices, ID Attackers
"Families here are devastated, torn apart by pain," Valls told reporters after meeting the relatives seeking support at the Ecole Militaire. "Others know that their child has been killed but have no news at this stage because the body has not yet been identified... They will be in the next few hours, but this wait is unbearable."
Five people were seen walking in, arms around each other and faces drawn. One clutched a bouquet of white roses. They did not stop to talk to a crowd of reporters but headed straight in the gates where about a dozen or more soldiers were waiting to receive them.
Valls said psychologists and Red Cross workers were on hand at the historic Ecole Militaire site in Paris's 7th arrondissement, describing an immense mobilization of support services for those affected by the tragedy.
PHOTOS: Under Siege: Paris Rocked by Terror Attacks
"They are not anonymous victims, they have faces, names," Valls said. "We are here to show them our compassion and solidarity but above all we are here to help and support them."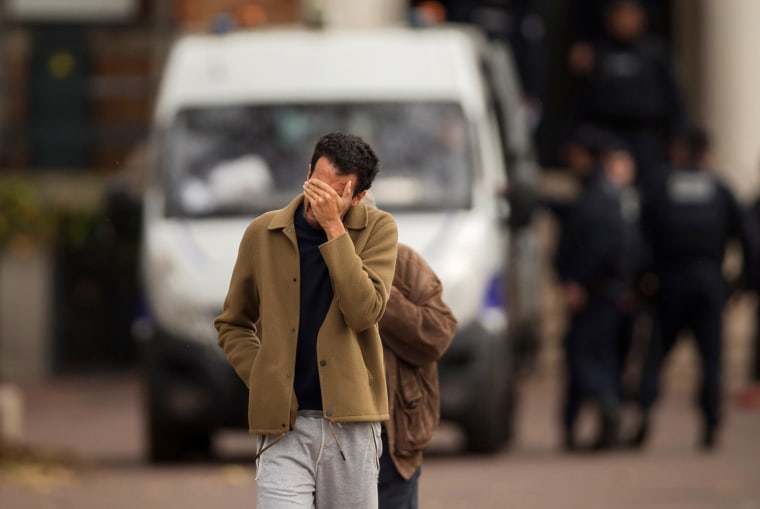 Shortly after he spoke, a man dressed all in black came out of the facility alone with his hand over his face in an attempt to stifle sobs.
TIMELINE: How the Horror Unfolded in Paris
He was one of several crying people to emerge from the Ecole Militaire on Sunday afternoon. Two women clung to each other for support as they wiped away tears and walked away from the tall gates.
Another woman sobbed uncontrollably as she exited, sobbing on the shoulders of a man accompanying her. He kissed her forehead, rubbing her back as she wept before a car pulled up to take them away.