As each new detail emerged about the ISIS terrorists who killed more than 160 people in Paris and Brussels last fall, Catherine Vannier grew increasingly stunned.
This is the same group of people who murdered our daughter, the resident of suburban Paris thought. How could they still be free to do this?
Cécile Vannier, 17, died instantly in February 2009, when an al Qaeda terror cell set off a bomb in Cairo near her group of visiting French students; 24 others were injured.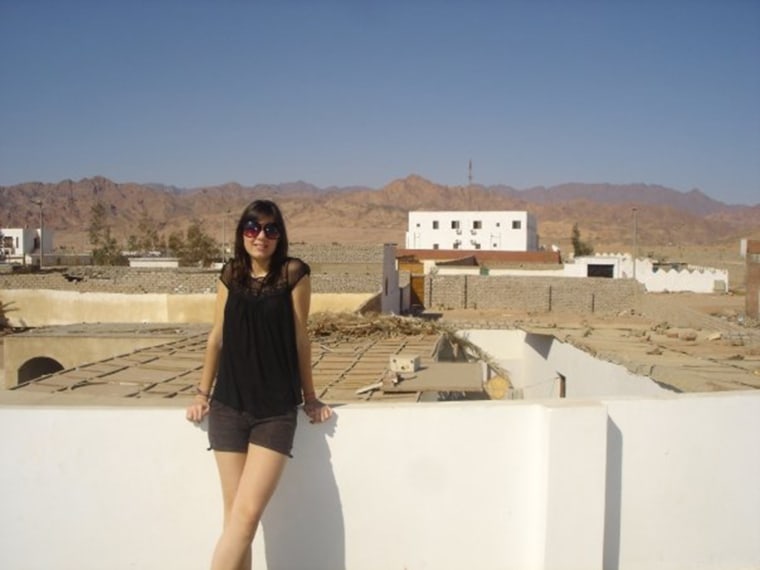 Two of the suspects were soon the targets of a joint French and Belgian investigation. One of them, investigators determined, had threatened to attack the same Bataclan concert hall where 89 people were killed last November during a performance by an American band. That suspect also was closely linked to some of the extremists who later became infamous for their involvement in that terror attack.
For years, Catherine Vannier and other mothers had pressed authorities to make the case of her daughter's death in Cairo a priority. But despite wiretaps, surveillance, American intelligence help and the fruits of interrogations, the suspects were set free.
Now, that same Cairo case is part of the investigation into the Paris and Brussels terror plots. A French parliamentary report examining intelligence failures, expected to be released Tuesday, will explore some of the missed opportunities in the Cairo case, among a litany of other shortcomings, French government sources tell NBC News.
NBC News has obtained exclusive access to a trove of thousands of internal French and Belgian documents that constitute the Paris case file, including many pages describing connections to the 2009 Egypt bomb plot.
They show that, despite significant evidence, a joint French and Belgian task force appears to have spun its wheels from 2009 to 2012 in a plodding and ultimately feckless attempt to penetrate what they believed to be a terror cell in France and Belgium.
The Cairo group had extensive links to key figures in the later attacks on Paris and Brussels, the documents show. In fact, terrorism experts say, these were all members of the same sprawling network, a group of European jihadists who gravitated from al Qaeda to ISIS as the latter group grew in prominence.
The Paris files also underscore the differences between the European and American approach to domestic terrorism investigations. In the U.S., the FBI likely would have sent an undercover informant to try to record the Cairo suspects saying something incriminating. The French and Belgian authorities don't tend to pursue terrorism cases that way.
Nor are the French and Belgians able to threaten long prison terms for the crimes of conspiracy or providing material support to terrorism — tools U.S. authorities use to compel cooperation. It is not uncommon for those convicted in European terror cases to receive a three-year prison sentence for a crime that in the U.S. would bring 25 to life. Facing long prison sentences, U.S. terror suspects often inform on their co-conspirators.
The documents reviewed by NBC News include transcripts of interrogations and wiretaps; requests for intelligence help from the United States gathering phone and email records; and records of home searches and physical surveillance.
Those under investigation were associates of some of the people later implicated in the Paris and Brussels attacks, many of whom were known extremists. But the task force investigating these extremists had been disbanded in 2012, much to the frustration of the victims' families.
"If they had done their jobs properly, if they had arrested these people, I truly believe that the November 13 attack would have not taken place," Catherine Vannier told NBC News.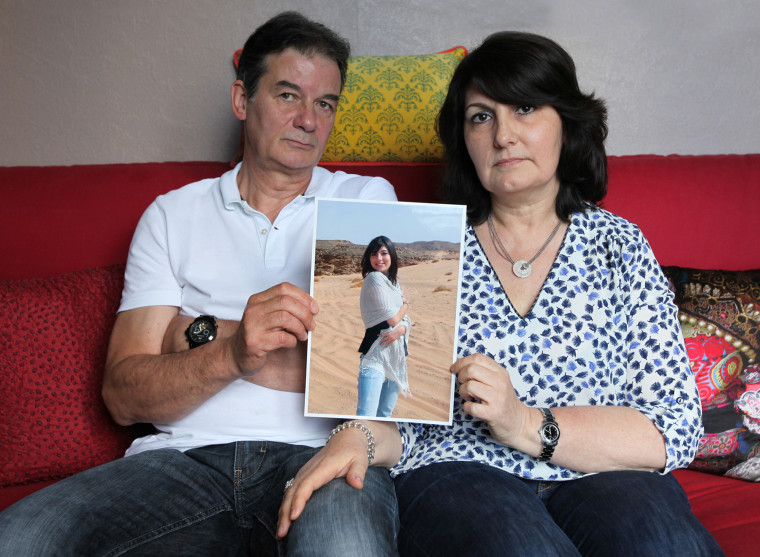 French prosecutors declined NBC News requests for an interview.
In the months since last November it's become increasingly obvious that significant intelligence failures paved the way for the attacks that killed 130 people in Paris last November, and another 32 in Brussels in March. In fact, many of those involved were known to European authorities for years.
But the tens of thousands of pages of documents reviewed by NBC News paint a fuller picture of some of the failures.
"This network has been operating for more than 15 years," said Ali Soufan, a former senior FBI counter-terrorism expert. "The Europeans need to get serious about the issue of terrorism."
One key figure in the prosecutors' sights, Farouk Ben Abbes, was arrested and jailed in Egypt shortly after the Cairo attack. A Belgian of Tunisian descent, he told his father in an email obtained by authorities that he went to Egypt to engage in "armed Jihad," and that the West doesn't understand "any language except that of the sword, of iron, of the Kalashnikov, of bombs."
"The Europeans need to get serious about the issue of terrorism."
He allegedly threatened to attack the Bataclan theater in Paris, according to the documents. The Egyptian authorities seized from him a key drive containing bomb-making recipes and an encryption program called "Mujahadeen Secrets," the documents say. He claimed the drive was planted "to make me look like a terrorist," according to a transcript of one of his 2011 interrogation sessions.
According to the French and Belgian documents reviewed by NBC, Ben Abbes traveled to the Gaza Strip in January of 2008 to join an al Qaeda-linked Jihadist group that also had links to Palestinian terrorists. French intelligence reports said Palestinians trained the cell in bomb-making and logistics.
Ben Abbes expressed a desire to blow himself up in a suicide attack, French intelligence reports culled from those documents show, but an al-Qaeda leader said he was more valuable for his contacts in Europe.
Deported from Egypt to Brussels in 2010, he was never convicted before the task force was disbanded. Shortly after the November Paris attacks, he was placed under house arrest in Toulouse, France. Arrested earlier this year on charges of violating his house arrest, he is once again free in Toulouse, and he has denied any wrongdoing. Ben Abbes told French authorities he was tortured in Egypt; that and a lack of cooperation from Egyptian authorities complicated the case, a former French prosecutor told NBC News.
A second suspect, a French woman of Albanian origin named Dude Hoxha, was believed to have played a logistical role in supporting the Cairo attack, according to the documents. She, too, had been arrested and jailed in Egypt, and was deported to France in 2010. She denies wrongdoing and is free in France, but technically still under investigation in connection with the Cairo case.
The French and Brussels files do not contain proof establishing the involvement of Ben Abbes and Hoxha in the Cairo bombing. But critics see shortcomings in how the case was handled.
"We still don't understand that why Farouk Ben Abbes wasn't prosecuted," said Sabrina Scolari, a lawyer for the Cairo victims, tells NBC News.
Whether a more vigorous investigation into the Cairo plot could prevented future attacks is a matter of speculation. But Catherine Vannier and others believe ben Abbes and Hoxha should have been put under more pressure to tell what they knew about their extremist connections.
The documents reviewed by NBC News outline the web of connections tying the Cairo figures to the suspects in the attacks in France and Belgium:
Ben Abbes was a close associate of Fabien Clain. The pair were together in Cairo, though Clain was not named as a suspect in the bomb attack. In 2009, Clain was found guilty in France of helping send jihadists to fight in Iraq. He got five years in prison, served three, and left France to join ISIS in Syria, officials say. His was the voice on an audio recording taking credit on behalf of the terror group for the Paris slaughter.
Though a wanted terrorist, Clain was able to slip into France and buy the audio equipment he used to record his message. He used his own name and address.
Ben Abbes also was friends with Hakim Benladghem, who stockpiled assault weapons in his apartment before he was shot to death by Belgian police in 2013.
Hoxha was also a friend of Fabien Clain.
Hoxha was in a romantic relationship with Mohamed Dahmani, a religious fundamentalist who was also suspected in the Cairo attacks. Mohamed Dahmani is the older brother of Ahmed Dahmani, who was seen in August 2015 in the port of Patras in Greece accompanied by Salah Abdeslam, who is suspected in both the Paris and Brussels attacks.
Hoxha's current husband, Youssef El Morabit, was sentenced in 2011 to three years in prison for helping a network that was recruiting French and Belgian Jihadis. The network was run by Malika El Aroud, a Belgian woman long known for her al Qaeda sympathies, also an associate of Hoxha. She is the widow of Abdessater Dahmane, who blew himself up on Sept. 9, 2001, while assassinating Ahmed Shah Massoud, the leader of the anti-Taliban Northern Alliance in Afghanistan.
Ahmed Dahmani has also been linked by French intelligence with Mohamed Abrini, a Belgian-Moroccan accused in both the Paris and Brussels attacks. He was the "man in the hat" at the Brussels airport, authorities say, and he helped plan and set up the Paris carnage. Dahmani and Abrini were seen on the night of the Paris attacks in a café in the Brussels neighborhood of Molenbeek. Abrini had just returned from Paris.
Ahmed Dahmani was spotted in August 2015 on Greek security cameras escorting Salah Abdeslam, who later played a role in the Paris attacks, through the border.
Hoxha also was an associate of Chakir El Khattabi, a Belgian who had also traveled to Egypt. In el Khattabi's phone records appears the name of Najim Laachraoui, one of the suicide bombers at the Brussels airport, the documents show.
"It seems to be a very big network of French terrorists who are all connected and who all know each other," Scolari said. "And it seems like it started in Egypt in 2009."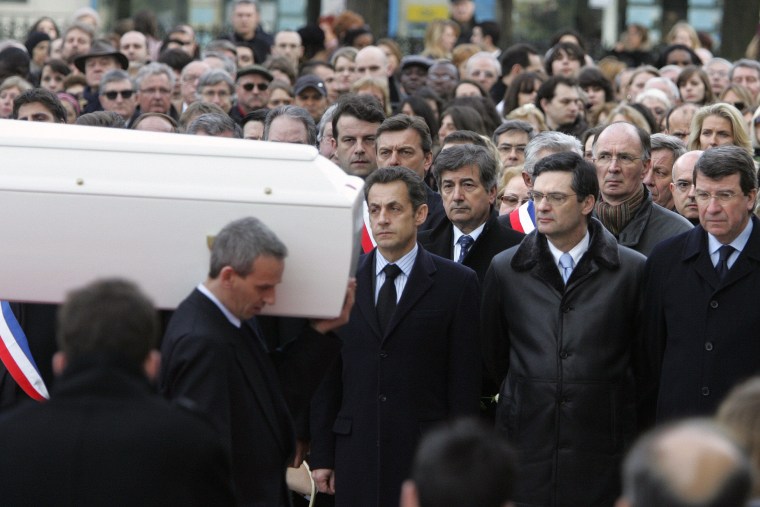 Catherine Vannier has believed that for some time. She and other relatives of some of the French teenagers injured in the Cairo bombing have long been pressing the authorities to make charges stick.
In the modest apartment she and her husband share in the Paris suburb of Levallois-Perret, they keep their only child's room just as it was when she was alive. Some of the clocks are set to 6:50 p.m., the time of Cecile's death, and there are pictures of the teen everywhere.
"We ask ourselves, why these people are not in prison?," the grieving mother tells NBC News. "Why are they free? How is it that these people are free? "