After the terror attacks in Paris that killed at least 129 people, the placement of refugees fleeing Syria has come under scrutiny as at least two dozen governors — mostly Republicans — have raised concerns about Syrian refugees relocating to their state.
"The first and foremost responsibility of government is to keep its people safe," Texas Governor Greg Abbott said Monday. "We are working on measures to ensure ... that Texans will be kept safe from those refugees."
Nearly 2,000 refugees from Syria have relocated to the United States since 2012, the New York Times reports and President Barack Obama has said that the U.S. will accept 10,000.
In a letter to the president, Abbott wrote, "A Syrian 'refugee' appears to have been part of the Paris terror attack," likely referring to the Syrian passport that was found near the body of one of the suicide bombers near the Stade de France, the national sports stadium.
Abbott is joined by Indiana Gov. Mike Pence and Illinois Gov. Bruce Rauner who also announced their states would "suspend" the resettlement of Syrian refugees.
The governors of Alabama, Arkansas, Arizona, Florida, Georgia, Kansas, Iowa, Maine, Michigan, Mississippi, Nebraska, New Mexico, South Carolina, Tennessee and Wisconsin made similar vows following the attacks, which killed at least 129 people.
North Carolina and Idaho governors said they oppose the admittance of Syrian refugees but have not said they wouldn't accept them. Massachusetts' governor said he wants to know more before accepting them and Nevada's governor has not said either way but said he is requesting a review from the federal government.
Opponents of the refugee program are also asking for Congress to play a part. They asked congressional leaders to strip funding for aid to refugees from a government spending bill that must pass before December 11.
"There are a lot of holes, gaping holes," Rep. Michael McCaul, R-Texas, the chairman of the House Homeland Security Committee, said in on "Meet the Press."
"We don't want to be complicit with a program that could bring terrorists into the United States."
The Governors With Presidential Ambition
Meanwhile, three Republican presidential candidates who are governors said they don't want new refugees. Louisiana Governor Bobby Jindal said he had signed an executive order telling state agencies to "take all available steps" to stop the intake of Syrian refugees.
In a letter to the president, Ohio Governor John Kasich encouraged the president to stop accepting refugees until "the rigor and depth of background checks are improved."
"I respectfully request that the federal government take no further action in resettling Syrian refugees in Ohio," the letter also said.
While New Jersey Governor Chris Christie did not indicate if he would not accept Syrian refugees, he said that even children with no family should not be admitted into the U.S.
"We could come up with 18 different scenarios, the fact is that we need for appropriate vetting and I don't think orphans under 5 are being — should be admitted into the United States at this point," Christie said in an interview with Hugh Hewitt. "In the end i don't trust this administration to effectively vet the people that they're asking us to take in."
The Lone Democrat — So Far
New Hampshire Governor Maggie Hassan, who is running for Senate in 2016, is the only Democratic governor to take such a position. She said the federal government should "halt acceptance of refugees from Syria until intelligence and defense officials can assure that the process for vetting all refugees ... is as strong as possible."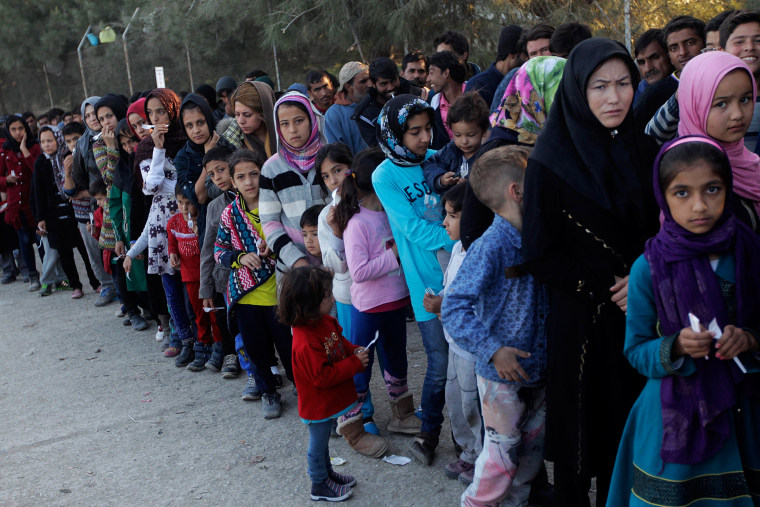 The Limit Of State's Rights
While the states are asking the federal government to stop sending Syrian refugees to their states, a spokesman for the State Department, Mark Toner, said it's unclear if it's legal to ban refugees. He said lawyers are currently looking into it.
Toner said refugees from Syria have to undergo an additional screening process and there is no plan to change U.S. policy.
"We remain steadfastly committed to plan to resettle 10,000 refugees. We think we can do this safely and in way that represents American values," Toner said.
The Obama administration said in September it was prepared to accept the Syrian refugees in the next fiscal year as Europe deals with the influx of migrants from war-torn regions in the Middle East and Africa.
The holder of the passport Abbott mentioned is identified as Ahmad Almohammad. He landed on the Greek island of Leros on Oct. 3 carrying a Syrian passport Greek officials said Sunday.
Almohammad arrived on a boat from Turkey with 198 others, Greek immigration minister Ioannis Mouzalas said Sunday. That journey was undertaken by tens of thousands of refugees and migrants trying to cross borders into the European Union.
Fingerprints taken by Greek authorities match one of the three attackers who blew themselves up outside the stadium on Friday night, Mouzalas said. However, French justice minister Christiane Taubira told NBC News the passport was likely not genuine.
President Obama's Defense
Obama on Monday defended the decision, saying that "slamming the door in their (refugees') faces would be against our values."
Related: A Rethinking Of Isis Policy, Except For The Man Whose Views Matter most
"The people who are fleeing Syria are the most harmed by terrorism, the most vulnerable as a consequence of civil war and strife," the president at the conclusion of the G20 summit in Turkey.
Ben Rhodes, President Obama's deputy national security adviser, said on NBC's "Meet the Press" on Sunday that the massacre in Paris would not alter the U.S. policy toward taking in refugees from the chaotic civil war in Syria.
"We have very expansive screening procedures for all Syrian refugees who have come to the United States," Rhodes said. "There's a very careful vetting process that includes our intelligence community, our national Counterterrorism Center [and] the Department of Homeland Security, so we can make sure that we're carefully screening anybody who comes to the United States."
The Governors Who Agree
At least six Democratic governors, including Pennsylvania's Tom Wolf and Connecticut Danel Malloy, said they would still accept Syrians.