Lawmakers in the U.S. House voted Thursday to essentially halt a program aimed at resettling thousands of Syrian refugees fleeing their war-torn homeland — a move that could potentially complicate President Obama's Middle East policy efforts.
Later Thursday, the State Department said it was willing to "work" with Congress on changes to the Visa waiver program that helps bring nearly 20 million people from 38 countries to the U.S. ever year with less stringent screening.
"In light of the Paris attacks, we are certainly mindful that there are certain members of Congress that want to take another look at this," State spokesman John Kirby. "We're aware of some potential legislation coming. We're going to continue to work with members of Congress on that, and any other concern they have."
The House vote on the Syrian resettlement program, passing 289-137, reflects shifting sentiment on an issue where emotions have run deep in the aftermath of a deadly terror in Paris last week which left 129 dead. The House bill would require the FBI to create a background check of any refugee who spent time in Syria or Iraq after March 1, 2011.
The measure also called for the heads of the FBI, Department of Homeland Security and National Intelligence to personally vouch that those admitted aren't a threat, a requirement the White House in its earlier vow to veto the measure called "untenable."
The bill has a veto proof majority and 47 Democrats joined Republicans in voting against the measure. It is unclear if the Senate will take up the measure after they return from Thanksgiving recess.
"It's a security test, not a religious test. This reflects our values. This reflects our responsibilities. And this is urgent," Speaker Paul Ryan told reporters at his press conference on Thursday prior to the vote..
The carnage in Paris sparked worries from a growing chorus of lawmakers on Capitol Hill and more than half of the nation's governors that America could face a similar attack. The Obama administration's plan to resettle 10,000 Syrian refugees to the U.S. in the next fiscal year, opponents say, opens the floodgates to people whose backgrounds have not fully been vetted, are loosely tracked and could have the intent of carrying out terrorist acts on American soil.
Related: Here's What Keeps Intelligence Officials Up at Night
So far, none of the terrorists identified in the Paris attack have been Syrian refugees.
The Obama administration went on the defensive about the plan, which the president has said is at the core of American values.
"Slamming the doors in their faces would be a betrayal of our values," Obama said on Monday at the conclusion of the G20 summit in Antalya, Turkey. Syrian "refugees are the victims of terrorism."
All week in briefings with governors, congressional leaders and members of the media, high ranking Obama administration officials have underscored that those seeking asylum in the U.S. undergo rigorous background screenings from several federal agencies and lengthy in-person interviews with Homeland Security officers.
Related: Can Governors Block Syrian Refugees? Probably Not
In the hours leading up to the vote, several House Democrats said they would vote to halt the Obama administration's Syrian refugee resettlement plans and White House Chief of Staff Dennis McDonough and Department of Homeland Security Secretary Jeh Johnson were dispatched to quell concerns within the caucus.
"I believe that the bill sponsored by (Rep. Michael McCaul, R-Texas) is not a good bill and it is counterproductive to our national security and homeland security efforts," Johnson told reporters after a Democratic caucus meeting on Thursday morning.
Related: How America's screening of Syrian refugees works
A number of lawmakers in the House, including 47 Democrats, remained unconvinced despite hearing from McDonough and Johnson during a caucus meeting just hours before the House voted.
"What I'm really afraid of is a foreign policy that creates more widows and orphans," Rep. Trey Gowdy, R-S.C. said on Thursday during a hearing on the topic in a direct retort to President Barack Obama's comments earlier this week that those who want to refuse refugees entry to the U.S. are "scared of widows and three-year-old orphans."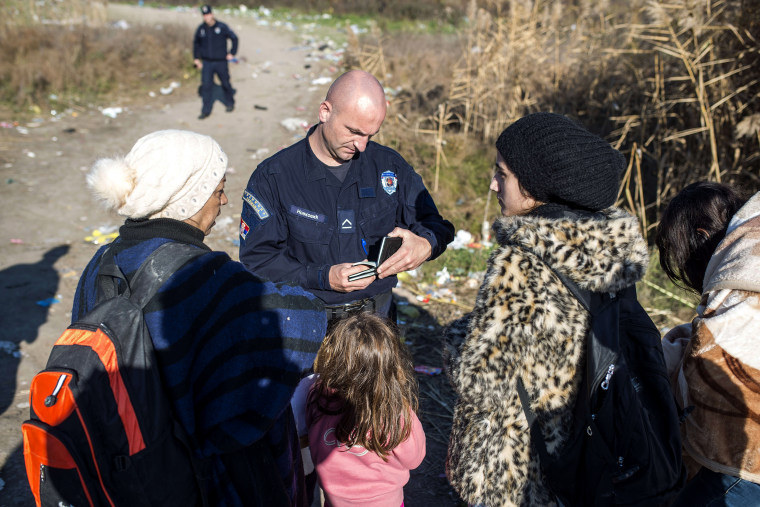 Related: Poll: A Majority of Americans Oppose Accepting Syrian Refugees
A recent NBC News/SurveyMonkey online poll found that 56% of Americans disapprove of allowing more migrants fleeing violence in Syria and other nations into the country, while 41% approve, The issue divides sharply across party lines with about 8 in 10 Republicans disapprove of accepting more Syrian refugees and Nearly two thirds of Democrats support the president's policy. More independents disapprove (59%) than approve (40%).
"We have an obligation to protect Americans from those who seek to take advantage of our generosity at the expense of innocent lives," Rep. Tim Murphy, R-Penn., said in a statement after the vote. "The administration has not provided any details of a thorough screening plan to thwart ISIS infiltration. National security officials told Congress our vetting system lacks the records and resources to identify radical jihadists, so this measure meets a critical national security requirement before we can safely accept refugees from Syria."
But some Democrats — including Minority Leader Nancy Pelosi — were unconvinced the bill would really strengthen the country's national security.
"I don't know what we gain from this other than stirring up a lot of fear in America and time and money ill spent," retiring Congressman Sam Farr, D-Calif., told reporters just prior to the vote.
Still, the vote does signal that support for the proposal has waned since the terror attacks, said Julian Zelizer, a professor of history and public affairs at Princeton University.
"The fact this vote had bipartisan support makes it much more difficult for the president to say that this is simply about the GOP using the politics of fear to build the opposition to him," Zelizer said. The terror attacks have dramatically changed the political dynamics surrounding these issues to the point that, for the time being, it will be difficult for the president to gain much more traction on this issue."