As Oscar Pistorius heads to trial for killing girlfriend Reeva Steenkamp, South African prosecutors are saying the white shorts and black top the model had on when she was gunned down could determine whether the Olympic sprinter ends up in an orange prison uniform.
The clothing Steenkamp was wearing is among the evidence prosecutors will present in an attempt to rip holes in Pistorius' claim that when he fired four times through his bathroom door on Valentine's Day 2013, he thought the beautiful law-school graduate was asleep in bed and he was squaring off with a dangerous intruder.
Dateline's report on the case against Oscar Pistorius airs Friday at 8P/7C
They are expected to argue that the world's most famous amputee athlete — known as "Blade Runner" for the prosthetics he wore at the 2012 Summer Games — had a fierce argument with his lover before he opened fire, with the full intention of killing her.
"We believe that Reeva was probably running away and she locked herself in the bathroom," Medupe Simasiku, spokesman for the national prosecution service, told NBC's "Dateline."
"It cannot be explained as of now," he said Steenkamp's attire, "until such time the accused can actually take up a stand and say, 'She decided to put on clothes to go to the bathroom' or 'She decided to say, "I'm gonna sleep in clothes. I'm not gonna put my nighties on."'"
Another prosecution spokesman, Nathi Mncube, told "Dateline" that what Steenkamp wore will be central to the government's case when the trial opens Monday.
"There is a piece of evidence around the clothes that could suggest what happened there," he said. "To disclose it now would be to disclose a lot of our thinking around the case before the time."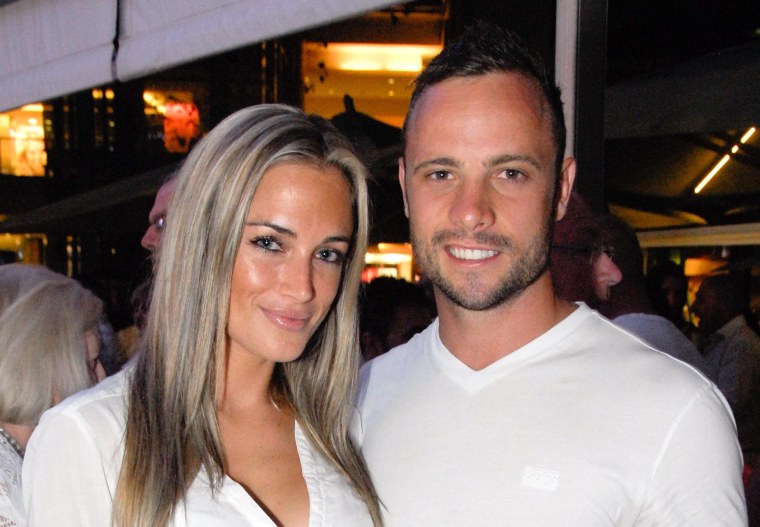 A leaked prosecution document and witness interviews give the broad outlines of the case against Pistorius, 27, a double-amputee who became an international hero by fighting to compete in able-bodied races.
He contends Steenkamp's death was a tragic accident at the end of a romantic evening, fueled by the fear that came from living in a high-crime country with a disability.
Prosecutors say his account is undermined by the physical and witness evidence:
Two iPhones were found in the bathroom, which seems strange if Reeva was there just to use the toilet, as Pistorius contends.
Five neighbors reportedly heard arguing and screaming in addition to gunfire. "If people say, 'We heard gunshot, a scream, gunshot, a scream,' you know it's going to be pretty much hard for you to argue that you still didn't know that the person who was screaming was your girlfriend," Mncube said.
A prosecution report obtained by South African broadcaster ENCA says the trajectory and grouping of the shots fired "indicate a direct intention to kill" — although they also support Oscar's contention that he was not wearing his prosthetics when he went to the bathroom door.
After he shot Steenkamp, Pistorius' first call was not to the police. "I don't think it's in dispute that he phoned his friend, and the friends were the first on the scene," Mncube said.
A security guard phoned Pistorius after the shooting to see if everything was OK, and he told them "Fine," according to the leaked prosecution document.
Prosecutors have not disclosed a motive for the alleged murder, but one of their witnesses may testify that Pistorius had a temper. Soccer star Marc Batchelor says Pistorius threatened to break his legs in a fury over his belief that Batchelor's friend, producer Quinton Van Der Burgh, had slept with his ex-girlfriend.
Batchelor also says Steenkamp's friends believed Pistorius was trying to find out if she had been in contact with her ex-boyfriend, Warren Lahoud. Just 36 hours before she was shot, she met Lahoud for coffee.
"She told me how well she was doing," Lahoud later said. "She seemed happy."
It's not known if Pistorius will testify in his own defense at the trial, parts of which will be televised. But South African journalist Karyn Maughan said his legal team is crafting a novel interpretation of the country's self-defense law, which is based on how a "reasonable" person would react to danger.
He will try to convince a judge that "he can't be charged according to the standards of the reasonable man," Maughan told "Dateline."
"You need to judge him as the reasonable paraplegic, and you need to take into account that this is a person who has persistently said that he's felt the most vulnerable on his stumps and was living, essentially, in a state of fear, in a state of terror.
"And you need to judge him by that standard."