Olympic 'Blade Runner' Oscar Pistorius told security guards that nothing was wrong after he shot and killed his girlfriend Reeva Steenkamp, according to leaked prosecution evidence ahead of his murder trial, South African media reported Friday.
Security guards at the athlete's residence were given the assurance when they telephoned him after the shooting to ask if everything was okay, news channel eNCA reported – citing prosecution documents in its possession.
Prosecutors will also argue that ballistic evidence suggests the amount, trajectory and grouping of the shots fired through a locked door can only indicate a direct intention to kill, according to a similar report by Eyewitness News.
Pistorius' trail is scheduled to begin on March 3.
The Eyewitness News report – also based on leaked documents - said prosecutors "will rely on 13 facts" to make their case that the Paralympic medal-winner is guilty of murder.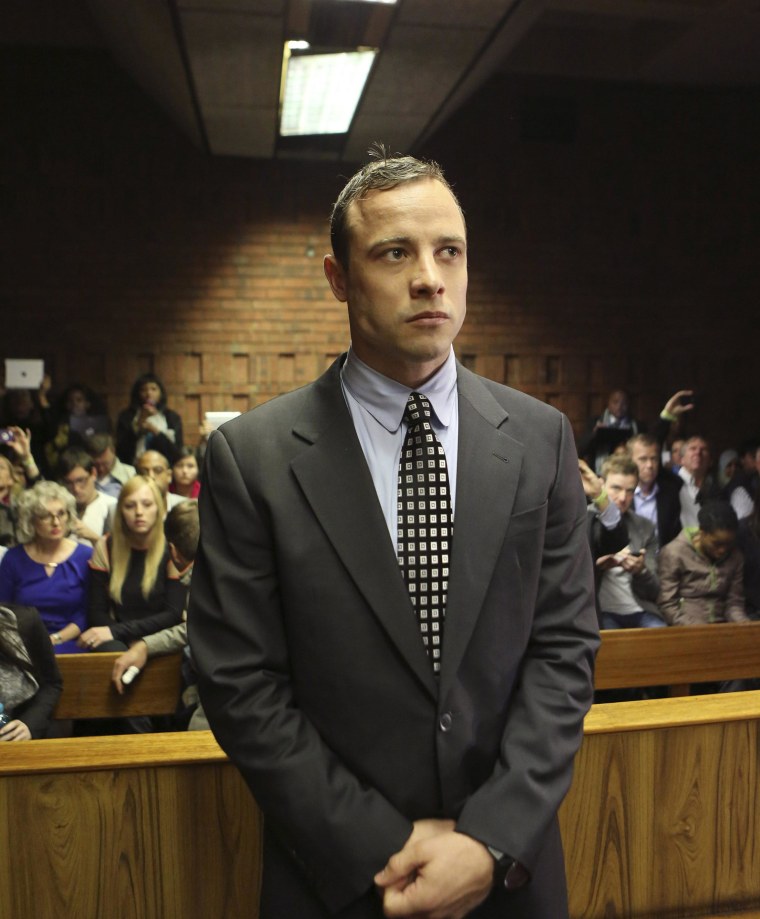 It said prosecutor Gerrie Nel will present five witnesses who heard screams which were, as described in the documents, extinguished at the same time as gunshots were heard.
Pistorius shot and killed Steenkamp in a bathroom at his Pretoria home on Valentine's Day 2013.
He insists he mistook her for an intruder and that her death was an accident.
Earlier this week, eNCA reported that leaked forensic evidence backed some of Pistorius' claims, including his insistence that he was on his stumps when he fired shots through the bathroom door.
NBC News' Cheryll Simpson contributed to this report.