PRETORIA, South Africa — Oscar Pistorius was convicted of murder by a South African appeals court Thursday, a reversal of the result of his original trial that could see him jailed for at least 15 years.
The 29-year-old double-amputee Olympian was found guilty last year of culpable homicide — the equivalent to manslaughter in South African law — for killing law graduate and model Reeva Steenkamp on Valentine's Day 2013.
Speaking on behalf of a five-judge panel, Justice Lorimer Eric Leach overruled that decision, ruling that there was "fundamental error" with that judgment.
Leach said that judge Thokozile Masipa, who gave the original verdict, misapplied the principle of "dolus eventualis" — a legal term relating to the intent of a suspect — and that elements of the ballistics evidence were "seemingly ignored by the trial court."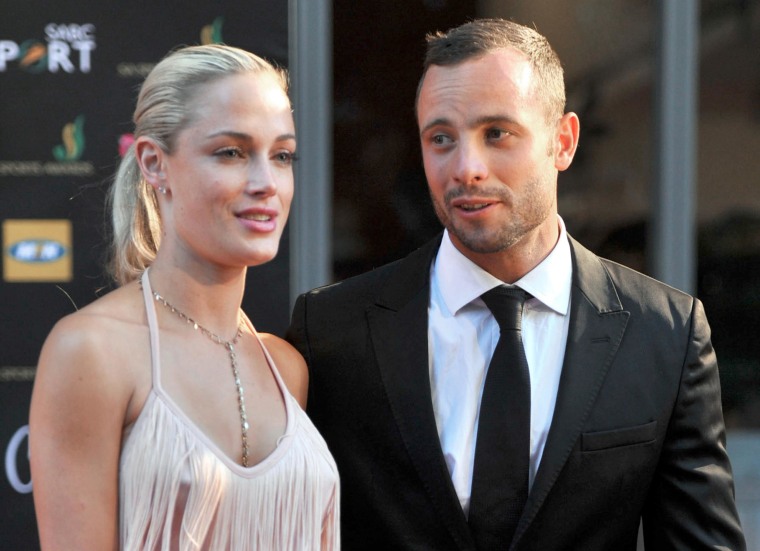 He said that the sprinter "never offered an acceptable explanation for" shooting Steenkamp through a bathroom door in his home.
"I have no doubt that in firing the fatal shots the accused must have foreseen that whoever was behind door might die," Leach said.
During his opening remarks, the justice described the case as a "human tragedy of Shakespearean proportions."
He added: "A young man overcomes huge physical disabilities to reach Olympian heights as an athlete. In doing so he becomes an international celebrity, he meets a young woman of great natural beauty and a successful model, romance blossoms, and then, ironically on Valentine's Day, all is destroyed when he takes her life."
Pistorius, who is still serving his house arrest in Pretoria, did not attend the hearing in the city of Bloemfontein. Reeva Steenkamp's mother, June Steenkamp, was present and exhaled an audible sigh when the verdict was read out by the judge.
In an interview with NBC's TODAY, June Steenkamp said Pistorius' murder conviction was "a day of happiness for the women in South Africa."
"I'm very pleased for every women in South Africa because there's so much abuse and killing of partners and [the perpetrators] just walk free, and now we've got justice for that," she said. "I want respect for my daughter's life and that's what I got today [with] the conviction of murder. I feel so proud now that she's got some respect and she hasn't lost her life for nothing. She will be remembered and it's good for all the women in South Africa."
The case will now be sent back to South Africa's High Court for sentencing, which will likely take place next year. The minimum sentence for a murder conviction is 15 years — except for cases where the accused can show clear mitigating factors.
"A sentence of at least 15 years could be on the cards but we can expect Oscar Pistorius to testify again in court in a bid to get this reduced," South African criminal defense attorney Ulrich Roux told NBC News.
The Pistorius family said in a statement that its "legal team will study the finding and we will be guided by them in terms of options going forward."
His defense team could in theory appeal to the Constitutional Court of South Africa. But legal experts have told NBC News that there is no constitutional issue here, so that outcome is highly highly unlikely.
After being sentenced to five years in jail, Pistorius was released in October after less than a year. At the time, he was ordered to serve the rest of his sentence under "correctional supervision" — or house arrest.
The athlete maintained that he thought his girlfriend was an intruder in his Pretoria home and killed her by mistake. Prosecutors alleged the two had a fight and he shot Steenkamp intentionally through the door of the bathroom cubicle.
Pistorius, whose legs were amputated below the knee when he was 11 months old, won six gold medals at three Paralympic Games. He became known as "Blade Runner" because of his use of curved, carbon-fiber prosthetic legs, and catapulted to world fame when he competed against able-bodied runners at the London 2012 Games.