The sensational trial of Olympian Oscar "Blade Runner" Pistorius — charged with premeditated murder for killing his girlfriend with four shots fired through his bathroom door on Valentine's Day of last year — resumed on Monday after a 17-day hiatus.
Following weeks of drama fit for the big screen — which was broadcast on small screens in South Africa and around the world — chief prosecutor Gerrie Nel called for a break, citing schedule conflicts. Judge Thokozile Masipa approved because the case was dragging on longer than she had expected.
The defense is picking back up with the first person Pistorius called after the shooting, neighbor Johan Stander, on Monday.
Here's a refresher of what has already developed since the beginning of the trial on March 3.
The Prosecution
Pistorius claims he shot and killed his law student and model girlfriend, Reeva Steenkamp, because he thought she was an intruder and felt vulnerable without his prosthetic legs. The state contests he intentionally murdered the woman after a bitter argument.
The prosecution opened with testimony from the Pistorius' neighbors, who said they heard a man and a woman yelling, followed by gunshots and then, silence. A security guard then recounted the next portion of the saga, in which Pistorius told him everything was "fine," only minutes after shooting Steenkamp.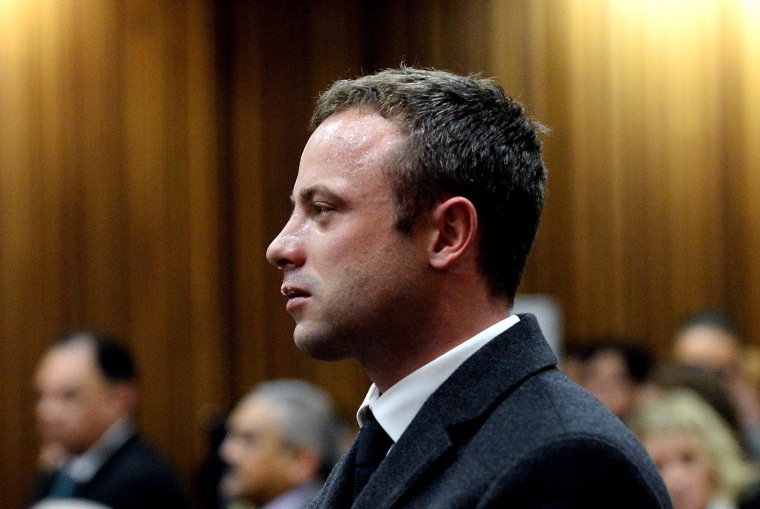 Others called by the prosecution painted a picture of a trigger-happy and temperamental Pistorius, not the heroic athlete that the double-amputee Olympian was once lauded as.
Pistorius' ex-girlfriend, Samantha Taylor, testified that Pistorius kept a gun by his bedside table. She also noted that her ex "sounds like a man," when he screams — disputing an assertion brought by lead defense lawyer Barry Roux that screams heard by neighbors were those of Pistorius alone, not Steenkamp.
And Taylor said she knew those screams well, claiming Pistorius often yelled at her, before ending the years-long relationship by cheating on her with Steenkamp.
Text messages from Steenkamp were read aloud to further shed light on Pistorius' short temper. "I'm scared of you sometimes and how you snap at me and how you will act towards me," said one.
The longer string of text message conversations between the couple, the majority of which, Roux pointed out, were loving, caused Pistorius to break down crying, something that he was prone to do, especially when details of the crime scene were shared.
"I remember. I don't have to look at a picture. I was there."
When portions of the autopsy on Steenkamp's body were read by a pathologist, Pistorius retched and threw up. He vomited again when close-up images of Steenkamp's mutilated corpse were displayed. Pistorius covered his ears with his hands while a police ballistics expert said Steenkamp was in a "defensive position" when she was shot.
The Defense
Throughout the prosecution, Roux has sought to prove that the crime scene had been handled carelessly by police, which he argued would have contaminated evidence.
Roux first called a pathologist to the stand, and pictures of the bloodied bathroom and body were once again exhibited, leading Pistorius to retch once again shortly before he testified.
But Pistorius composed himself and preceded his statements with an apology to Steenkamp's family, which appeared to do little to affect her mother, who sat nearly expressionless during the beginning of the the runner's testimony.
That first day of testimony, before Pistorius was cross examined, was the defendant's chance to portray himself as a man petrified of violence who was simply trying to protect the woman he cared for, and who cared for him.
Pistorius spent the next day on the stand recounting the night he killed his girlfriend, explaining that he thought someone had climbed into the bathroom window, but when he realized his girlfriend could be on the other side of the door, he smashed it with a cricket bat.
"I sat over Reeva and I cried," he recalled, shaking.
Prosecutor Gerrie Nel — nicknamed "The Pitbull" — wasted no time getting to the heart of the state's case when cross-examining the only witness who knows what happened the night Steenkamp died.
"You killed Reeva Steenkamp ... Say it," Nel demanded of Pistorius.
Pistorius' time on the stand didn't get any easier as Nel showed a video of Pistorius practice-shooting at a watermelon, then showed a gory crime scene picture, offering a comparison of the exploding watermelon to Steenkamp's head.
"I remember. I don't have to look at a picture. I was there," Pistorius responded.
Nel focused on establishing that the track star "concocted" his account of the shooting, accusing him of lying, and urging Pistorius to take responsibility for Steenkamp's death.
"I blame myself for taking Reeva's life," Pistorius eventually said.
Before he left the stand, Pistorius read a Valentine's Day card from Steenkamp — a note that Pistorius said he didn't see until after his girlfriend was dead. "I think today is a good day to tell you that … I love you," he read aloud to the court.
What's next?
Pistorius' team will continue to try to prove that the crime scene was altered by police, and that neighbors who heard Steenkamp's screams before gunshots actually heard Pistorius' screams before he whacked the door down with a cricket bat.
Roger Dixon, a forensic expert for the defense, already testified that the bedroom was too dark to see that Steenkamp got out of bed and said he conducted an audio test that indicated sounds of a cricket bat hitting wood could be mistaken for gunshots.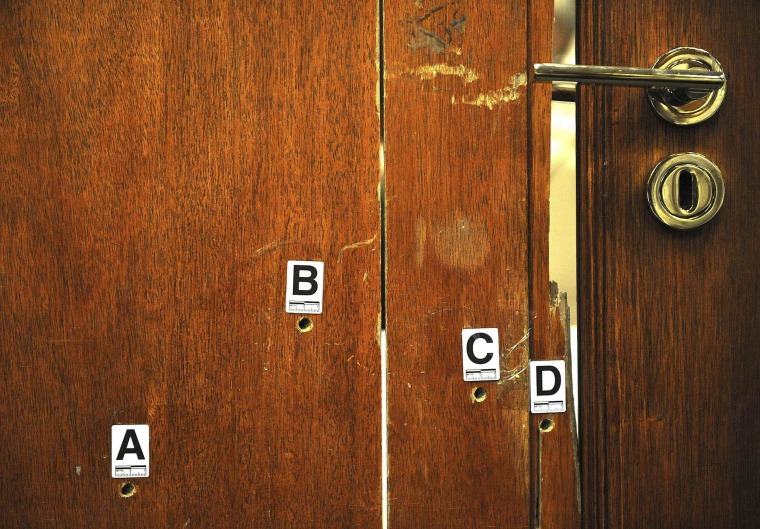 In coming days, Roux is expected to call a witness who will testify that Pistorius' screams hit high pitches when he is anxious and a psychologist to dissect Pistorius' claims of constantly feeling defenseless, according to South Africa's Eyewitness News.
The first person Pistorius called after the shooting, neighbor Johan Stander, took the stand on Monday.
Roux has said he will call between 14 and 17 witnesses, according to The Associated Press, meaning nearly a dozen or more could remain.
The defendant's reaction to those testimonies could be under close scrutiny after a South African columnist accused Pistorius of "taking acting lessons for your days in court."
A post on Pistorius' website said the claim was "devoid of all truth."
The validity of Pistorius' show of emotion is important because the display "may affect [the] sentence because someone who is remorseful, who has committed a crime, can sometimes affect a judge," attorney Tom Mesereau, who has represented a range of high-profile clients, said on MSNBC last month.
And Pistorius' fate lies solely in the hands of Judge Masipa and her two assessors, since South Africa has no trial by jury.
If Masipa decides, after weeks of testimony, that Pistorius is guilty of murder, he faces a minimum of 15 to 25 years in prison. Lesser charges, which could include culpable homicide and illegally possessing ammunition, might mean prison time or simply fines for the once-revered athlete.
The trial resumes.