Texts between Reeva Steenkamp and Oscar Pistorius in the weeks before the model's death show her telling the "Blade Runner" that she's falling in love with him, but that "sick people" are trying to fill her head with doubt about the relationship.
Messages from the mobile phone texting app WhatsApp introduced at the double-amputee Olympian's murder trial in South Africa earlier this week quoted Steenkamp complaining to Pistorius about his jealousy and tantrums and saying "I'm scared of u sometimes." Pistorius is charged with murder for shooting Steenkamp to death last February.
Further messages from the cache entered into the judicial record by prosecutors also show the couple calling each other "angel," "baba," "rockstar," and "boo," exchanging "selfie" photographs, and discussing daily tasks like visits to the dentists and visits to the physical therapist.
On Jan. 9, 2013, Steenkamp jokes about giving Pistorius a lifelike replica of herself to keep him company when he's lonely.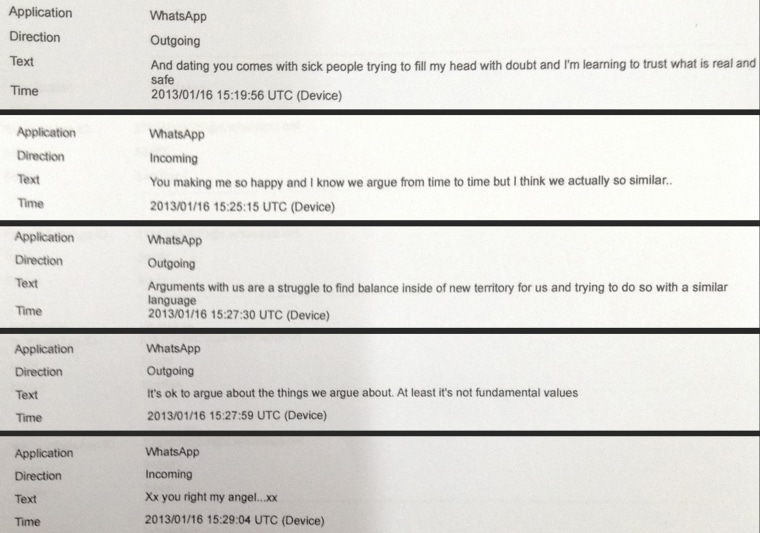 "I'll get a blowup doll that feels just like me. And shouts at u when u grope it," says Steenkamp.
Pistorius answers with a smiley emoticon and then says, "Very realistic."
The next day, the 29-year-old law graduate texted Pistorius that "This is going to be a good year!"
She also talks about being stressed and says she's sick from "emotional stress."
"I get sick like this when my mind is nuts with everything, " writes Steenkamp.
In mid-January, she intimates to "Ozzy" that she's falling in love with him.
"Since Cape Town I hope that you've noticed a change in me and my feelings towards you," she writes. "That I've let go. And let you in a lot. I just need you to understand that sometimes I'm still like a deer in the headlights."
She warns, however, that there are obstacles to their relationship.
"Dating you comes with sick people trying to fill my head with doubt and I'm learning to trust what is real and safe," says Steenkamp.
"K baba … xx," answers Pistorius. "I know you are. I know I'm not the easiest person to understand and I feel like you get me better than I sometimes know myself. You making me so happy and I know we argue from time to time but I think we actually so similar."
Steenkamp responds that they do have disputes, but that it's not a serious problem. "Arguments with us are a struggle to find balance inside of new territory for us and trying to do so with a similar language," she says. "It's ok to argue about the things we argue about. At least it's not fundamental values.
"Xx you right my angel.. xx," answers Pistorius. "You right.. x."
On Feb. 13, Steenkamp tries to console Pistorius about something that has gone wrong and tells him, "you're a nice guy. "
"You are an amazing person with so many blessings," she writes, "and you are more than cared for. Your health and future monetary blessings far out way this hurdle I can promise u that."
Later that day, Pistorius tells Steenkamp, who had been living with friends in Johannesburg, that she can spend the night at his house in Pretoria. He calls her an "angel" and says, "Stay tonight if you like." Reeva answers, "Thank you baba!"
Reeva then sent a message to a friend she'd been living with that she would be spending the night at Oscar's place in Pretoria.
"I'm staying in PTA again it's soooooo far to drive I just decided to stay here today and work! See u for valentines day xxxxx."
In the early morning hours of Feb. 14, Pistorius got out of bed and shot Steenkamp to death through the locked door of his bathroom. Pistorius, 27, claims that he heard a noise in the bathroom and thought it was an intruder. He is expected to take the stand in his own defense in a Pretoria courtroom as early as Friday.