PRETORIA, South Africa – When Oscar Pistorius needs comfort inside the courtroom, he turns to his younger sister.
After the double-amputee Olympian clutched his ears to block the sound of particularly gruesome testimony recently, it was Aimee Pistorius who raced to the dock to embrace him. When he vomited at the sight of pictures taken at the crime scene, the bank worker responded again.
In the intense environment of the courtroom, where horrific evidence related to girlfriend Reeva Steenkamp's shooting death is being presented, the sibling solidarity has become one of the defining characteristics of the human drama playing out.
"After her death we did stand together. We supported each other because we understood each other's pain"
Aimee, 25, is often seen tightly embracing the sprinter, 27, as is their elder brother Carl, during moments that have even attracted a warm response from the pack of 100 reporters positioned behind the family's bench.
It was the death of their mother, Sheila, when Pistorius was 15 years old, that helped to solidify the siblings' closeness. The date of her death, one of the defining moments of the athlete's life, is tattooed on his arm.
"After her death we did stand together. We supported each other because we understood each other's pain," Aimee once said in a magazine interview quoted by South Africa's Times newspaper.
The so-called "Blade Runner" has frequently credited his mother with the encouragement that helped him to pursue a sporting career, despite his disability.
But the sprinter's brother has played an important role, too.
"My brother was like my hero when I was growing up," Pistorius told the Daily Mail newspaper in 2012. "He's a year and a bit older. We're still very close."
The athlete's extended family is also ever-present.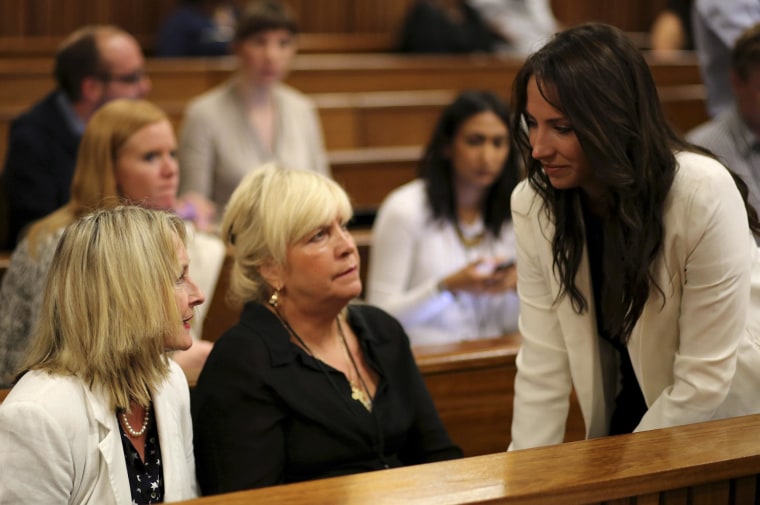 Frequently, the siblings are part of a group of around a dozen kin in court. Oscar's uncle Arnold Pistorius, aunt Lois Pistorius, cousins and friends are among a roster of relatives and supporters who share around a dozen passes to the courtroom. They are granted access to the front row of the public gallery - just behind the dock where Pistorius must sit.
Further down the tightly packed front bench, are Steenkamp's family and friends.
And this week it fell to Aimee to scale the wall of silence between them - extending her arm to greet Reeva's mother, June Steenkamp.