During the murder trial of his girlfriend, Oscar Pistorius has shed tears, retched and thrown up, and sat through accusations of being a cheater — all while cameras rolled.
On Friday, the double-amputee runner was expected to take the stand as the first defense witness, before court was adjourned because one of the judge's assessors was ill.
If he does take the stand when court resumes on April 7, it will mark another landmark moment in the quest for justice over the Valentine's Day 2013 death of Reeva Steenkamp, whom Pistorius insists he killed by accident after he mistook her for an intruder.
Here are other major milestones in the "Blade Runner" case, which has captivated South Africa and the world since it began March 3:
Trial evidence leaked
Two weeks before the trial even started in Pretoria, South Africa, it was already creating a media frenzy. Prosecution evidence — including a claim that Pistorius told security guards nothing was wrong after he shot and killed Steenkamp through a locked toilet door in his house — was leaked to South African media.
"Everything is fine," he allegedly told a security guard about 10 minutes after the fatal shooting.
The leak only piqued interest in the trial for the murder of Steenkamp, a 29-year-old model whose fame was rising before her death.
Steenkamp's clothes examined
The defense claims Steenkamp got out of bed to use the bathroom, unbeknownst to Pistorius, resulting in him thinking an intruder was in his home. Prosecutors poked through that claim early in the trial by pointing out the clothing Steenkamp was wearing at the time of her death.
She was dressed in white shorts and a black top, not pajamas, prosecutors said, and two iPhones were found in the bathroom — which would be unusual if she had just woken up in the middle of the night.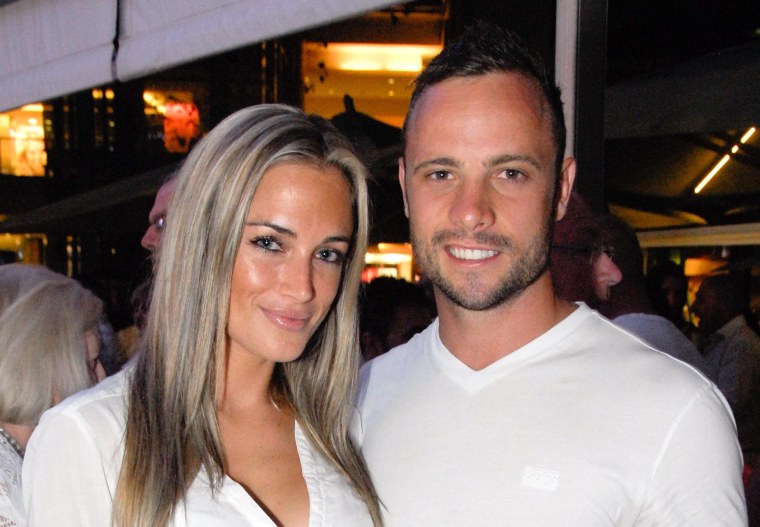 Neighbors testify
On the first day of the trial, state witness Michelle Burger, a neighbor in Pistorius' gated community, testified she heard screams for help and four gunshots.
"It was blood-curdling; something that leaves you cold," she said of the screams.
That testimony contradicted Pistorius' version of events, in which he did not describe a woman screaming. Later in the trial, Pistorius' lawyer, Barry Roux, suggested the scream was actually from Pistorius.
On March 24, another neighbor, Anette Stipp, testified that she heard gunshots as well as screams from both a man and a woman on the night of the murder.
Pistorius cries... and cries
Pistorius was seen wiping away tears early in the trial as he listened to details of Steenkamp's bullet wounds, including one that would have caused brain damage. It was the first of many times he's seen crying in court. Later on in the trial, another neighbor who witnessed Pistorius after he shot Steenkamp said he also wept that night.
"Oscar was crying all the time," Johan Stipp said. "He was praying to God, 'Please let her live.'"
Pistorius vomits... and vomits
Hearing testimony from the pathologist who carried out an autopsy on Steenkamp was too much for Pistorius: He retched loudly and threw up as Gert Saayman read details from his postmortem report on March 10. (Earlier, Judge Thokozile Masipa had ruled that Saayman's "explicitly graphic" evidence could not be broadcast or tweeted, but could be summarized by the media.)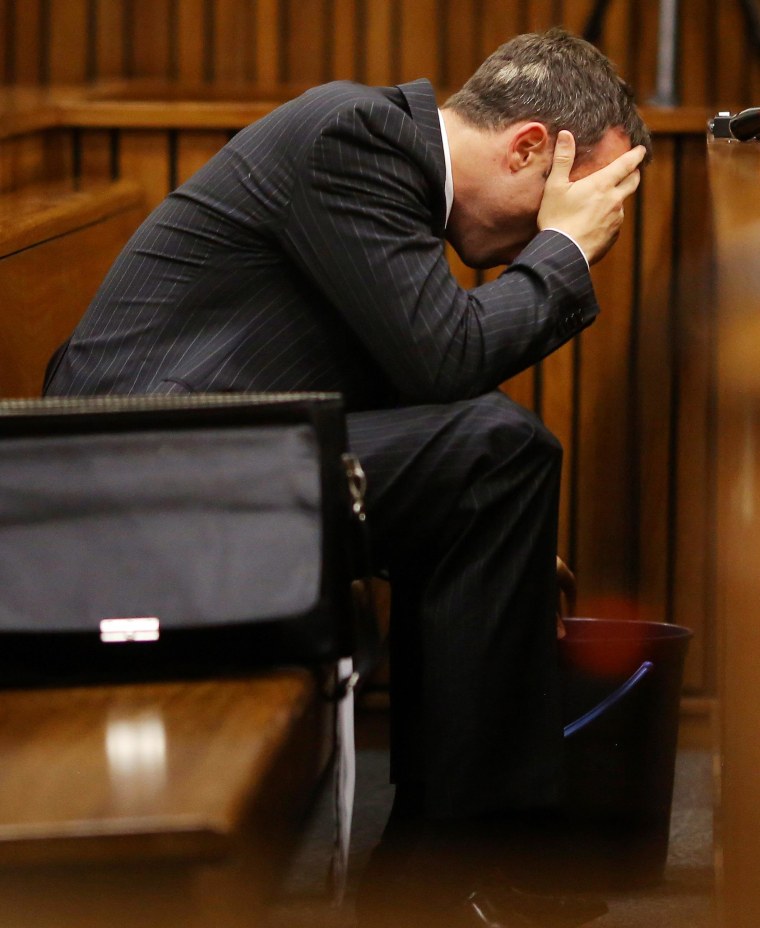 On March 13, when graphic close-ups of Steenkamp's body were shown repeatedly in court — some possibly by mistake — Pistorius again threw up and sobbed. A few days later, when crime scene photos were shown again, Steenkamp's mother, June, fled the courtroom to avoid seeing them.
Other accusations come to light
Pistorius once accidentally fired a gun in a crowded restaurant, his friend Kevin Lerena told the court on March 5. A guns expert who manages a firearm training academy also mentioned later in the trial that Pistorius drew his gun one time at home when the sound of his washing machine startled him into thinking there was an intruder. Another time, after being stopped for speeding, Pistorius fired a shot out of his car's sunroof, is ex-girlfriend, Samantha Taylor, testified on a separate day.
Taylor also testified that she and Pistorius split up after he cheated on her with Steenkamp, a bombshell that prompted a murmur in the courtroom. When Taylor returned to court for her next testimony, she and Pistorius avoided eye contact as he walked by her.
Bare-chested, bloodied Pistorius photos shown
Images taken by a police photographer at the scene of the crime, showing Pistorius with no shirt and blood on his shorts and prosthetic legs, were shown on March 14. Colonel Schoombie Van Rensburg, a former detective who was one of the first police officers on the scene, analyzed the photos in court, arguing that Pistorius' bathroom window would have been too high for an intruder to climb through.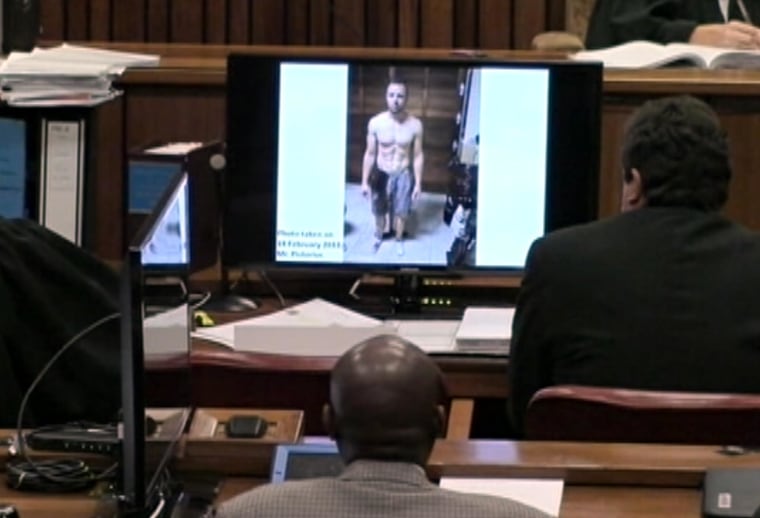 Handling of the crime scene questioned
Police photos of the blood-spattered crime scene indicate that evidence was moved during the investigation, Pistorius' defense lawyer said in court on March 18, going through the pictures. The allegations came a couple days after the defense suggested that details that van Rensburg, the retired detective on the scene, gave differed from accounts from other officers.
Cricket bat video questions neighbors' accounts
On March 20, a video by an American crime scene analyst comparing the sound of a gunshot to a cricket-bat strike was used in court when defense lawyer Barry Roux suggested that the "gunshots" and screams Pistorius' neighbors heard were actually Pistorius smashing through the locked toilet door with a cricket bat, and his own high-pitched screams when he discovered what he had done. The video, placed on YouTube, has garnered more than 300,000 views.
Pistorius' home goes up for sale
"Increasing legal costs" forced Pistorius to put the luxury home where he fatally shot Steenkamp up for sale, his lawyer said on March 20.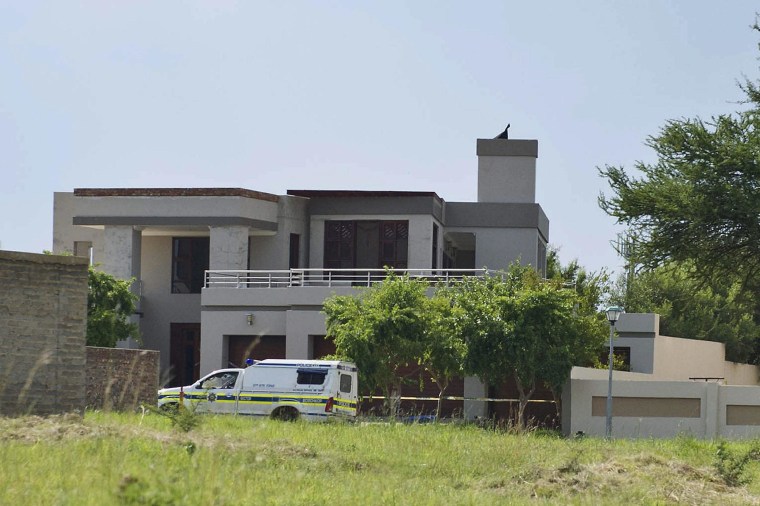 'I'm scared of you' text shared with court
On March 24, Phone text message arguments between Steenkamp and Pistorius were shared in court, including one message from Steenkamp that read, "I'm scared of you sometimes and how you snap at me and how you will act towards me." She also texted about Pistorius getting jealous when she mentioned past boyfriends.
But defense lawyer Roux argued that most of the roughly 1,700 texts sent between the two were loving, comprised of compliments and notes about how they missed each other.
Pistorius, 27, faces a life sentence with a minimum of 25 years in prison before parole if convicted of murder with premeditation. For complete coverage of the trial, click here.