Now that Pope Francis is in the United States for the next few days, it's a good time to brush up on some trivia about the pontiff and his unique connection to the Latino community as the first Latin American Pope.
1. El Papa is Spanish for the Pope - But Watch Your Wording!
Yes, El Papa is Spanish for the Pope, but a slight change in the wording -- or even adding an accent – can significantly change the meaning, so watch out. Changing "El" to "La" means you're talking about a potato, La Papa. Adding an accent to the second a, as in Papá, means Father, but the Daddy kind, not the Holy Father as in a Priest. While papá is Spanish for dad. a priest is called Padre. The Pope is also referred to as El Santo Padre – the Holy Father, but not just El Padre. That would be a priest. Or a dad. Got it?
So remember, it's El Papa, not El Papá and definitely not La Papa.
RELATED: In a Multicultural Maryland Church, Pope Is 'One of Us'
2. Like Many Argentinians, Pope Francis Is Of Italian Heritage
The first-ever Latin American pope was born Jorge Mario Bergoglio in Buenos Aires, Argentina to Italian immigrants. Close to 63 percent of Argentina's population claims Italian heritage, making it the largest ethnic group in that South American country.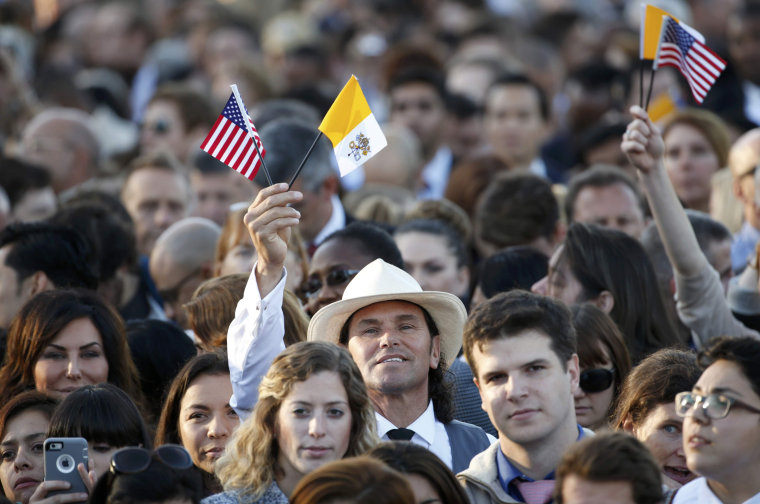 3. He's A Tango-Loving Pontiff
The pope is said to be very fond of the traditional Argentine musical genres of tango and milonga. "I love to tango and I used to dance," he told the authors of his 2010 biography El Jesuita – The Jesuit.
4. El Papa Loves Fútbol
Like many Latinos, Pope Francis is passionate about fútbol, or soccer. He's a big fan of the San Lorenzo Football Club, his hometown soccer team, and still has a membership with them.
RELATED VIDEO: 8 Things You Didn't Know About Pope Francis
5. He's Also Known As Papa Pancho
The pontiff is affectionately called Papa Pancho – Pancho being a nickname for Francisco, his papal name in Spanish. Probably the most famous Pancho besides the pope is the Mexican revolutionary general Pancho Villa. The pope was also affectionately given the nickname Papa Panchito – little Pancho – when he visited Ecuador in early July.
6. El Papa Likes His Español - And Will Use It in the U.S.
Pope Francis will be speaking in Spanish a record 14 of the 18 scheduled speeches and talks during his visit to the United States. That includes being the first-ever pontiff to celebrate Mass in Spanish in the United States, and not just once, twice, but three times, in Washington, D.C., New York City, and Philadelphia. One-in-four U.S. parishes celebrate Masses in Spanish.
7. Pope Francis Has a Sweet Tooth
Pope Francis is a big fan of the Argentine tea mate, (pronounced mah-teh) and confesses to having a sweet tooth for alfajores, the Argentine cookies filled with dulce de leche and covered in chocolate.
8. He Will Canonize A Priest - A First in U.S.
The Pope's Mass at the Basilica of the Immaculate Conception in the nation's capital will be the first-ever canonization in the United States. He'll be canonizing Junípero Serra, an 18th century Spanish priest who founded missions in what is now the state of California. Serra's canonization is not without controversy as Serra has been criticized for mistreating Native Americans and suppressing their culture.
RELATED: Meet 'the Present and Future" of American Catholicism
9. El Papa Was a Bar Bouncer
Like many of his followers, Pope Francis worked to make some extra money while going to school to get a graduate degree in chemistry before entering the priesthood. What was his job? A bouncer at a Buenos Aires bar.
10. The Spanish-Language Cheer Shouted at the Pope
Among the cheers greeting the Pope upon arriving in the United States was the Spanish "'Papa Francisco, ¡estamos contigo!" (Pope Francis, we are with you!).