There are two things Kristin Keating will never forget about this weekend — the look in Pope Francis' eyes as he stopped the motorcade and jumped out to kiss her severely disabled son, and the huge smile that lit up the 10-year-old's face afterward.
"I think he could feel all the happiness and joy around him," she told NBC News after video and photos of the spontaneous gesture in Philadelphia went viral.
She said the pope's blessing for her son Michael, who has cerebral palsy, gave her a feeling of joy, hope and peace "wrapped into one."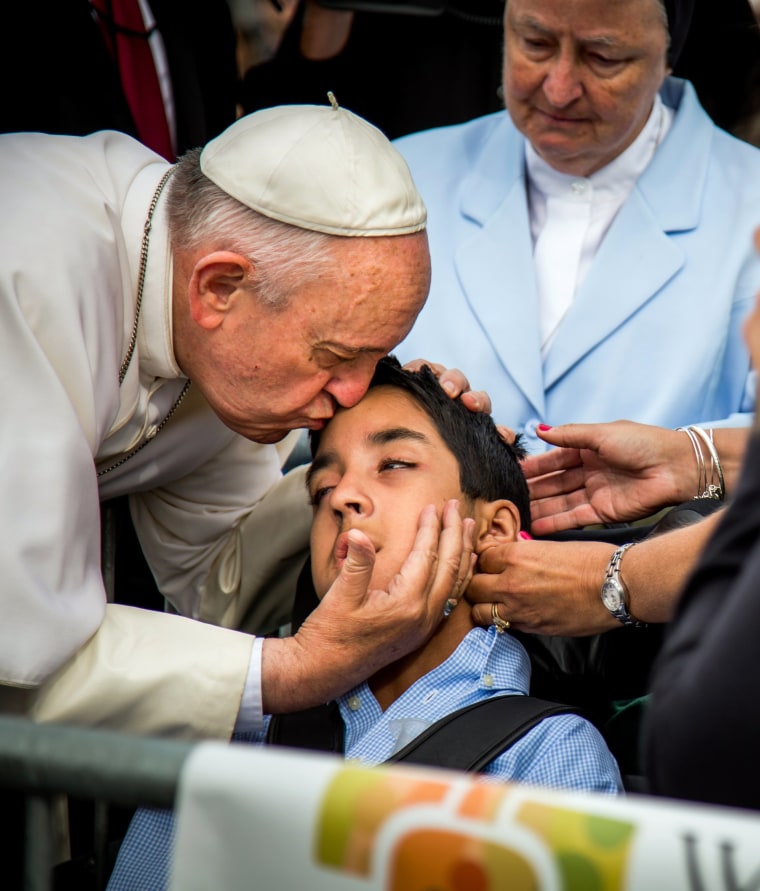 "I just feel like it's someone else who is going to pray and watch over Michael" she said. "It's someone who's a little closer to God maybe who is putting in a good word to look out for Michael."
Michael was diagnosed with cerebral palsy a few months after being born prematurely. His mother said he has the cognitive and developmental skills of a four-month-old, suffers seizures, and cannot process what he sees or hears.
He is fed through a tube — through which he also receives Holy Communion wine at Mass on Sundays.
The devoutly Catholic family, who live in Elverson, Pa., was excited about Pope Francis' trip to Philadelphia even before they learned they could be part of it.
RELATED: Pope Francis Tells Immigrants 'You Should Never Be Ashamed'
Keating's husband, Chuck, is the director of the Bishop Shanahan high school band, which was chosen to play for the pope when he arrived at Philadelphia International Airport for the last leg of his U.S. tour.
On Saturday morning, Kristin Keating got Michael, his twin brother Chris, and their 13-year-old sister Katie out of bed for the predawn trip to the airport. Her hope, she said, was that just seeing the pope in person would be a blessing for her family.
After the pontiff's Boeing 777 landed around 9:30 a.m., Francis got into a waiting Fiat as the Bishop Shanahan High School band played. As the car slowly pulled away, one of the pope's aides spotted Michael in his wheelchair behind the barricades.
"He immediately waved his hand as if to stop the car, which it did, got right out and came over to us," Kristin, 43, said.
"His eyes got very big when he realized he wanted to come over," she said of the pope. "As he walked over I was just thinking, 'He is really going to bless him. He is really going to pray for him."
A nun in the crowd spoke to the pope in Spanish, telling him, "He is your child. Please bless him." The pontiff, who is known for embracing the ill, especially children, did just that.
"He immediately kissed Michael on the forehead, which caused all of us to just weep tears of joy," said Kristin, who is a fourth-grade teacher. "And soon after that he grabbed his shoulder."
The shocked mother was at a loss for words.
"I didn't know what I could say for what the pope had given us. So I just said, 'thank you, thank you, thank you, thank you so much,'" she recalled. "And he reached out and grabbed my hand and gave it a little squeeze, and then immediately grabbed my husband's hand and did the same thing — and then put his hands on Michael again."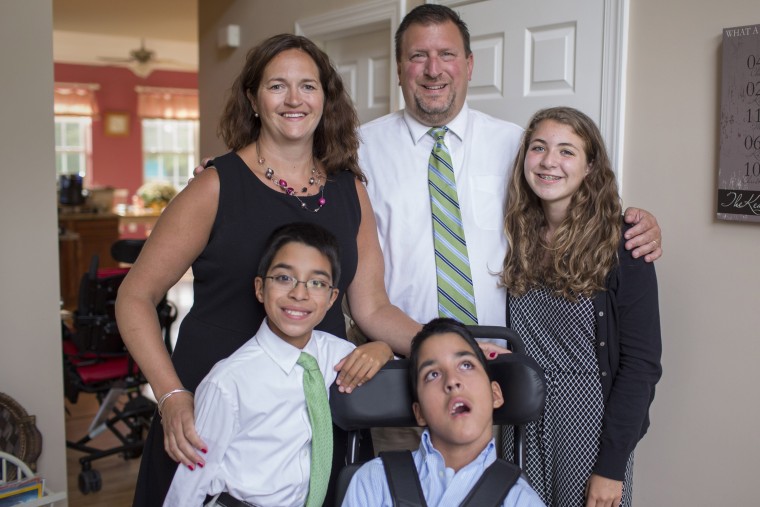 RELATED: Pope Calls for Church to Place Greater Value on Women
She said that before Francis walked over, Michael had been getting restless because he'd been in his wheelchair for hours without a break. But his mood soon shifted.
"While it was going on Michael didn't really have any reaction, but as soon as the pope walked away he let out a huge smile," she said. "And for us that was very telling and special."
Her husband was standing closer to the band when the Fiat stopped.
Chuck Keating realized what was happening and quickly walked over, but he was overcome by the sight of the beloved pontiff placing his hands on his son.
"I actually had to turn away because I couldn't believe what was transpiring in front of my eyes," the 45-year-old dad said.
He was also unprepared for the reaction to the gesture from the rest of the world. The family's phones haven't stopped ringing, and they were fielding Facebook friend requests from strangers.
"I think it's the greatness of this man," Chuck Keating said of Francis, who wraps up his first American visit on Sunday. "He's just so real. He lives his faith and it's really catching on."
He said he wanted people to know that even before the pope kissed Michael, the family considered the youngster "a blessing" of his own.
"He's brought us closer together. We understand the importance of a hug and a kiss," he said. "What Michael has given us has far outweighed the challenges."
After all, he said, "We're all God's children."