The Latino heart of "El Barrio" was bursting with pride Friday as New Yorkers lined up to pay tribute to a pope they say speaks their language and understands their struggles.
Pope Francis, born and raised in Argentina by Italian parents, met with Catholic school children in East Harlem — home to about 30,000 Hispanics.
The crowds in East Harlem were 10 deep by the time the pope arrived just before 4 p.m. Screams erupted as people wildly waved yellow and white Vatican flags and red white and blue Puerto Rican flags.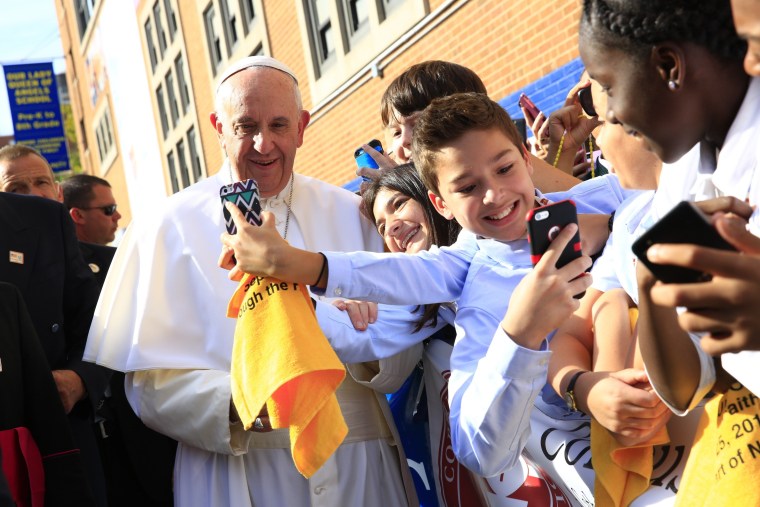 PHOTOS: Pope Francis Charms New York City
Down the block, longtime residents hung Puerto Rican and Argentinian flags over barricades, held signs for "Papa Francisco" and talked about the importance of his visit to their low-income, immigrant neighborhood.
"He makes me feel special," said Eneida Velazquez, 74, a Puerto Rican who has lived in the public housing projects along Third Ave. for 43 years.
"Nobody else comes this way."
One of the many who waited to get a glimpse of the pope was Carmen Garcia, 64, a retired food service attendant who has lived in East Harlem since 1957. Garcia staked a spot to see the spot at 10 a.m.
When the pope's vehicle came by, Garcia was facing the other side of the street but still burst into tears of joy.
"I didn't get to see him too much, but I know he is there and he is touching us. I have hope. I have faith, that he came to Spanish Harlem," she said. "I'll do it again. Stay overnight if he comes again."
Zoraya Rivera, 39, said she traveled on Thursday night to Fifth Ave., New York's most luxurious street, for a glimpse of the pontiff as his Fiat 500 whisked him to St. Patrick's Cathedral.
She said it was exciting — she screamed his name as he was driven by — but having him closer to home was more meaningful.
"He didn't forget about us," she said.
"He didn't forget about the minorities, he didn't forget about the low-income. He knows there are children right here now struggling to finish their education. He is from parents who were immigrants and this is a majority immigrant neighborhood."
In his first trip to the United States, Pope Francis is getting an up-close look at a Catholic Church that is increasingly Latino.
Up to one-third of the American flock is Hispanic, up five percentage points since 2007, according to Pew Research Center. Among Catholic millennials, an equal number are white and Hispanic.
While Hispanic Catholics are more concentrated in the South and West, Francis has offered reminders of his Latino credentials during his swing through the East. Most of his speeches have been in Spanish, and on Wednesday he sainted a Spanish missionary.
Andrea Valda, 45, born in the U.S. and of Bolivian heritage, said Francis' Latino background shines through in his affectionate style.
"Our culture is such a warm culture. It is a welcoming culture and a caring culture — and he represents all of these things that are the best of our culture," she said.
Maritza Cintron, 55, a Puerto Rican who has lived in El Barrio for 34 years, said she was willing to camp out overnight to show the pope some Latino love.
"He is going to remember that the Puerto Ricans were here for him," she said.