At a luncheon for the homeless on Thursday, Derrick Brooks didn't get to shake Pope Francis' hand — but just knowing the pontiff wanted to be there touched him in other ways.
"It makes you know you are not alone," said Brooks, 32, who hasn't been able to work since suffering a stroke three years ago and lives in a Catholic Charities shelter in Washington.
The down-to-earth pontiff went from America's seat of power, the U.S. Capitol, to a tent where hundreds of clients of a free-lunch program called Maria's Meals were seated.
"We waited for him to come before we ate so he can bless the food. But even when he came, I didn't want to eat," said Brooks, explaining that he was overcome by the moment.
"Look, I'm in the presence of greatness!" he said.
"You can tell that man stands for something."
Brooks, who is Christian but not Catholic, said he knew of the pope's reputation as a champion of the downtrodden and the visit only confirmed it.
"He rubbed elbows with the people, the workers," he said.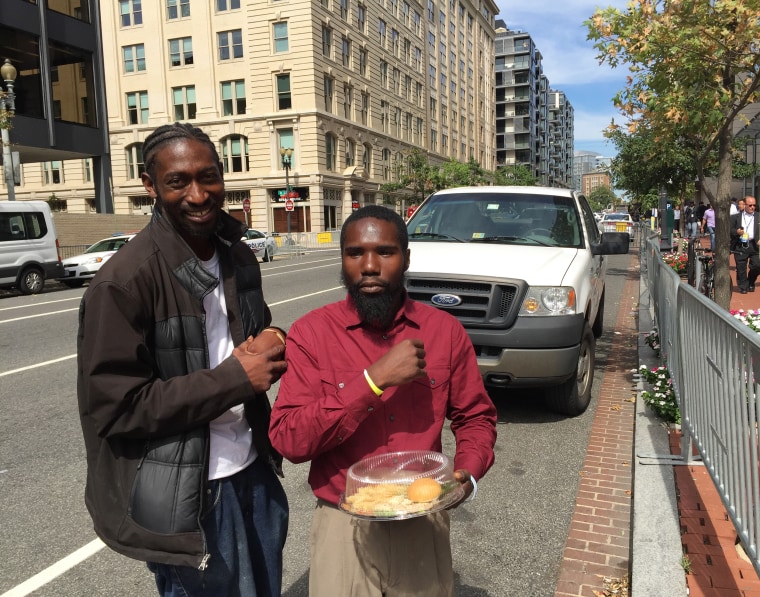 He only got within about 10 feet of the pontiff, who was set to leave Washington for New York a few hours later — but wasn't disappointed he didn't stay longer or sit and eat with him.
"Look," he said, pointing to crowds massed on the corner for a glimpse of the pope's Fiat 500 as it raced away from the luncheon. "It's hectic. He's a busy guy."
Scott Quarles, 27, who has been homeless for two years, was also too focused on the pope to eat. He carried a takeaway tray with roasted chicken, pasta salad and green beans.
"I see the pope as a man of awesome stature but also a man of peaceful motives," Quarles said. "For a man of that stature to love the whole word, that's unbearable — in a good way. That's a once in a lifetime thing to see," said Quarles, who is Muslim.
Asked how he thought Francis compares to other popes who have visited Washington, Brooks laughed.
"I don't know," he said. "I really haven't bumped into too many other popes."