Security officials gearing up for Pope Francis' visit to America have stressed that there is no specific, credible threat against the pontiff — but for the second time in two years an ISIS propaganda magazine has singled him out for scorn.
Dabiq is an English-language magazine aimed at U.S., British and Australian Muslims in the vein of Inspire, a magazine for jihadists put out by al Qaeda.
In the latest issue of Dabiq, published last week, there is a photograph of the pope meeting with the Grand Mufti of Istanbul, Rahmi Yaran, at Turkey's Blue Mosque last November. Neither is identified in a caption that reads: "Apostate government 'scholars' with the crusader pope."
Laith al-Khouri, an analyst with Flashpoint Intelligence, said he believes the image is meant to send a message that "real Muslim imams" don't cozy up to Christian icons. ISIS views such imams as apostates who oppose violent jihad, al-Khouri said.
READ: Warning on Terrorists Impersonating Cops Issued Before Pope's Visit
This is not the first time ISIS has focused on the pope. A 2014 issue of Dabiq featured the Vatican on its cover and showed the black ISIS flag flying over St. Peter's Square. An article in the magazine called on jihadists to attack the Catholic Church and claimed ISIS would one day conquer Rome.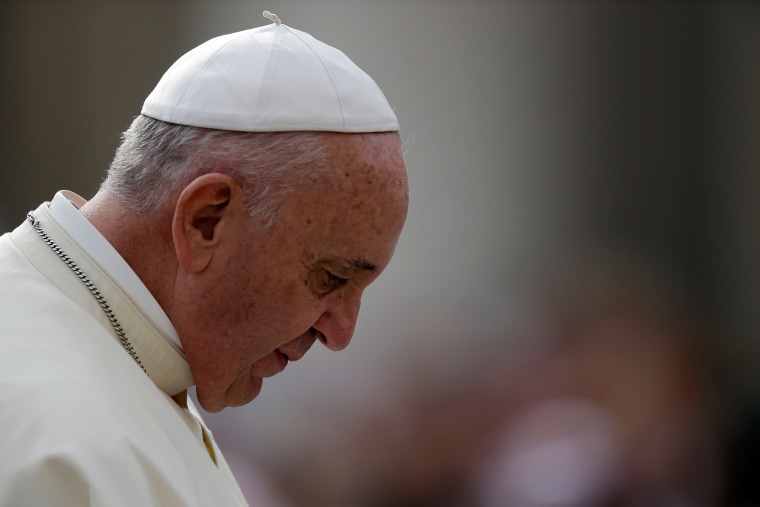 Francis has denounced ISIS in the past. Last year, he said the violence being committed by Islamic militants was a "profoundly grave sin against God." In other remarks, he appeared to endorse the use of force to stop ISIS from persecuting religious minorities in Iraq.
Although it does not rise to the level of a specific threat, there is some concern in the law-enforcement and intelligence communities about Dabiq's rhetoric about the pope. One intelligence official noted that while the caption is very vague, it could be intended so those ISIS wants to "inspire" will interpret it as they see fit.
This summer, a teenager living outside of Philadelphia was accused of threatening an ISIS-inspired attack on Pope Francis during his U.S. visit, but it does not appear he had the funds or resources to carry out his plot, a source told NBC News.
Tens of thousands of police, military and counterterrorism personnel are involved in security preparations for the pope's visit, which begins Tuesday night in New York, moves onto Washington and wraps up this weekend in Philadelphia.
"I can assure you, Pope Francis will be very, very safe here in the United States of America," Philadelphia Mayor Michael Nutter told NBC News.