Kentucky official Kim Davis met with Pope Francis during his historic trip to America last week, a source has confirmed to NBC News.
Attorneys for Davis claimed Tuesday that she had a secret meeting with Francis, and said he told the defiant county clerk to "stay strong."
The clandestine communication occurred in Washington, D.C., on Thursday — the same day as the pontiff's speech to a joint session of Congress, according to Liberty Counsel, which has represented Davis in her legal battles.
A source close to the visit confirmed on Wednesday that the meeting had taken place — coming shortly after Liberty Counsel released a photo of two rosaries, one white and one black, that it said were prayer beads the pope had presented to Davis.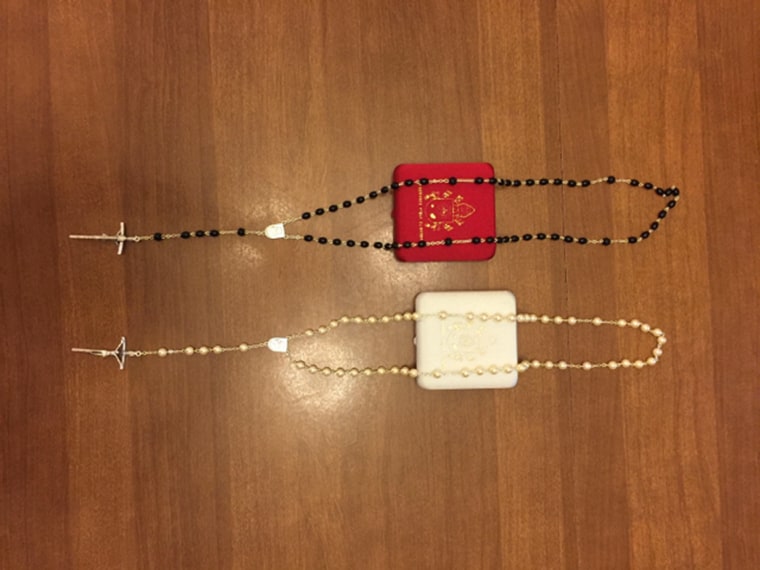 In a statement, Vatican spokesman the Rev. Federico Lombardi said he "does not deny the meeting between Pope Francis and Kim Davis took place," but refused to provide any additional details.
Davis sparked a national firestorm after refusing to issue marriage licenses to same-sex couples in Rowan County, citing her religious beliefs as an Apostolic Christian. She was jailed for five nights before a judge allowed her to return to her job — as long as she doesn't interfere with the granting of licenses.
In a statement released by Liberty Counsel, Davis said she was "humbled" and never thought she would be granted an audience with the popular and unpredictable pontiff. The conservative legal nonprofit said Davis and her husband, Joe, shared face time with Francis at the Vatican Embassy.
She and the pontiff hugged, and he presented her and her husband with two rosaries, which she is giving to her parents, who are Catholic, Liberty Counsel said.
"Who am I to have this rare opportunity? I am just a county clerk who loves Jesus and desires with all my heart to serve him," Davis said in the statement. "Pope Francis was kind, genuinely caring, and very personable. He even asked me to pray for him. Pope Francis thanked me for my courage and told me to 'stay strong.'"
Davis was in Washington for the Values Voter Summit, where the Family Research Council, which opposes same-sex marriage, presented her with an award for defying the federal judge.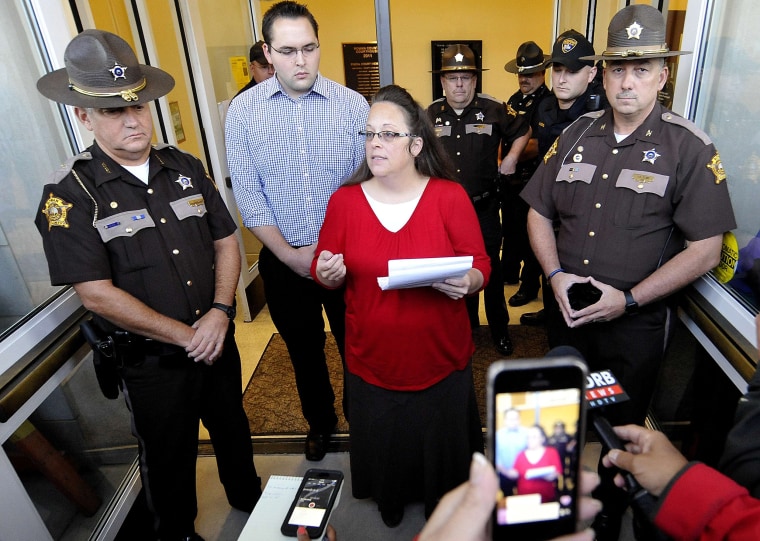 In an interview with ABC News on Wednesday morning, Davis said "it was really very humbling to even think that he would even want to meet me, or know me."
"That was a great encouragement, just knowing that the pope is on track with what we're doing," she told ABC. "Kind of validates everything."
Francis appeared to back Davis when asked about the issue during his return flight from the U.S. on Monday. He said people, including government workers, have the right not to do something in which their conscience objects. He did not specifically mention Davis by name.
"I can say that conscientious objection is a right that is a part of every human right. It is a right. And if a person does not allow others to be a conscientious objector, he denies a right," the pope reportedly said.
Gay marriage, however, was not a topic that Francis dwelled on during his six-day, three-city tour of the United States. Rather, he delved frequently into immigration, climate change and fighting poverty.