As the Northeast corridor basks in the holy splendor of Pope Francis' visit this week — some people have been cashing in on the demand for papal merchandise.
You can now buy anything ranging from a set of commemorative wine glasses to a Warhol-inspired painting by Philadelphia pop artist Perry Milou — to the most popular item: a 10-inch, plush doll in the pope's likeness.
Philadelphia-based vending services company Aramark has set up a pop-up shop in the city in partnership with the World Meeting of Families, which has its meeting this year in the City of Brotherly Love. The shop, opened to sell official pope merchandise, has sold over 2,000 dolls, most of them in the last 2 weeks since the store opened. A second and third store have opened inside the Philadelphia Convention Center as the WMOF congress begins. The dolls are being sold for $20.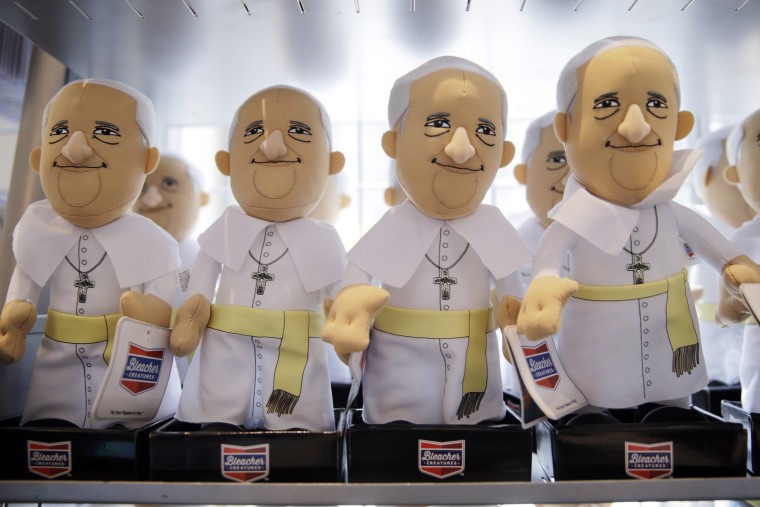 Bleacher Creatures is also selling the papal "plushy" on their website, in case you can't get to Philadelphia. The site has sold over 50,000 pontiff dolls in five months, outstripping every other doll on the site.
"This incredibly popular pontiff has generated a huge interest for products in the pope's likeness," said Matthew Hoffman, founder and CEO of Bleacher Creatures, in a press release.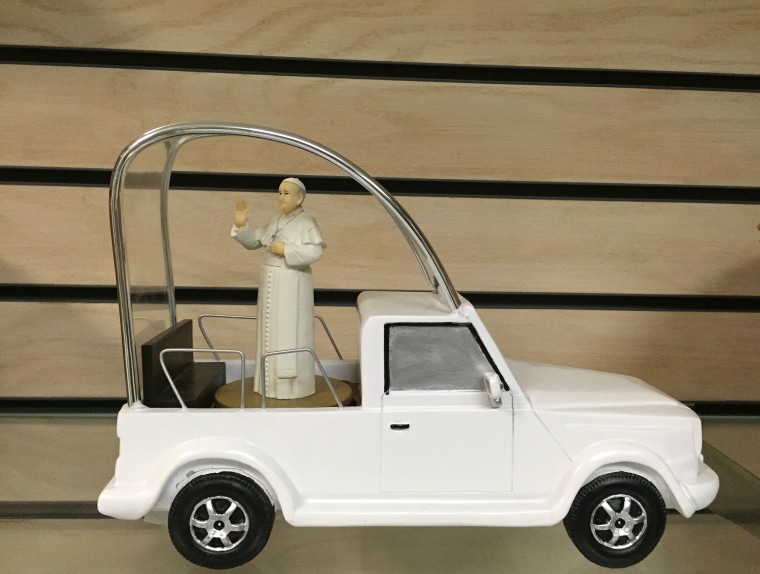 If a plushy isn't your style, there are also Pope Francis bobbleheads, life-size cutouts, rosaries, scarves, ties, even drink koozies, but it is not clear how Il Papa feels about those.
"I spent almost $300," Laura Mikut, 51, of Cincinnati said after the pope's canonization Mass in Washington, D.C., laughing as she hoisted a bag bulging with rosary beads, T-shirts, crosses, mugs and pens. "But everyone is going to get something. I got to be here and see the pope. They get souvenirs."