WASHINGTON, DC -- In the chamber where bipartisan immigration reform legislation came to a screeching halt, Pope Francis told members of Congress to view those who travel north for a better life "as persons, seeing their faces and listening to their stories …"
And he wasn't quite done in showing where he stood on the anti-immigrant fervor that has heightened as the country's 2016 presidential elections have kicked in: he spoke and prayed in Spanish from a Capitol balcony where he greeted throngs gathered on its West Lawn.
Several of the members and government officials jumped to their feet during the pontiff's historical speech Thursday when the pope told the members "most of us were once foreigners."
The pope, the first in history to speak to Congress, raised the plight of Syrian refugees washing ashore in Europe and racing across borders, saying it is a refugee crisis of a magnitude not seen since World War II. In that context, he said this continent also is seeing thousands of people travel north in search of better lives for themselves and loved ones.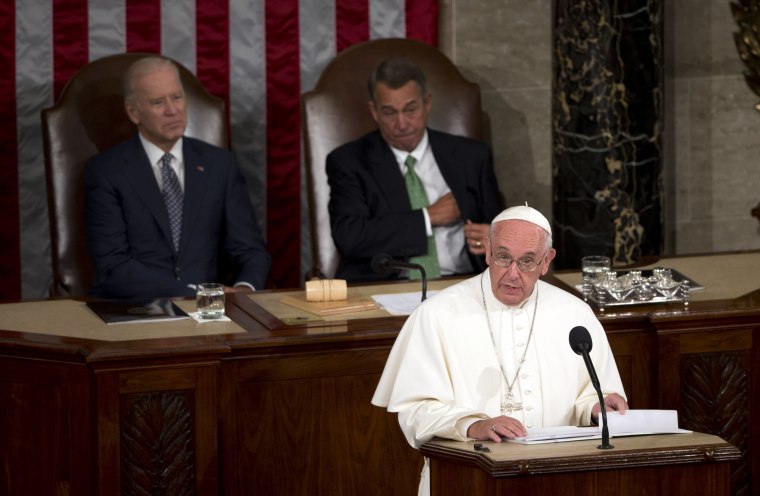 "Is this not what we want for our own children?" he asked to some applause. "We must not be taken aback by their numbers, but rather view them as persons, seeing their faces and listening to their stories, trying to respond as best we can to their situation. To respond in a way which is always humane, just and fraternal."
His words come two years after Congress pushed to the back burner bipartisan immigration legislation which included ways to address the presence of 11 million people who have ventured into the U.S. illegally or remained here in violation of their visas. For months, a vociferous campaign has been waged in the 2016 Republican election primary to harden the country's polices on immigrants illegally in the U.S., from GOP presidential front-runner Donald Trump's proposal to deport all of them, to several candidates' espousal of policies to deny immigrants the opportunity to become citizens.
The pope's plea for greater charity toward immigrants came with his usually soft tone of an adviser, trying to stir the chamber to a greater cause. The work, Pope Francis told the lawmakers, is ensconced in the mission of Moses. "You are asked to protect, by means of the law, the image and likeness fashioned by God on every human face," he said.
His entreaty carried with it a reminder that "most of us were once foreigners," a commentary that seemed to touch Sen. Marco Rubio, R-Florida, a son of Cuban refugees who smiled and wiped beneath his left eye at that moment.
Though he was one of the architects of the Senate bipartisan immigration bill, Rubio, a presidential candidate, has abandoned touting that bill and recently said any debate on whether to provide a legal status to immigrants wouldn't begin for at least another decade should he be elected president.
He didn't mention the pope's remarks on immigration, but Rubio said in a statement and video message that he was moved by the pope's message.
"... the Pope reminded us that America has a special calling as a nation that is guided by high ideals and the moral aims to build a more perfect union and to make the world a better place," Rubio said.
Soon after uttering the "golden rule," the pontiff once again had members in the chamber on their feet. The rule, "Do unto others as you would have them do unto you," "points us in a clear direction," the pope said.
"We need to avoid a common temptation nowadays: to discard whatever proves troublesome."
"The yardstick we use for others will be the yardstick which time will use for us," said the pontiff.