Pope Francis called for the church to place greater value on women and urged a more active role for lay Catholics after arriving in Philadelphia on Saturday — the final stop on his historic, three-city U.S. trip.
The pontiff kicked off a festive weekend in the City of Brotherly Love by celebrating Mass at the Cathedral Basilica of Saints Peter and Paul amid high security.
He told the packed cathedral of about 1,600 people that the future of the Catholic church depended on more involvement from women and laity.
Follow coverage of Pope Francis in America
"It means valuing the immense contribution in which women, lay and religious, have made and continue to make to the life of our communities," he said in Spanish during his homily, which garnered applause at its end.
Francis is in Philadelphia to promote religious freedom in the birthplace of American independence. The city awoke to 8-foot-tall mesh fences, concrete barriers and bike racks lining the streets as airport-style security — including TSA agents — was installed for the pontiff's visit.
He arrived shortly after taking off from from New York's JFK airport at 9:10 a.m. ET on a chartered American Airlines Boeing 777. A band from Bishop Shanahan High School, a Catholic school, played the theme song from the Philadelphia-set movie "Rocky."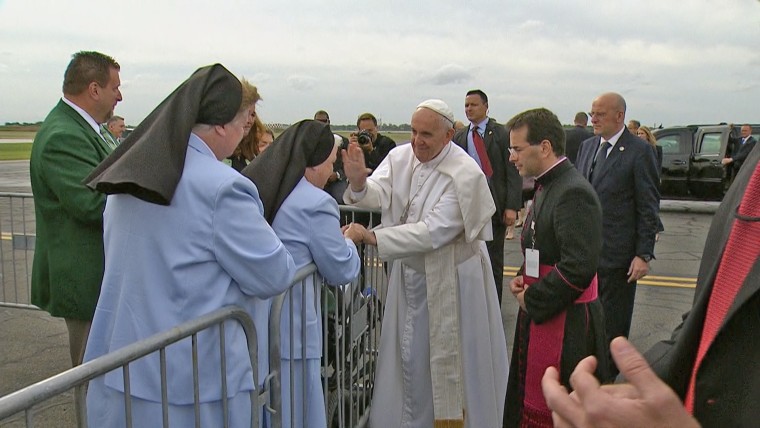 The popular and unpredictable pope shook hands with a small group of greeters and waved for cameras on Philadelphia International Airport's tarmac before getting into a small black Fiat that was bound for Cathedral Basilica of Saints Peter and Paul, as crowds watched and cheered from behind barricades.
But seconds after getting into the car, Francis, spotting a child in a wheelchair behind the barricades, got out. He walked over and kissed the boy, Michael Keating, 10, on the head before climbing back into the backseat of the Fiat. Michael is the son of Bishop Shanahan's band director, Chuck Keating, and suffers from cerebral palsy.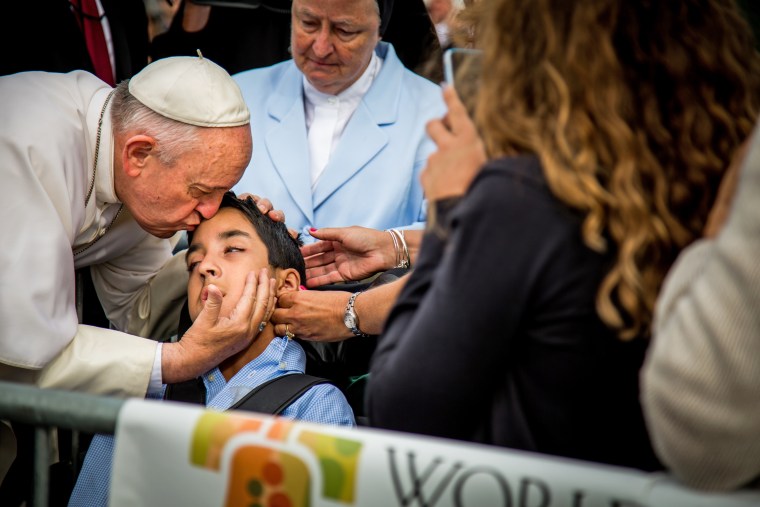 After Mass, the pope headed to visit a seminary, and later this afternoon, Francis will hold a speech on religious freedom and immigration in front of Independence Hall.
The 78-year-old Buenos Aires-born pontiff wraps up his six-day American tour on Sunday with a Mass outside the neoclassical Philadelphia Art Museum, expected to attract as many as 1.5 million people.
A large swath of the city was shut down to cars. Rivers that flow alongside sensitive sites were locked down to any boat traffic.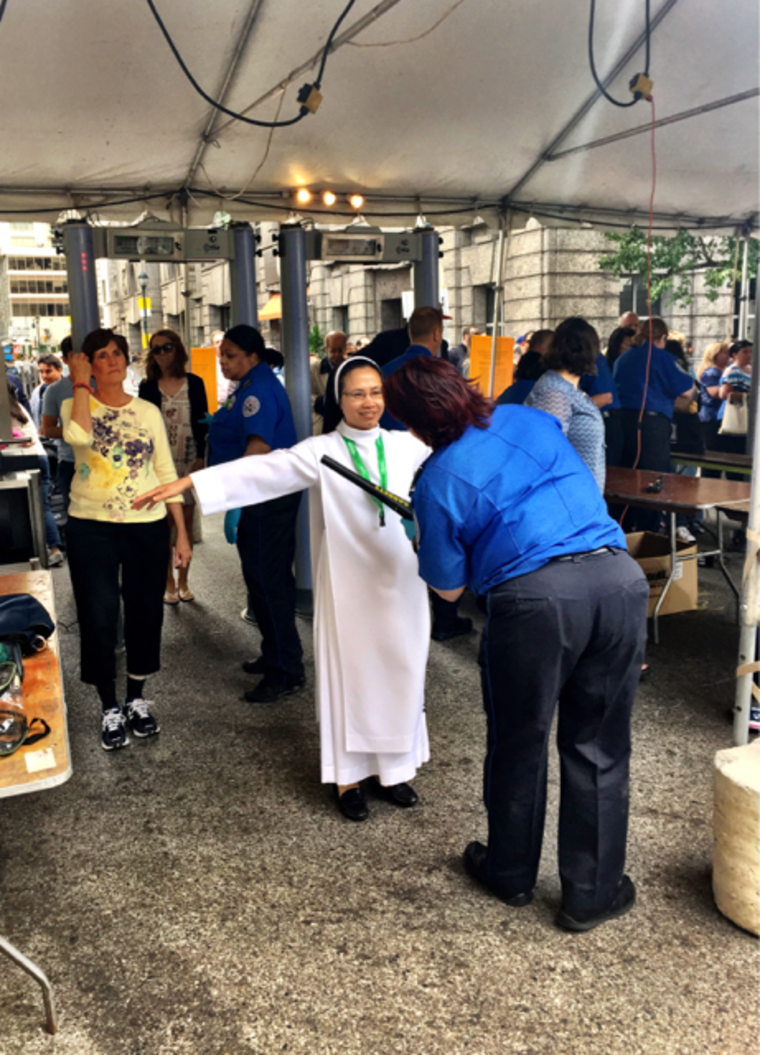 The pontiff's stay in Philadelphia — as it did in Washington and New York — is requiring unprecedented security measures. About 2,000 National Guardsmen, 265 bomb technicians, and more than 160 bomb-detecting dogs were protecting the city on Saturday. Signs warned that no drones were permitted to fly through the weekend.
Mayra Sanchez came to Philadelphia from Mexico with her two children and her mother for the World Meeting of Families, an international gathering of Catholics that Francis will address Saturday night. She told NBC News that the security was "great."
"We love the pope and we want him to feel comfortable and secure here," she said.
Aretha Franklin and other performers will serenade the pope during the festival.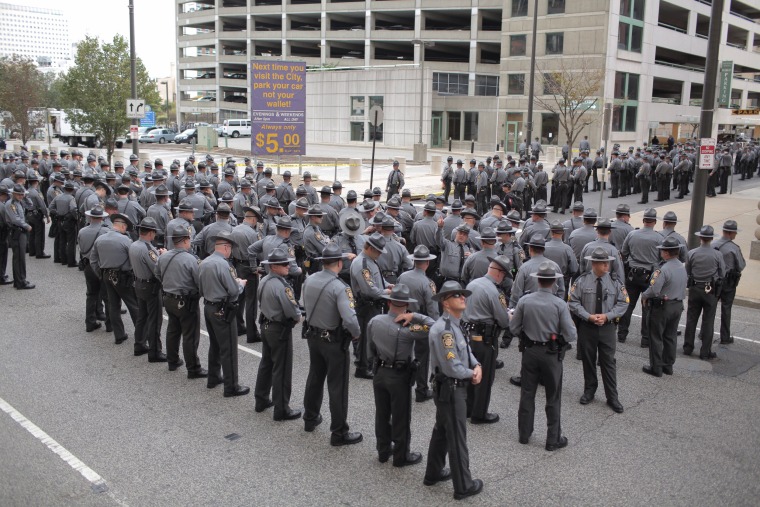 Outside Independence Hall, where the United States Declaration of Independence and Constitution were adopted, crowds began to form at 7 a.m. — but they will have to wait until 4:30 p.m. to see the pontiff.
He is expected to hold a rally there with Hispanic and other immigrants on the theme of religious freedom. The event combines two issues about which Francis is most concerned: the plight of immigrants seeking a better life for themselves and their families, and the freedom to practice religion.
The pope has denounced the persecution of Christians and other religious minorities in the Middle East.
Lina Blanco, 55, came to Philadelphia on Friday night from Miami. She doesn't have tickets to any of the events, but is hoping to catch a glimpse of the pope's motorcade.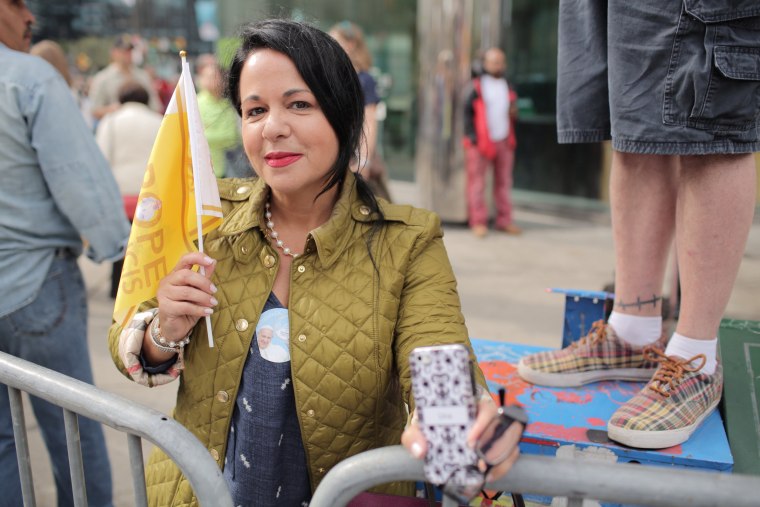 "Just to be here where I know he will be is very emotional. It's the City of Brotherly Love and I'm feeling the love and the peace," she told NBC News. "Plus, I got to have a Philly cheesesteak!"
Javier Gomez, 49, came from Green Bay, Wisconsin, with his nephew. They were on the motorcade route with a sign asking the pope to bless a Habitat for Humanity house built in Francis' name for one of their relatives.
Gomez said even if they don't get to see the pope, the trip will have been worth it. "Love is in the air," he said. "You can feel it."
In his address at the U.N. General Assembly on Friday, the pope noted that Christians and others in the Middle East "have been forced to witness the destruction of their places of worship, their cultural and religious heritage, their houses and property" and have been forced either to flee or face death or enslavement.
In his address, the pope also denounced "a selfish and boundless thirst for power and material prosperity" in the world that causes the misuse of natural resources and the exclusion of "the weak and disadvantaged."
Vatican spokesman Father Federico Lombardi acknowledged to reporters on Friday night that the pope was tired amid a packed schedule on the trip. He said the pope usually has physical therapy for a leg problem but cannot undergo therapy during trips, so was having some difficulty with steps.