Pope Francis told reporters that his teachings on social issues are in lockstep with Roman Catholic doctrine, while acknowledging that he's seen by some as a leftist — and by one woman as the "anti-pope" because of his choice of footwear.
On the flight from Cuba to the U.S. on Tuesday, an Italian journalist asked the pontiff about speculation that he is a communist and alluded to a Newsweek headline that asked: "Is the Pope Catholic?"
Francis responded with an anecdote about how even his decision not to wear the red shoes favored by previous popes had called his faith into question.
"A cardinal friend told me that a lady went to him — very worried, very Catholic, a little rigid but good, good, Catholic," he said, according to a translation provided by the Vatican.
"She asked if it was true that there was an Antichrist and anti-pope…'
"'Why do you ask this?' the cardinal asked.
"'Because I am sure that Pope Francis is anti-pope.'
"'Why do you think this?'
"'Because he doesn't [wear] red shoes as is traditional.'"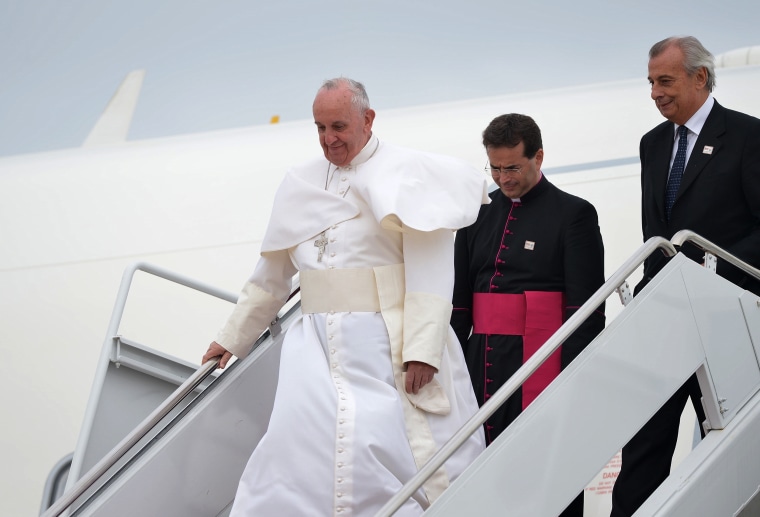 Francis' down-to-earth style and his pronouncements on climate change, capitalism and other social issues have alarmed some conservatives and traditionalists.
He defended his teachings, telling reporters traveling with him to Washington on Shepherd One, "I am certain that I didn't say one thing more than wasn't in the doctrine of the church."
He suggested that his comments have been misinterpreted or politicized.
"Maybe an explanation gave an impression of being a little bit more left-leaning, but it would be a mistake," he said.