PHILADELPHIA — Pope Francis refuses to forget society's most vulnerable.
The people's pontiff began the final day of his historic U.S. trip on Sunday by meeting with victims of clergy sex abuse and other forms of abuse before telling bishops at a local seminary that he promised to "zealously" protect young people.
Pope Francis then urged bishops at St. Martin of Tours to practice "oversight to ensure that youth are protected." He also promised that those responsible for the sexual abuse "will be held accountable."
"God weeps for the sexual abuse of children," the pontiff added.
"I am profoundly sorry that your innocence was violated by those who you trusted," Pope Francis told victims, according to a log of the remarks from the United States Conference of Catholic Bishops.
Francis prayed with and blessed the victims he met with — three women and two men, who are now adults, according to a statement from the Vatican. The meeting lasted about a half hour, the statement said.
Victims' groups have said that the church has not done enough to aid the children affected by clerical sexual abuse.
The Survivors Network of those Abused by Priests (SNAP) said Sunday that the pope's visit with victims was "another feel good, do nothing papal meeting with survivors."
The pope has focused on meeting with the sick and beleaguered during his U.S. trip. On Saturday he halted his motorcade to kiss a young boy with cerebral palsy.
And Francis's penultimate scheduled stop Sunday was Philadelphia's largest prison — the Curran-Fromhold Correctional Facility — where he met with young prisoners and corrections officers. Inmates at the prison built a special chair for Francis to sit in, and the pope's speech was broadcast to all the prisoners.
Francis told the inmates that they are not alone, and should not feel deserted during their time in prison.
"I am here as a pastor, but above all as a brother, to share your situation and to make it my own," the pope said. "Any society, any family, which cannot share or take seriously the pain of its children, and views that pain as something normal or to be expected, is a society condemned to remain a hostage to itself."
Francis said the faithful should commit to helping the prisoners in their time of "rehabilitation" because no one is perfect. "All of us have something we need to be cleansed of, or purified from. May the knowledge of that fact inspire us to live in solidarity, to support one another and seek the best for others," he said.
After the prison visit, the pontiff's final U.S. mass is expected to draw the largest audience of his tour. Eileen and Conrad Haubrich are bringing their 12-year-old son, Brett, who has brain cancer, to the event.
"I'm hoping my son will get a blessing from the pope. God works miracles through Pope Francis so we are hoping he will be healed," said Eileen Haubrich. "But Brett really just wants to see the pope. He's a big fan of his message. And it's really exciting for him."
Crowds have thronged Francis at every stop of his six-day tour, with the pope charming audiences in Washington, New York and now Philadelphia.
Krystyna Szymanski, 50, told NBC News that she has noticed a transformation in her city during the pope's visit. "It changed Philadelphia. Everyone is pleasant. Everyone is happy. Everyone is willing to help people," Szymanski said while waiting for the pope to deliver his message. "The pope leaves, but I hope the change will stay."
More than 1.5 million people are expected to pack the area between City Hall and the Philadelphia Museum of Art for Sunday mass — Francis' last scheduled public event in the U.S. before he heads back to Rome later Sunday.
Security has been tight around the pontiff's visit, with Philadelphia no exception. Large stretches of downtown have been closed to vehicle traffic and pedestrians entering a 1.6 mile corridor are subject to search, according to the Associated Press. A man was arrested Saturday for getting past a checkpoint and trespassing within the blocked off area, according to Philadelphia police.
Sister Maria Teresa and fellow nuns from the Franciscan Sisters of the Renewal convent in the Bronx, New York, had been waiting for the pope's motorcade since 7:30 a.m. Sunday. "Basically, you just want to hug him," she said.
They would have to wait a bit longer, as Francis made an unscheduled stop at St Joseph's, a Jesuit University. The pope visited with school leaders at the college's newly dedicated statue, "Synagoga and Ecclesia in Our Time," which commemorates the 50th anniversary of a more harmonious relationship between the Catholic and Jewish faiths, according to the school.
Vatican spokesman Federico Lombardi said the stop was meant "to celebrate the anniversary of the inter-religious dialogue."
"Since his election, the Holy Father has inspired us in so many ways … He has reenergized and strengthened our student body in their Catholic faith," Saint Joseph's president Mark C. Reed said in a statement. "To have him actually set foot on our campus will be unforgettable."
The bishops at St. Martin of Tours appeared to be responsive the pope's earlier message of bishops' responsibilities to defend the young through the preservation of family.
Francis blamed the lack of familial bonds on "running after the latest fad; a 'like,' accumulating followers on any of the social networks."
"We human beings get caught up in what contemporary society has to offer," which leads to "loneliness with fear of commitment in a limitless effort to feel recognized," Francis said.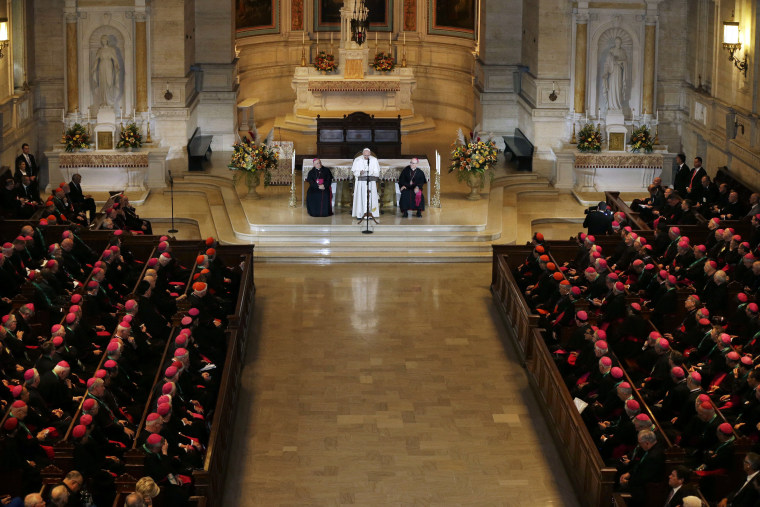 "In the Congress a few days ago I said we are living in a culture that pushes and convinces our youth to not create families — some because they don't have the means at their disposal and others because they have so much at their disposal that they're very comfortable as they are. That is the temptation to not create a family," he said.
On Saturday, the pope drew laughs in closing out the World Meeting of Families, a Vatican-sponsored conference and festival for more than 18,000 people. He ditched prepared remarks for an off-the-cuff monologue on the importance of family complete with a joke about mothers-in-law.
Tracy Connor reported from Philadelphia. Elisha Fieldstadt reported from New York.