Pope Francis, in a historic visit to the White House, issued a call to reject discrimination on Wednesday and declared that climate change is a problem "which can no longer be left to a future generation."
Speaking in English on the South Lawn, the pope said that American Catholics are committed to building a society "which is truly tolerant and inclusive," and he said that individual rights must be protected.
He called for rejecting "every form of unjust discrimination," and he said that a just country must respect religious liberty.
"That freedom remains one of America's most precious possessions," the pope said.
On the first full day of his six-day American tour, Francis spoke at length about the climate, praising President Barack Obama's efforts to combat air pollution. He stressed the need to protect what he called "our common home."
"We are living at a critical moment of history," he said. "We still have time to make the changes needed to bring about "a sustainable and integral development, for we know that things can change."
Photos: Pope Greets Thousands at American Debut
The pope spoke after a formal welcome from the president, who praised his "profound moral example" of humility and mercy.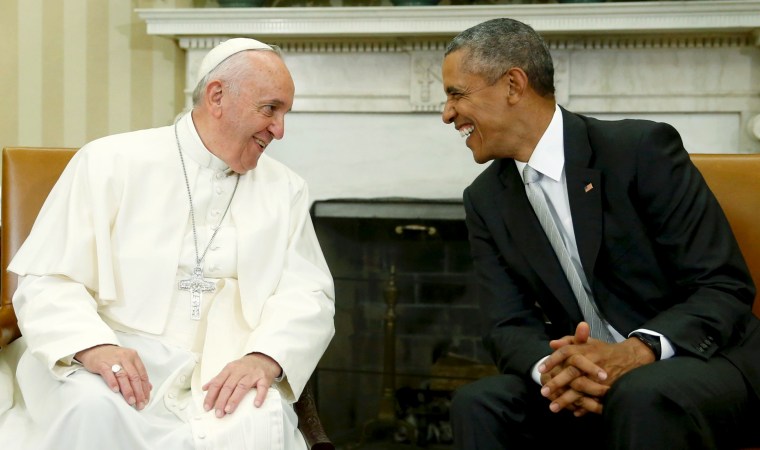 Earlier, as he left the Vatican diplomatic mission in Washington, he mingled with hundreds of fans — returning their embraces and lingering for conversations with the crowd snapped pictures with their phones.
In his White House remarks, the pope gave an apparent nod to the warming of diplomatic relations between the United States and Cuba, which he helped broker, and which he said opened doors of cooperation "within our human family."
Francis, the first Latin American pope, called himself the son of an immigrant family, and he said that he was proud to visit a country built largely by immigrants.
After his speech, Francis waved to the crowd from the Truman Balcony, the president to his left and the first lady to his right.
He was to meet with the president privately, part of a full day in Washington. His schedule included two parades, a midday prayer with Catholic bishops at St. Matthew's Cathedral and the controversial canonization of an 18th century missionary.
He will address Congress on Thursday and the United Nations on Friday.
Some excerpts from the pope's remarks:
On hopes for his American tour: "As the son of an immigrant family, I am happy to be a guest in this country, which was largely built by such families. I look forward to these days of encounter and dialogue, in which I hope to listen to, and share, many of the hopes and dreams of the American people."
On tolerance and religious liberty: "Together with their fellow citizens, American Catholics are committed to building a society which is truly tolerant and inclusive, to safeguarding the rights of individuals and communities, and to rejecting every form of unjust discrimination. With countless other people of good will, they are likewise concerned that efforts to build a just and wisely ordered society respect their deepest concerns and their right to religious liberty. That freedom remains one of America's most precious possessions."
On fighting climate change: "Such change demands on our part a serious and responsible recognition not only of the kind of world we may be leaving to our children, but also to the millions of people living under a system which has overlooked them. Our common home has been part of this group of the excluded which cries out to heaven and which today powerfully strikes our homes, our cities and our societies. To use a telling phrase of the Reverend Martin Luther King, we can say that we have defaulted on a promissory note and now is the time to honor it."
On justice and equality: "I would like all men and women of good will in this great nation to support the efforts of the international community to protect the vulnerable in our world and to stimulate integral and inclusive models of development, so that our brothers and sisters everywhere may know the blessings of peace and prosperity which God wills for all his children."