Shrugging off protests from the faithful and authorities, scalpers are selling tickets to see Pope Francis during his East Coast visit for a small fortune on Craiglist and other websites.
Organizers in New York City initially gave out approximately 80,000 free tickets to the public to attend the pope's procession through Central Park on Friday following his address to the United Nations, for example. But it didn't take long for some among the lucky 40,000 who received a pair of tickets through a lottery to realize that could profit from the demand by selling them.
Numerous tickets to the event quickly popped up on popular want-ad and auction sites like Craigslist and eBay, starting around $100 but climbing toward $250 or more as the clock ticked down. One seller was asking for $700 for a pair.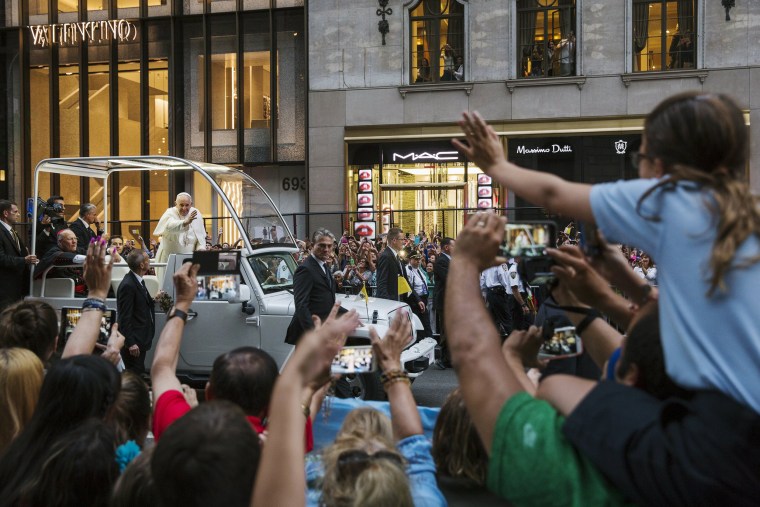 Even though ticket scalping is not clearly illegal under New York law, church and civic leaders have asked websites to pull ads for the tickets out of respect to the pope and his followers.
Pope Francis Charms New York City
"I don't know if (scalping tickets in NYC) is criminally illegal, but we are discouraging it," Monica Klein, a spokesperson for the Mayor Billl de Blasio, told NBC. "We've been working with eBay and Craigslist. As (ads) go up we contact them and they take them down. So it is on a rolling basis."
The eBay auction site said it had complied with the requests on the grounds that the sales violated its terms of service. Craigslist also appeared to be making an effort to comply with the take-down requests, though new scalping ads kept popping up. Craigslist did not immediately respond to a request for comment.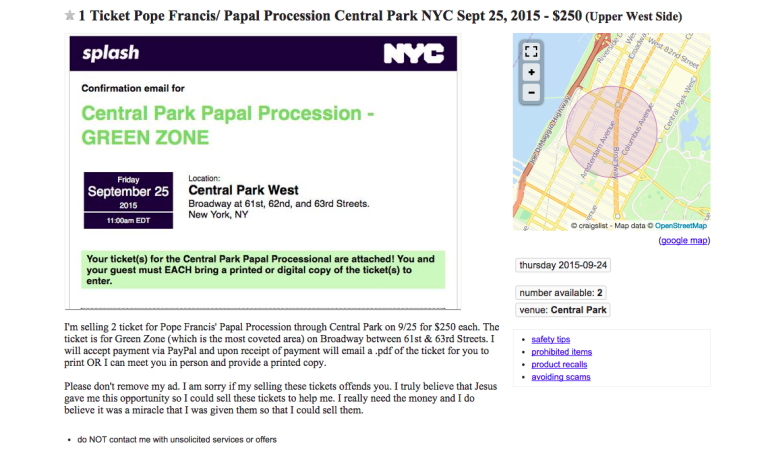 "It's disgusting that anyone would take a free ticket for someone to see His Holiness and decide to re-sell it," de Blasio said in a statement earlier this week. "No one should buy such a ticket. It's just absolutely inconsistent with everything that this pope stands for."
Cardinal Timothy Dolan, the archbishop of New York, issued a statement decrying the profiteering.
"Tickets for events with Pope Francis are distributed free for a reason — to enable as many New Yorkers as possible, including those of modest means, to be able to participate in the Holy Father's visit to New York," Dolan said. "To attempt to resell the tickets and profit from his time in New York goes against everything Pope Francis stands for."
One couple offered their apartment on Craigslist to anyone who want to see the pope during his visit to Our Lady Queen of Angels school in Harlem, where he is scheduled to appear at 2 p.m. ET. The post, which offered access for up to five people: $11,000, had been "flagged for removal" by Friday morning and was no longer visible.
"While I can't guarantee you'll be able to shake his hand, I can say that you'll definitely have the means to pay your respect (to Pope Francis) by seeing him up close and personal," read the post.
Pope Declares a 'Right of the Environment' at U.N.
"Arrive early," the posters advised, "It will be crowded."
The posters were clearly anticipating feedback from those offended by their free-market approach to the papal visit.
"Please save and keep any and all negative comments to yourselves," they wrote. "Putting a price on it is only fair, and by luck given how fortunate we are to live close to the presence of his visit. The proceeds will go toward our own aspirations and to one day we will help others achieve theirs."
Other sellers said they had more immediate charitable impulses, with some saying they were giving tickets away because they didn't want them to go to waste. One asked for a one-page essay to help decide who should get the tickets. One seller offered a set of three tickets to the festival in exchange for $500 he said was being donated to charity.
Other ads were posted by people desperately looking to get their hands on tickets.
One poster on Craigslist offered handmade jewelry in exchange for a pair of tickets to see the pope in Philadelphia, where he's scheduled to appear in three outdoor events on Saturday after he leaves New York. Some 30,000 free tickets -- 10,000 each for a Festival of Families, Mass and a speech on immigration and religious freedom at Independence Hall – were distributed for the events. That ad, too, had been removed by Friday morning.
Tickets for Friday night's Madison Square Garden event, "A Journey of Faith with Pope Francis," are limited in availability. They were distributed to parishes within the Archdiocese of New York, with a limited number distributed to the other dioceses in the state of New York. Other Catholic organizations and institutions throughout the archdiocese of New York also got dibs on tickets.
A check of the popular concert reselling site StubHub late Thursday night suggested the site had been selling tickets to the event but had run out. A page for the event said there were "0 tickets left."
The Associated Press contributed to this report.