Pope Francis made a surprise stop to see nuns who are suing the Obama administration for requiring employers to cover the cost of birth control — a visit the convent called a "spiritual shot in the arm" for its lawsuit.
The pope made the unscheduled trip to Little Sisters of the Poor in Washington, D.C., on Wednesday, during a busy first day of his historic trip to the United States. The nuns, who run homes for senior citizens across the country, have been embroiled in a legal battle over the contraception provision of President Obama's 2010 Affordable Health Care Act, or Obamacare.
Vatican spokesman Rev. Federico Lombardi told reporters that the pope's visit was a "sign of support for" the nuns.
RELATED: Pope Francis' Itinerary Includes 9/11 Memorial and Philadelphia Prison
The nuns are arguing, under the Religious Freedom Restoration Act, that they should not have to provide insurance coverage for birth control for their employees. Under Obamacare, any employer who refuses to do so will be fined. The Sisters say the law goes against their religious beliefs.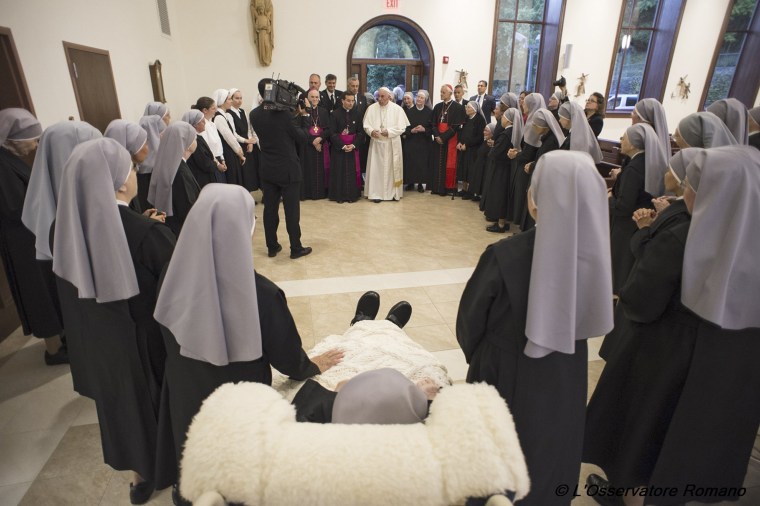 A compromise to the law allows religious groups to opt out of paying for contraception and sterilization, as long as a third party pays for the services instead. But the Sisters say that would still violate their spiritual position.
During his visit, Pope Francis "fortified" the nuns, their spokeswoman said.
"When he came to speak to us, he made it clear he wanted to speak to and meet with the sisters, not the elderly people we care for," Little Sisters of the Poor communications director Sister Constance Veit told NBC News.
RELATED: Pope Francis Addresses Congress Under High Security
"It just gave us a lot of moral support and confirmed we are on the right track with the lawsuit as far as the church is concerned while we wait to see if the Supreme Court will take the case," Veit said. "It gave us a lot of energy and everyone was very fortified. It was a spiritual shot in the arm."
Earlier in the day, Francis commended bishops at Washington's Cathedral of St. Matthew the Apostle for their support of the anti-abortion cause.