When President Obama re-established the White House Initiative on Asian Americans and Pacific Islanders (WHIAAPI) by signing Executive Order 13515 in October 2009, he also established the President's Advisory Commission on Asian Americans and Pacific Islanders, created the Initiative's Interagency Working Group, and indicated a commitment to Asian Americans and Pacific Islanders.
Eight years later, we asked Asian-American leaders to share some of their memories of their time working under the Obama administration, as well as what the Obama administration has come to mean to them.
Bill Imada, Commissioner, President's Advisory Commission on AAPIs
Working under the vision and leadership of President Barack Obama has been nothing short of exceptional. When asked if I would consider serving on the President's Advisory Commission on Asian Americans and Pacific Islanders, I realized that this would be an opportunity of a lifetime. I said yes immediately. Who would say no to serving a leader who invites diverse views and opinions, and who embraces constructive criticism? As an entrepreneur, small-business owner, and community leader, it was important for me to bring a private-sector voice to the Commission.
What I discovered from my interactions with other commissioners, members of the White House Initiative on Asian Americans and Pacific Islanders (WHIAAPI) staff, and federal agency leaders from throughout the country, was a level of esprit de corps I had never witnessed in government before. People of all backgrounds, races, ethnic groups, political views, and more were singularly focused on ensuring that we advanced the needs, interests and aspirations of all Asian Americans and Pacific Islanders in our country.
AAPIs are the fastest-growing segment of our country's population, and our voices must continue to fill the halls of government, corporations, foundations, academic institutions and nonprofit groups.
While we didn't always agree on every single detail or approach to the myriad of challenges and opportunities facing our diverse communities, the Commission and its partnership with federal and regional leaders is unmatched under any past administration. AAPI communities from every corner of our country, including the territories and freely associated states, all came together to share their stories (and now, our stories), find alignment on critical issues such as health care, immigration, bullying, the need for real disaggregated data about our communities, entrepreneurship, sustainable leadership and most importantly, access to federal programs and services that seemed almost impossible to achieve just a few years ago.
RELATED: 50 Asian Americans and Pacific Islanders of the Obama Administration
I am very proud of my service on the President's Advisory Commission on Asian Americans and Pacific Islanders, and strongly encourage President-elect Donald Trump to continue having an advisory organization under his administration. AAPIs are the fastest-growing segment of our country's population, and our voices must continue to fill the halls of government, corporations, foundations, academic institutions and nonprofit groups.
While much work remains to address the concerns of both the AAPI and LGBT communities, I think we have a record of accomplishment under President Obama that we can be extremely proud of.
Shin Inouye, Press Secretary, U.S. Citizenship and Immigration Services
It has truly been an honor to be an AAPI and LGBT appointee in the Obama Administration. Since taking office, President Obama and his Administration have made historic strides to expand opportunities and advance equality and justice for all Americans, including both the AAPI and LGBT communities. I was proud when the President re-established the White House Initiative on AAPIs. He's brought great diversity to the federal bench by appointing historic numbers of AAPI and LGBT judges. It was humbling to witness the President sign the repeal of Don't Ask, Don't Tell into law, and to be there when he signed an Executive Order protecting LGBT Americans who work for federal contractors against employment discrimination.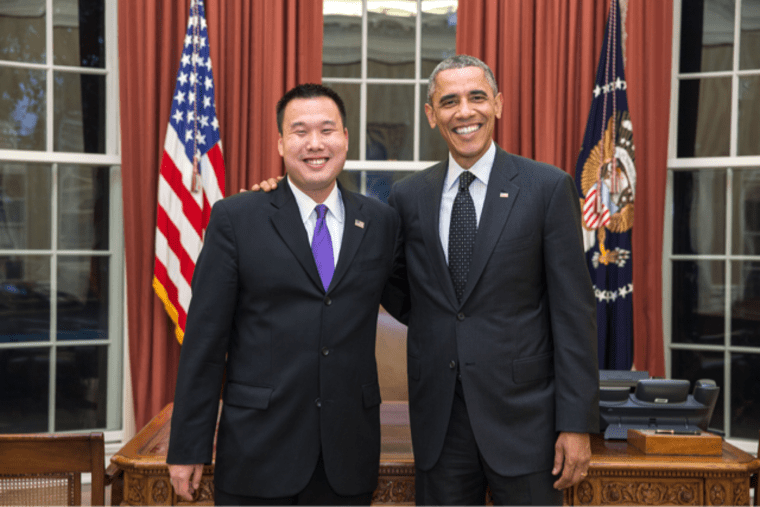 After six years at the White House, I'm now at US Citizenship and Immigration Services (USCIS), where we have the duty of overseeing the world's largest immigration system. I've had the high privilege to participate in several naturalization ceremonies, and there's no greater feeling than to administer the oath of allegiance and be the first to welcome our nation's newest fellow Americans. While much work remains to address the concerns of both the AAPI and LGBT communities, I think we have a record of accomplishment under President Obama that we can be extremely proud of.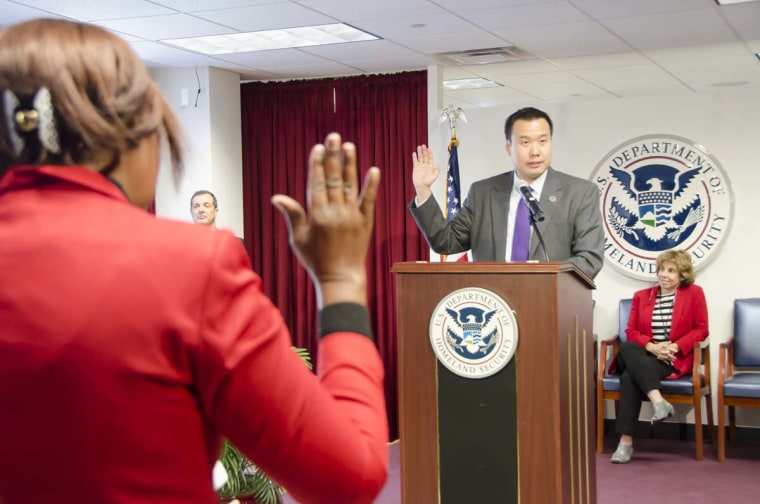 Mee Moua, Executive Director and President, Asian Americans Advancing Justice
On many occasions, President Obama has said that when he's among the Asian American and Pacific Islander (AAPI) community, he was among family. To many AAPIs, he is family -- he grew up in Hawaii where his Asian American sister and her husband still live and where his family visits often. As a member of the AAPI community, I've had the honor and privilege of sitting at the same table with the most powerful person in the world. The President always welcomed policy ideas and kept an open mind in hearing our community's issues and potential solutions. Even when we've differed on tactics or strategies, it has been both an honor and a privilege to be part of many task force meetings with President Barrack Obama during his years at the White House.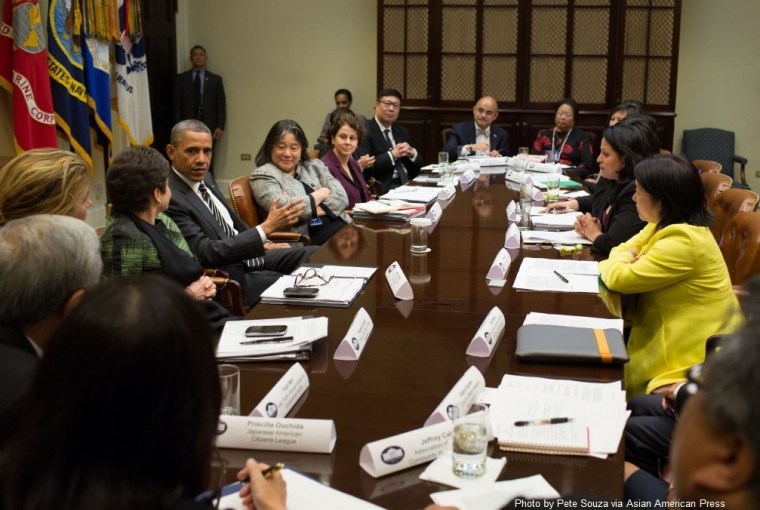 AAPIs have enjoyed some big wins under President Barrack Obama's administration. From salvaging the economy from the brink of depression to the historic Affordable Care Act law; from his push for marriage equality to expanding judicial diversity in our nation's highest courts, and of course his executive actions on immigration relief. When Congress failed to pass immigration reform, the President offered relief in the form of "parole" to allow eligible family members of Filipino WWII veterans to live with their family members while waiting for their approved visas. He implemented the Deferred Action for Childhood Arrivals (DACA) that allowed young undocumented immigrants to apply for work permits and removed the short-term threat of deportation. Though we suffered a defeat in the recent Supreme Court split decision on expanded DACA and Deferred Action for Parents of Americans (DAPA), people in the AAPI community continues to hope for some future executive action that will restore hope to the more than half a million AAPIs who would benefit from DAPA and an expanded DACA program.
Perhaps the most enduring of President Obama's legacy is the fact that our children have experienced a world where the President of the United States is African America—a reality that was an "improbable" story before 2008. For that, and in so many other ways the President and First Lady Michelle Obama have changed not only the image but the perception of the Office of the President, we are proud of you, and we thank you for your service to this great nation.
Karen Narasaki, Commissioner, U.S. Commission on Civil RIghts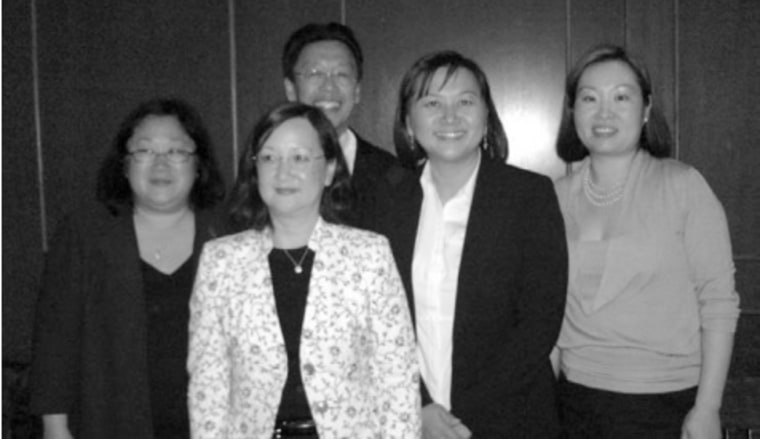 My favorite moment in the Obama administration was being at the White House when President Obama announced he was nominating Sonia Sotomayor to the Supreme Court, the first woman of color to be a Supreme Court Justice. I was sitting next to an African American attorney and both she and I had tears in our eyes; neither of us had thought it possible that we would see a woman of color on the court in our life time. A close second was the joint confirmation hearing of Dolly Gee, Ed Chen and Jacqueline Nguyen for federal district court judgeships. During his administration, President Obama has appointed more AAPI attorneys to the federal court than all of his predecessors combined.
Konrad Ng, Executive Director, Shangri La Center for Islamic Arts and Cultures, and
Maya Soetoro-Ng
During the first campaign, we were struck by the enthusiastic embrace of the President as "the first Asian American President." While we smiled at the novelty of the concept, we knew that he strongly believed in trying to live up to the high expectations of America's diverse communities, and try to present a vision of America that would make us feel proud. Two terms and several years later, we remain buoyed by the sense that America's best days have yet to come. We have many great memories and feel proud of the progress made on behalf of Asian Pacific American communities - doors opened not only by the President, but also by grassroots activists as well as those in the Administration and across the country.
Ai-Jen Poo, Director, National Domestic Workers Alliance
Like the young Barack Obama, who organized in the late 1980's with local residents in Chicago to improve their communities, I am an organizer. Since the late 1990's, I have organized alongside domestic workers -- the women who work in our homes, helping us care for our families and maintain our households. It's some of the most important work in our economy, yet, between low wages, lack of benefits, and isolation, it's often invisible and deeply undervalued.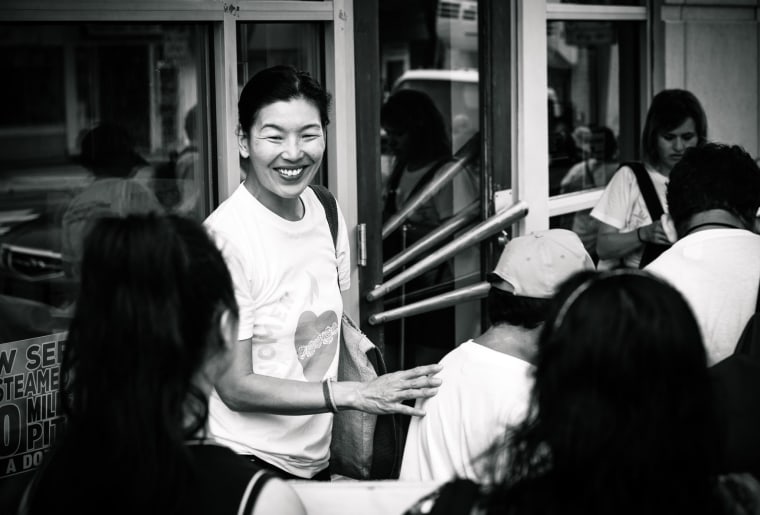 One of the women who inspires me most, Emily Uy, is a caregiver and cancer survivor from the Philippines. Emily brings her signature brand of care to the people she supports, including stroke survivors, ALS patients, and those in hospice care. "Our work requires patience and understanding," Emily recently told me. "For example, as live-in caregivers, there's almost no such thing as 8-hours of sleep. Patients call me in the middle of the night when they need to go to the bathroom or when they have a nightmare. Our job is to be there for them, no matter what."
Emily's work is more important than ever, as the Baby Boom generation ages and people live longer. Nearly 10,000 people turn 70 each day, and we live an average of 20 years longer than when our safety net was established. However, with wages as low as $13,000 per year, we're having trouble sustaining a workforce to meet our growing need for care in America. We lose many of our most passionate caregivers, who must find better paying work in order to care for their own families.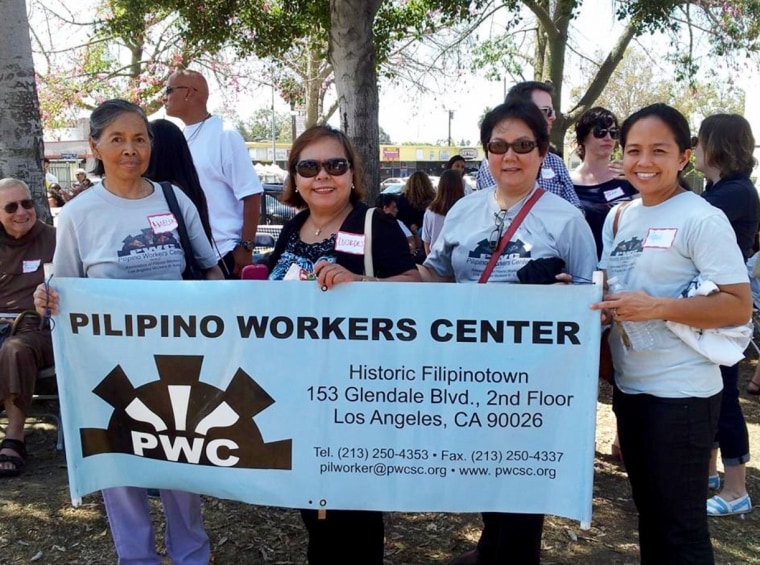 RELATED: How Trump's First 100 Days in the White House Could Affect Asian Americans
At age 57, Emily joined the Pilipino Workers Center, a caregiver's organization in Los Angeles affiliated with the National Domestic Workers Alliance. She wanted to bring dignity to her work as a caregiver and ensure that caregivers can earn a family-sustaining wage. During the Obama Administration, Emily and thousands of professional caregivers like her traveled to Washington to meet with leaders in the Department of Labor and members of Congress, to share their stories and raise awareness about the need for wage protections for this workforce. As a result of their advocacy and the leadership of President Obama and the Secretary of Labor Tom Perez, the Department of Labor announced a rule change that brought 1.8 million home care workers under the protection of the Fair Labor Standards Act after generations of exclusion.
The new rule has now been in effect for a year, and it's changing lives. Emily has more time to spend with her children and go to routine doctor's appointments, which are particularly important to her as a cancer survivor. In this short period of time, her wages have also increased. When I last spoke with her, Emily told me: "It feels exciting and overwhelming -- like all of our hard work has paid off. But this victory isn't just for me, it's for everybody. It has restored our dignity because we now feel we are part of the work force and we are treated equally, so it makes me feel good, like I've done something right. I'm fulfilled."
Glenn Magpantay, Executive Director, National Queer Asian Pacific Islander Alliance
[My favorite memory of the Obama administration is when] in the summer of 2005, The National Queer Asian Pacific Islander Alliance (NQAPIA) organized a series of Regional Summit where LGBT AAPI organizational leaders called 1,000 family and friends who agree to make 800 phone calls to the President Obama to take bold action on immigration reform., which the President did on Nov 20. It was a long time coming, and he came through for us.
Under this administration, there also has been greater attention paid to the many differences within the Asian American and Pacific Islander communities.
Myron Quon, National Director, National Asian Pacific American Families Against Substance Abuse
I have been so lucky to work on behavioral health issues under the Obama Administration. Under this administration, I have seen many changes including a change via Obamacare, such that alcohol addiction and depression is now treated equally as seriously as hypertension, diabetes, or cancer. Under this administration, there also has been greater attention paid to the many differences within the Asian American and Pacific Islander communities. These highlighted differences include varying rates of tobacco use and mental health challenges.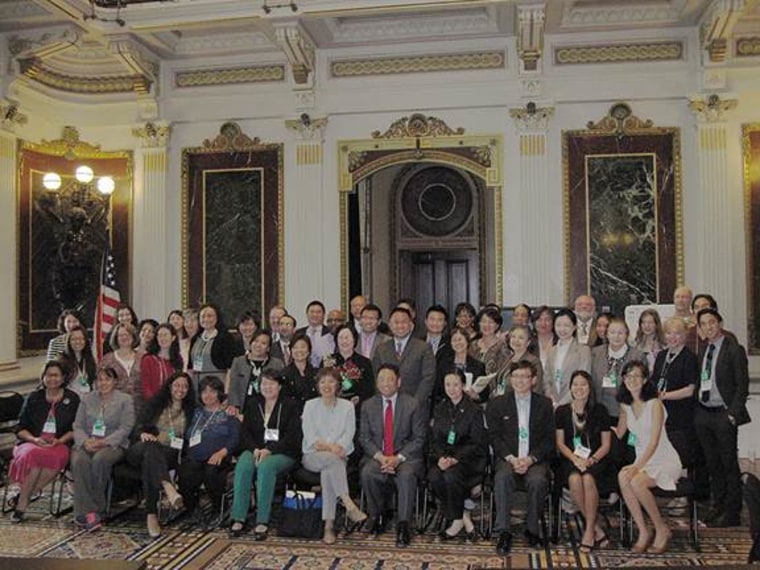 My fondest memory concerning the Obama Administration involves a national summit at the White House. Dozens of leaders from around the country joined administration leaders to focus specifically on the needs of Asian Americans, Native Hawaiians, and Pacific Islanders living with behavioral health issues. The topics included increasing the usage of interpreters and translation of materials from the first point of contact when seeking behavioral health assistance to recovery while being integrated back into the community. Other crucial ideas included how to best increase job opportunities for our community members while also adding to the number of healthcare professionals who are bilingual and bicultural.
In addition, it was so inspiring to hear the actual voices of community members living with behavioral health conditions, speaking up proudly concerning how best the administration can assist with ensuring they can live fully.
Robin Puanani Danner, Sovereign Councils of the Hawaiian Homelands Assembly (SCHHA)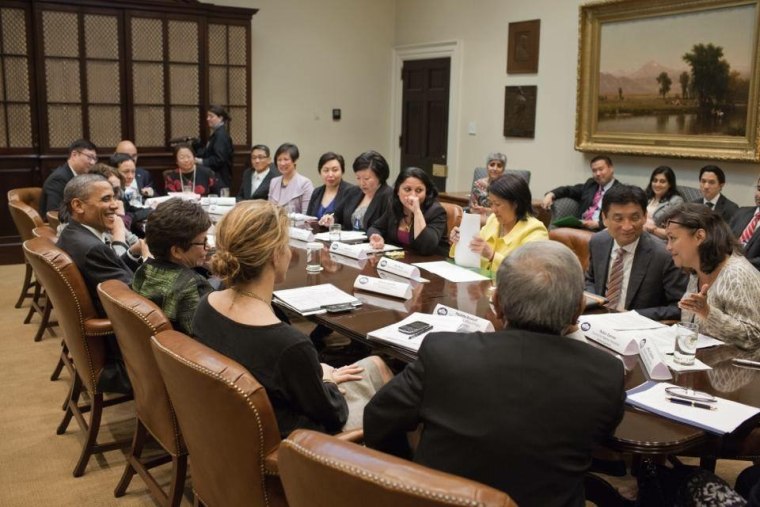 After 95 years of having no federal rules to implement the 1921 Hawaiian Homes Commission Act, a land trust for Hawaii's indigenous people enacted by Congress, President Obama took serious the request from the Council for Native Hawaiian Advancement (CNHA) president Robin Danner, to review the matter. In June of 2016, the first set of rules were approved by the federal government, for the first time in nearly 100 years.
The federal rules help set the course to creating stability for Native Hawaiians. Having known processes is good for business growth, farming and ranching activities. Mahalo President Obama for your work in setting a solid foundation for the Native Hawaiian people to build upon."
Christopher Lu, Deputy Secretary of Labor and White House Cabinet Secretary
Having worked for Barack Obama since 2005, it's hard to single out just one memory of this historic Presidency. But I often think about December 22, 2010 -- the day that President Obama signed the repeal of Don't Ask, Don't Tell.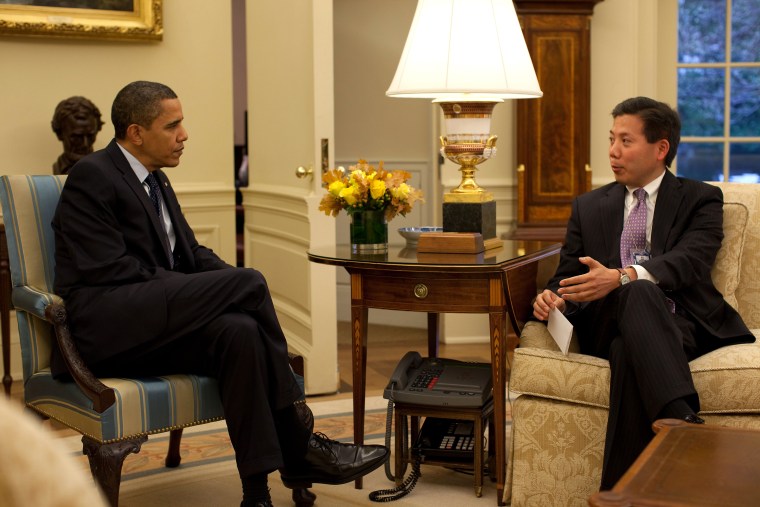 I was privileged to witness the bill signing, and five years later, I still get emotional remembering the servicemembers and veterans in the audience, tears rolling down their eyes, because they would no longer have to hide their sexual orientation. With his signature, the President extended our nation's ideals of equality and inclusion to all Americans willing to risk their lives to defend these ideals. Along with the legalization of same-sex marriage, President Obama helped usher in a seismic transformation in our society.
Recently, I was explaining to my niece, then in high school, that 50 years ago, many states prohibited people of different races from getting married. As the child of an interracial marriage, my niece was incredulous of the ignorance and bigotry of a bygone era. Years from now, young people will be similarly disbelieving about a time when gay Americans could not marry or serve in the military. We still have much more work to do to eliminate discrimination in this country, but because of President Obama's repeal of Don't Ask, Don't Tell, we have moved closer towards a more perfect union.
Follow NBC Asian America on Facebook, Twitter, Instagram, and Tumblr.