WASHINGTON – Cecilia Muñoz is about to end eight years as the top-ranking Latina in the White House, but she said there's much that was done in President Barack Obama's presidency that will remain in place in the country.
In a brief interview from her West Wing office, Muñoz told NBC Latino "a lot of what this administration accomplished is clearly enduring."
While Muñoz was a top adviser to Obama on immigration – an issue for which she has borne much criticism – Muñoz's work spanned beyond that issue.
As Obama's domestic policy adviser, director of the Domestic Policy Council and in her first White House role, head of Intergovernmental Affairs, Muñoz worked to try to bring about policies and proposals at a state and local level that were hitting roadblocks in Congress or never being taken up there, as well as advising the president on policies such as Obamacare.
RELATED: ¡Obámanos! President Barack Obama's Legacy, Through a Latino Lens
Muñoz said the administration "has been extraordinarily consequential for the Latino community" on the economy, education and health care "even though we would have liked to have accomplished immigration reform."
She acknowledged that it has been an issue for the administration.
"Immigration sucks up so much oxygen," said Muñoz, the daughter of Bolivian immigrants who before the White House had worked as an activist on the issue, including working closely with the late Sen. Ted Kennedy to try to get immigration reform through Congress.
"My entire career — I've been doing this for 30 years — education, access to health care, jobs and the economy have always been the primary issues in the Latino community," said Muñoz, who previously oversaw the policy staff for the National Council of La Raza and worked on policy and forcing policy change with other non-profits.
Recently released Census Bureau data show that in addition to raising the median income by more than at any time in the last 40 years, income gaps are closing, Muñoz said. Latinos' incomes and graduation rates went up and poverty rates have dropped.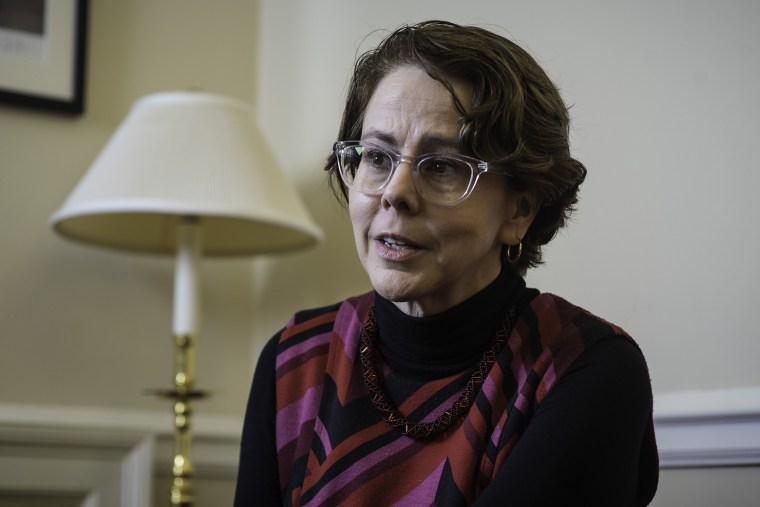 "So it's not just that we lifted the economy for everybody, it's that we were trying to be deliberate about making more progress in the communities that needed it the most, and it worked," Muñoz said.
"What that demonstrates is that kind of change is possible. We can close the gaps we've been fighting (to close) for so long and I take enormous pride in that."
There is some skepticism about the size of the income gains that the Obama administration touts, but there are signs that Latinos have seen economic improvement since the Great Recession, such as the drop in unemployment.
Because Obama faced a Congress reluctant to work with him during much of his tenure, Muñoz said she and others in the administration focused on leveraging relationships with governors, mayors and tribal leaders of both political parties "to make sure the kinds of changes we were working on take hold."
One example she cited was Race to the Top, a program that created competitive grants for schools granted on basis of reforms they wanted to enact to move their students to being college ready.
The program lost all funding in 2015 amid congressional complaints about federal intrusion in schools. The Education Department's own study was inconclusive about its effectiveness, but another education review said it stimulated reforms at the legislative level that might not otherwise have happened.
"That's enormous reform and that's not getting unwound because of the election. That happened at the state level," Muñoz said.
"If you get past the layer of ideology in this town, you find Democrats and Republicans alike who see and agree with the wisdom of those [Obama] policies," says Muñoz.
She also cited the president's efforts to make pre-Kindergarten available for every 4-year-old in the country, which Obama called for in his 2013 State of the Union address. The administration had figured out how to do it nationally and how to pay for it, she said.
"We didn't get Congress to get there, but we made progress in 34 states and for the Latino community the preschool development grants we invested in — this is money we fought for (and) won, we got out of Congress multiple years in a row – half of the Latino children under the age of 5 benefit from those grants. That's extraordinary," she said.
She cited other examples:
– Obama didn't get the minimum wage increase to $10.10 an hour, but a number of states have raised their minimum wages with millions of workers in some states seeing increases this year.
– Obama proposed making two years of community college free. Though some states already were offering forms of the proposal, Muñoz said the 100th free two-year community college program recently opened in November.
"A lot of the progress we've made, if you get past the layer of ideology in this town, you find Democrats and Republicans alike who see and agree with the wisdom of those policies and making similar efforts," she said.
Muñoz's first position as head of Intergovernmental Affairs also put her square in the administration's work with and on behalf of Native American governments. In Obama's tenure, the administration gave greater recognition to tribal governments, settled the 1996 Cobell lawsuit over the government's mismanagement of a trust fund holding tribes' oil royalties and settled a 1999 discrimination suit against Native American farmers and growers.
"This president's record in Native American communities is epic and I've been involved since the beginning. I'm really proud of the record and the impact there and that's something official Washington hasn't paid attention to," she said.
Obama also pushed for and signed the Violence Against Women Act. The act included protections for domestic violence for Native Americans and was expanded to extend the protections for people who are lesbian, gay, bisexual and transgender and to undocumented women, which were supported by Obama, Muñoz said.
Obama has been "enormously consequential" for the Latino community, said the administration's top-ranking Latina.
In a November interview with the Center for Migration Studies (CMS), Muñoz said her biggest disappointment and frustration was the failure to get immigration reform. In that interview, she defended the administration's immigration enforcement policies, emphasizing the priorities or rankings for deportation of immigrants set by the administration.
In the interview, she also defended Obama's efforts to get immigration reform, saying he had an uncooperative Congress. Activists also took some of the pressure off Congress when they shifted their protests and demanded Obama take executive action, which he eventually delivered, she told CMS.
A segment of Latinos remain unmoved by the administration's explanations and critical of Muñoz for having continued to defend the policies. She took heat in 2011 for saying in a PBS documentary that Congress mandated the deportation of 400,000 people a year.
Asked what she'd say to immigrant activists disillusioned by deportation policies, Muñoz said the "rule of law is really important, so laws you struggle with that are broken need to be reformed and we need to look beyond the executive to reform them. The president insisted for a long time that the people stay focused on Congress."
Muñoz also said it's critical that young people and the rest of the public stay engaged.
"The public's engagement is paramount in a democracy," she said. "If we don't stay engaged, then bad things happen."