When she walked out of the White House to greet the Italian Prime Minster Matteo Renzi and his wife for her final state dinner she was stunning.
Dressed in a sleeveless, chainmail, rose-gold, Atelier Versace gown and sleek hair swooped over to one side, First Lady Michelle Obama solidified her fashion legacy.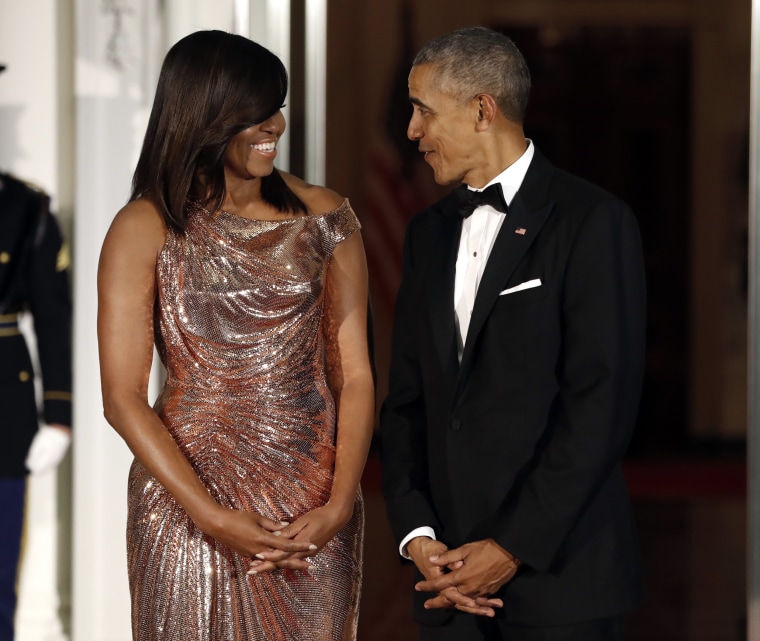 Over the years, the first lady has wowed trend watcher with deeply personal style choices that were a decided departure from the traditional, conservative wear of first ladies of yesteryear.
Gallery: The Legacy of First Lady Michelle Obama
Obama's fashion choices "changed the game", style experts say.
"It's like my music," Obama said at a White House roundtable in 2011. "Everything in my closet is something that I love, so that I can make choices based on what makes sense, knowing that I'm going to love whatever it is. I think that tends to be my philosophy."
She's a first lady who felt equally comfortable donning sleeveless dresses with floral prints or wearing a Wes Gordon metallic houndstooth jacket and high waist skinny jeans.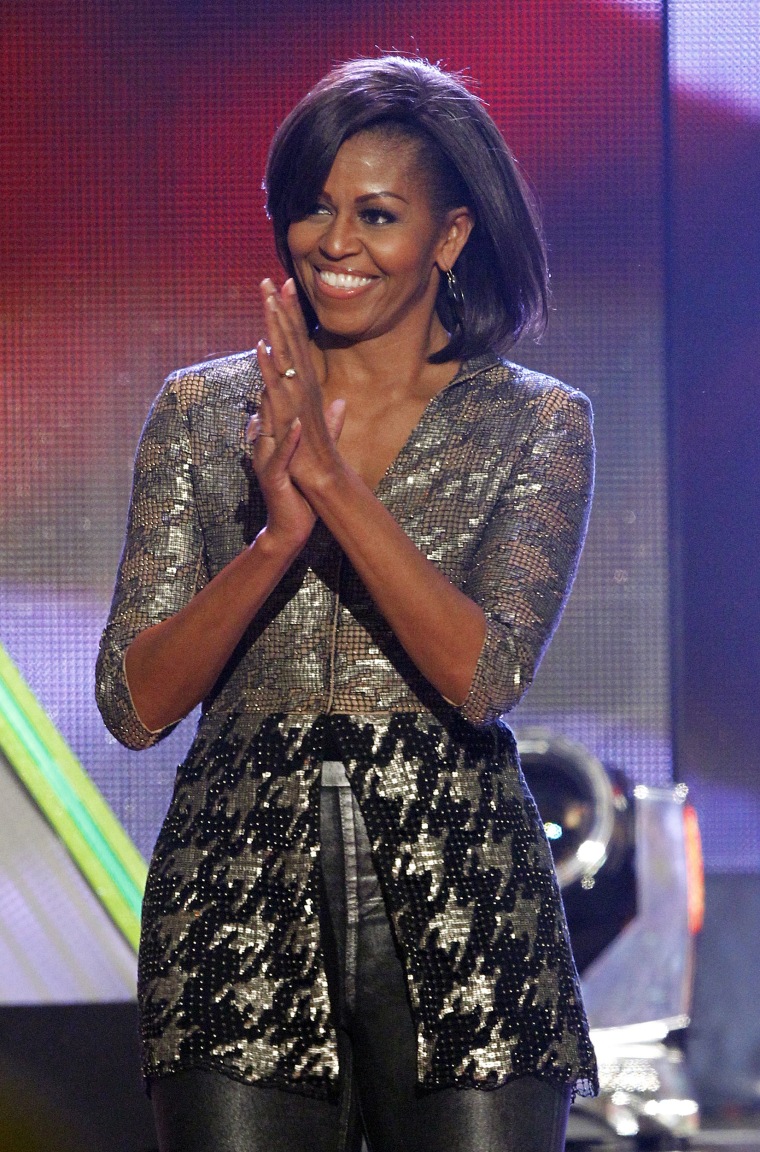 Obama has a conservative style that appeals to the office, but also a trendy side that appeals to the masses, said Joiee Thorpe, fashion editor for Essence Magazine. As one of the first women in the White House with a statuesque figure, Obama knows and is confident about what works for her physique, Thorpe added.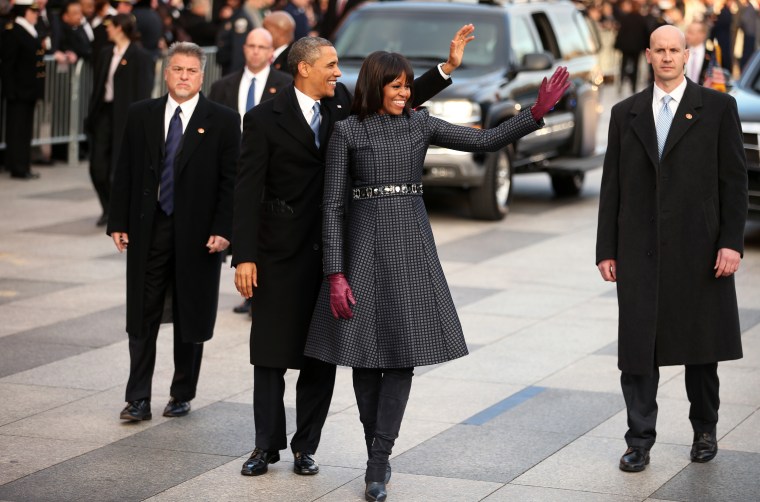 RELATED: Michelle Obama Gives Final Commencement Speech as First Lady
"That's the major key for women in America everywhere, to get it right,' Thorpe said. "When you really get it right, that's when you know how to dress your body and no one can tell you anything. She wears a dress and it sells out immediately."
At President Obama's final state of the union address, the first lady wore a sleeveless, marigold midi dress by fashion designer Narciso Rodriguez. The dress originally priced at $2,095.00 and on sale for $628 at Neiman Marcus, was sold out before the president finished his speech and set social media abuzz.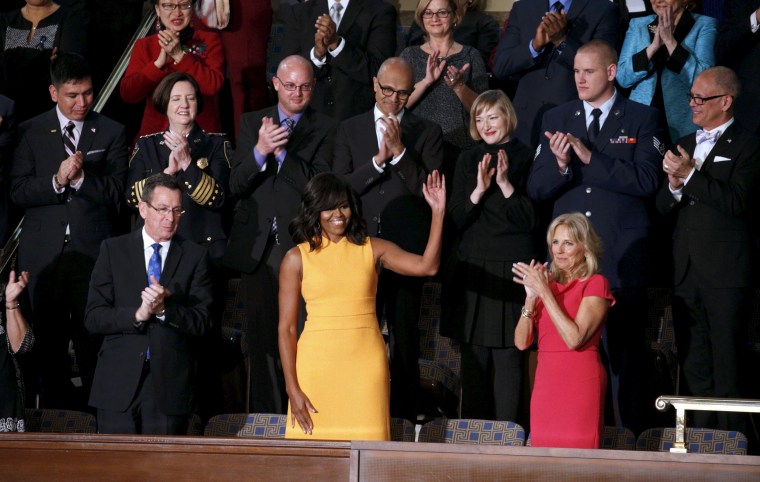 Obama's penchants for rocking dresses that show her well-toned arms influenced dress trends.
And she's even shown a little cleavage from time to time.
At the China State Dinner in 2015, she wore a long, black, off the shoulder, mermaid-style Vera Wang dress.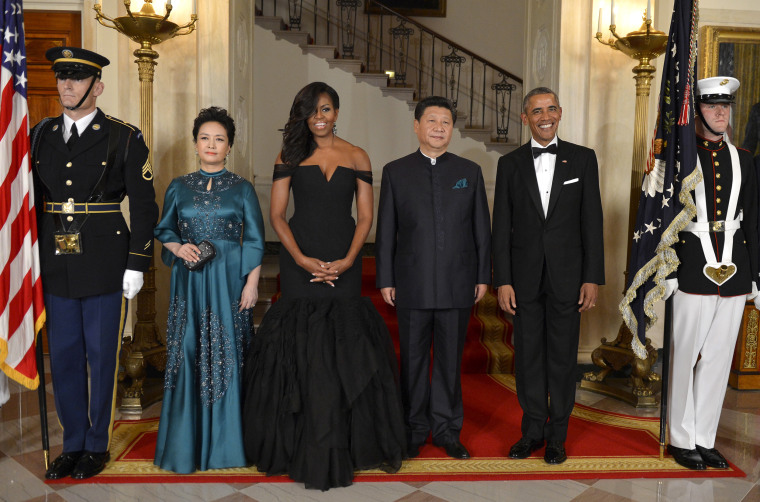 Speaking at the 2012 Democratic National Convention she was poised, yet fashionable wearing a sleeveless, pink and gold Tracy Reese dress and pink, suede heels from J. Crew. The shoes retail at $245 and are so popular they are hard to keep in stock to this day.
She has raised the fashion bar for other first ladies to follow, making room for them to play with their own style.
"First ladies will be comfortable making choices if they're the type of person who likes fashion. They will no longer be afraid to make decisions that aren't ultra conservative. They won't be afraid to expose their shoulders or wear a pencil skirt or wear prints and patterns."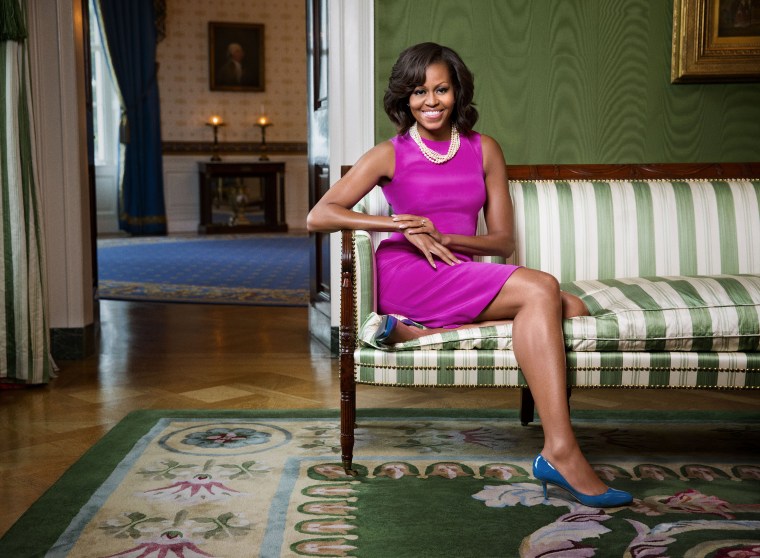 She is not only a trendsetter with her wardrobe, she also set trends by changing up her hairstyle.
In August 2013, she rocked honey blonde highlights at a Washington D.C. movie premiere and wore the same highlight in layers in March 2014. But whether it's long tresses with a bang or a bob cut with a deep middle part, her hair was always flawless for the occasion at hand, Thorpe said adding "how hair goes with an outfit makes a big difference."
RELATED: The First Lady Joins Snapchat as 'MichelleObama'
"First and foremost, I wear what I love," she said in an interview in 2009 with Vogue. "That's what women have to focus on: what makes them happy and what makes them feel comfortable and beautiful. If I can have any impact, I want women to feel good about themselves and have fun with fashion."