For the past two years, Michelle Obama has attended a ceremony in the East Room of White House honoring the country's school counselor of the year as part of her program encouraging students to pursue higher learning. On Friday, she will use the occasion to give her final remarks as first lady of the United States.
As her time in the White House draws to a close, historians note that she leaves behind an unprecedented legacy, not just as the nation's first black first lady and fierce defender of her husband's policies, but as a champion for a healthier nation and access to educational opportunity.
"What strikes me about Michelle Obama is how much she made the position her own," Allida Black, the first ladies' historian at the White House Historical Association, told NBC News. "She not only became increasingly comfortable but also increasingly influential as first lady in ways that really were her own, and they were ways that were different."
Here, we look back at the evolution of Obama from her earliest days as a presidential spouse to now. Once labeled a potential liability during her husband's first campaign, she leaves the White House as arguably the brightest spot in a dismal Democratic landscape, so popular that after the election, social media was flooded with supporters begging her to return not as first lady, but as president.
Into the unknown
In 2008, after her husband's landmark victory, Obama came to the role "somewhat reluctantly and somewhat unsure" of how it would affect her family, said Anita McBride, former chief of staff to first lady Laura Bush and director of the First Ladies Initiative at American University.
On the trail, when asked what kind of first lady she would be, she gave little indication as to the mold she might attempt to fit. Obama's answer was most often, "I won't know until I get there."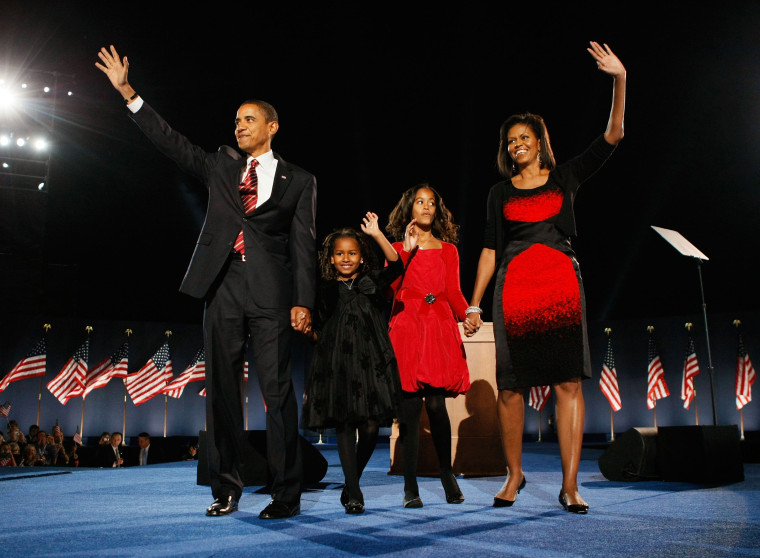 Her primary concern was conserving a private life for herself and her two young daughters, Sasha and Malia, McBride said. That was one thing that never changed as she found her footing on the national stage.
"I think she would consider that one of her most important duties and legacy — that she was able to maintain a private family life for herself and her girls," she added.
Black said that Obama was able to balance "really making a home" for her family at the White House, "while at the same time trying to figure out and mastering what she wanted to do."
During the 2012 Democratic National Convention, the first lady declared that her "most important title is still 'mom-in-chief.'" And indeed, from her earliest initiatives she largely focused on programs dedicated to improving the lives of children.
Planting seeds
One of her first highly visible projects was a new garden on the South Lawn of the White House in April 2009. The garden would be the genesis of her Let's Move! initiative the following year, where she took on childhood obesity and lack of access to healthy food.
"She tied that issue directly to what was the biggest domestic agenda item of the Obama administration, and that was health care reform," McBride said.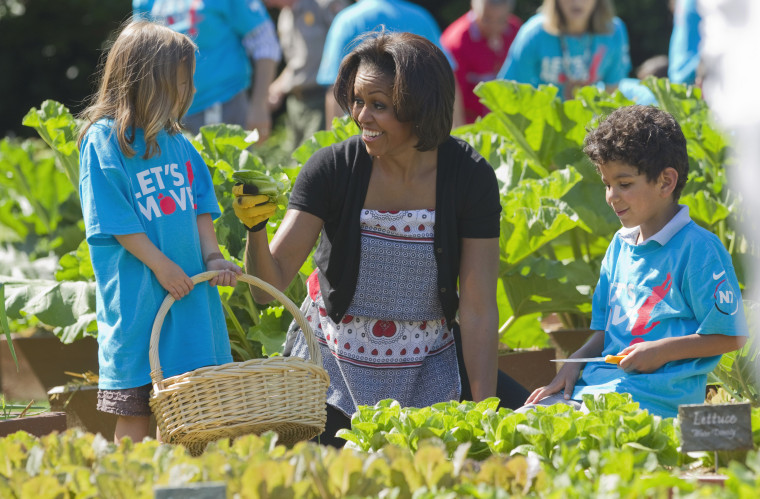 The following year, Obama became one of few first ladies able to get legislation passed, Black said. The first lady called the Healthy, Hunger-Free Kids Act "a cornerstone" of her work during the first year of Let's Move in a statement following its passage.
The act served to update school meal nutritional standards, offer healthier meal options for students and increase the number of students who had access to school lunch at little or no cost, according to the first Office of the First Lady.
Related: Michelle Obama: Presidential Election Was 'Challenging' to Watch
It was her outreach to the private sector around food labeling and opening grocery stores in underserved areas, however, that could ultimately have the greatest impact, Carl Anthony, a historian with the National First Ladies Library, told NBC News.
"Here is where you really see how Michelle Obama may well have a permanent, though somewhat anonymous, influence in the entire country," he said.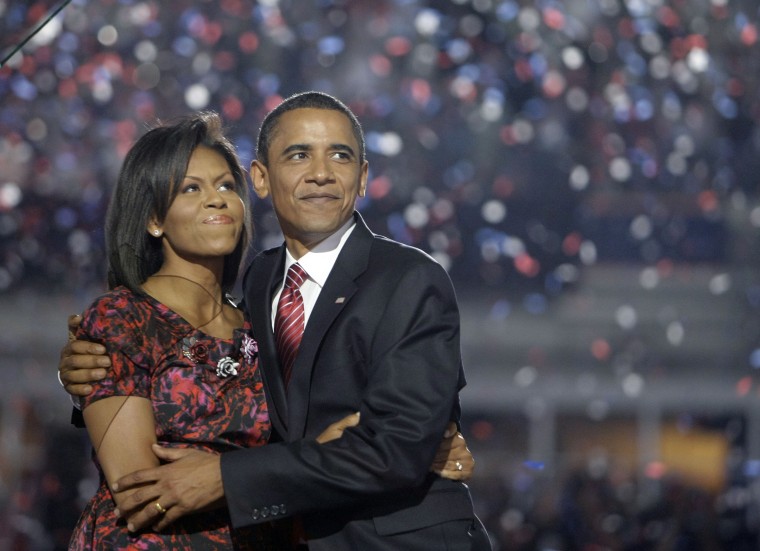 Her efforts earned her critics on the left and the right, from those who thought her initiatives worked too closely with big food corporations to those who those who thought she was encouraging government overreach into their children's plates.
Still, these types of projects offered the first lady a way to "frame the entire administration's policy agenda" from a personal place, Lauren Wright, political scientist and author of "On Behalf of the President," said.
"Michelle Obama always approached the topic of health care from the perspective of a mom, of a family, of someone who cares about the generation of kids that are going to come after the Obama administration," she said.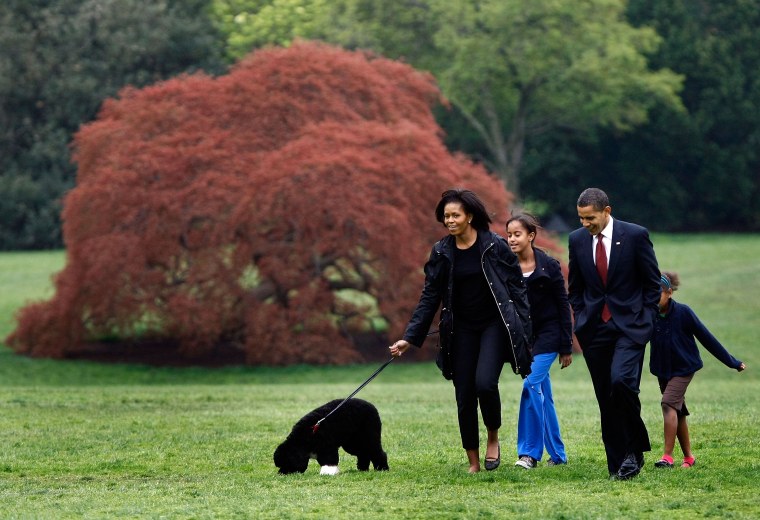 Sleeveless, and on social media
One of the most controversial things about Obama proved to be her muscular arms — specifically, whenever she wore anything that showed them off.
"Causes uproar," ABC said in 2009.
"Michelle Obama Goes Sleeveless, Again," a New York Times headline from the same year noted. "Nancy Reagan wore spangled ballgowns. Barbara Bush had fake pearls. Michelle Obama wears her bare arms," the story went on to say, acknowledging her devotion to exercise. But the article also lamented Obama's tendency toward privacy, stating, "Those bare arms seem like a reminder of everything about her we can't see."
Social media has since offered some insight, albeit the polished kind.
According to Wright, the Obamas use social media and popular culture to help shape public perception, citing the first lady's use of Snapchat and Instagram in more recent years, her viral "Carpool Karaoke" video and dancing on "The Ellen DeGeneres Show" as prime examples.
"She's using her platform to really shape the Obama legacy and I think she's the best surrogate to do that," Wright said, adding that first ladies "have greater control over the narrative in those settings" without risking looking unpresidential.
Related: Michelle Obama Redefines First Lady Surrogate Role
Aside from her likeable social media presence, Black says that Obama played an important role as a fashion and lifestyle icon.
"I think her fashion statement was as important and as striking as Nancy Reagan's, but in an entirely different way," she said. "She really let the country see her in a way that not only opened the White House up, but had a major impact on American culture."
"She made vigorous exercise, that is not traditionally affiliated with women, glamorous, sexy and healthy," she added.
Telling her story
Alongside her lifestyle initiatives, Obama began to highlight the importance of education and the role it played in her own life. According to Anthony, she began in earnest with a speech at a London school for girls in April 2009.
"I want you to know that we have very much in common," Obama told the group of students at the time. "For nothing in my life's path would have predicted that I'd be standing here as the first African-American first lady of the United States of America. There is nothing in my story that would land me here."
But she was also shaped by her professional career as a lawyer and her work for the University of Chicago.
"All of that is very important in looking at her success," Anthony said.
Related: Michelle Obama Urges Girls: Don't Take Your Education for Granted
Obama launched her Reach Higher initiative, of which Friday's event is a part, in 2014, and Let Girls Learn, her international initiative to draw attention to lack of education for girls around the world, in 2015.
She continued to share her own experiences when talking to groups of young people, Anthony said, even as she at times refrained from speaking explicitly about race and what she and her husband represented as the first black family to occupy the White House.
"I think in the beginning, she simply by being who she was and looking as she does that it didn't need to be verbally asserted," Anthony said.
Going high
In time, according to Black, Obama grew more candid about some of the discrimination she encountered as a black woman. The issue took on increasing importance in her commencement speeches.
"Her graduation speeches will I think be some of the most lasting and reprinted remarks of the Obama administration," she said.
In the past, Obama and her husband had been criticized for not facing racial tensions in the country head on. Still, after her 2015 commencement speech at Tuskegee University touched on the daily discrimination she and her husband experienced, she also faced criticism from those who thought she was playing the race card or sounded too angry.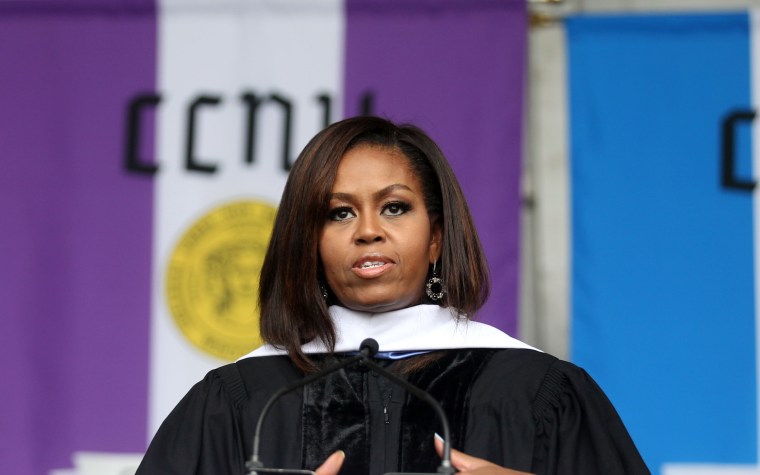 Black pointed to another moment that drew both consternation and acclaim, this time in a commencement speech at City College of New York last year where she said: "I wake up in a house that was built by slaves."
"I watch my daughters — two beautiful, black young women — head off to school, waving goodbye to their father, the president of the United States, the son of a man from Kenya who came here to America — to America for the same reasons as many of you ... to get an education and improve his prospects in life."
Obama's tone made her point so effective, Black said. "She said it in a way that's not bitter, and not sugar-coated. This is an aspect of us as a country, but look how far we've come."
Related: Michelle Obama Gives Final Commencement Speech as First Lady
Obama's words would return when she took the stage at the Democratic National Convention in 2016, giving her third nominating convention speech as first lady in support of Hillary Clinton and coining one of the signature phrases of the 2016 campaign, imploring: "When they go low, we go high."
"She upstaged everybody, because she spoke from her heart and it rang true to everything the country saw her do for the last eight years," Black said, calling Obama "really the most dynamic force on the campaign trail of any person in either party."
The first lady, who was polling as one of the most beloved political figures in the country near the end of the race,delivered another highly-praised speech in October in which she criticized now President-elect Donald Trump — the man who spent years promoting the false conspiracy theory that her husband wasn't born in America — for his treatment of women and minorities. She did it without mentioning him by name.
Her commanding presence on the trail not only lent her shine to Clinton, but emphasized her own unique place in history, Anthony said.
"Here was the first African-American first lady, who was married to the first African-American president and she was advocating and making the case for the first woman American president," he said. "That's one level where you see some empathy in a sense with being the first and breaking barriers in terms of perception."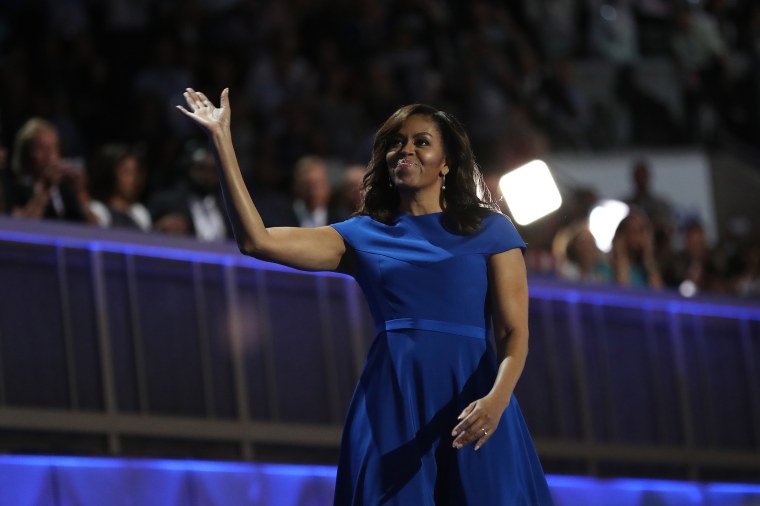 And while there has been much speculation as to how Obama will use her star power in her days after the White House, Black said, "I can't imagine her walking away from issues that she has devoted her life to."
Obama seemed to hint at that in a November interview with Vogue magazine.
"I will take the same approach leaving as I did coming in. I won't know until I'm there. I've never been the former first lady of the United States of America before," Obama told Vogue, before adding, "but I will always be engaged in some way in public service and public life."
Black said that reveals the "real evolution" of Obama's legacy and public image, from a first lady intent on protecting the privacy of herself and her family to becoming a powerful and outspoken political figure in her own right.
"I think that when [Obama] assumed a more public role it was so true to her that the country saw it," she said. "Now she's just who she is and the country sees that and has embraced it."