A small fleet of black cars sits parked inside of Paul Smith's garage in Plymouth, Pennsylvania. Most are SUVs that he uses to drive his customers around Luzerne County, the Poconos or even to Manhattan, about two-and-half hours away.
His small business is his lifeblood, and it's what informs the 42-year-old when he's in the voting booth, he explained after turning down the Howard Stern show blaring on the radio.
"I worry about the economy as a whole. I worry about any kind of terrorism-related event because travel slows down big time," he said, while driving from Plymouth to Wilkes-Barre, the county seat located in the northeastern part of the state. "People don't want to travel when things are scary, and I don't blame them. That slows down my business."
Smith previously supported Barack Obama, who carried Luzerne County both times he ran. But the small-business owner who employs a handful of contract workers was ready for a change in 2016 after eight years of a Democrat who promised a shakeup that Smith says never came.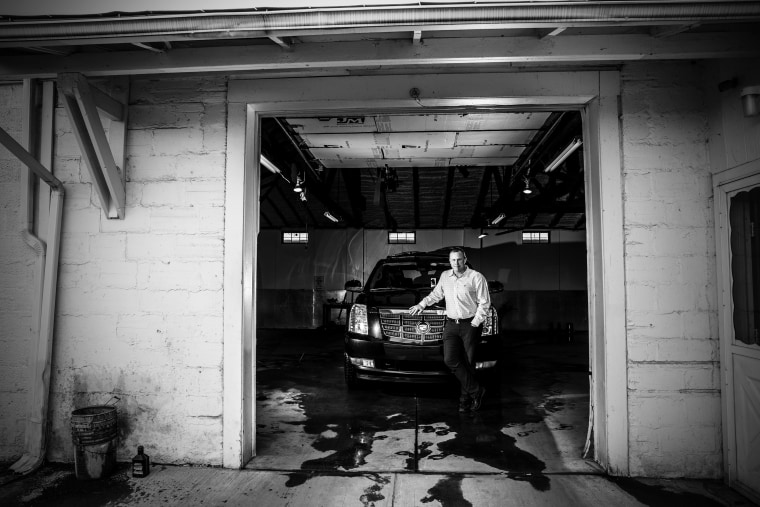 Smith admitted that Trump sometimes make him nervous — but ultimately he thinks the president might do well.
"He's a little more abrasive than I would be in some cases, but I don't think he's wrong," Smith said. "There has been a lot of BS, a lot of waste and ridiculousness over many, many years for nothing."
NBC News recently went to Luzerne County to speak to voters who helped deliver this county and this crucial swing state to Trump to hear about how they think he is doing after 100 days on the job. Do the economically struggling county's voters, largely concerned with jobs, think the fledgling president is on track to deliver on his campaign promises?
"I feel he's doing poorly because of flip-flopping on all the promises he made," said Chris Race, who works at the Liberty Tax Service in Wilkes-Barre and who voted for Trump. "He promised to drain the swamp, put Hillary in prison, and repeal Obamacare. He hasn't done those things."
Others, however, are giving the new president more time.
"I voted for Trump, and I think he's doing pretty good," said Alan Rosenbaum, who works with learning disabled children in Ashley, Penn. "We went to see him when he was here during the campaign one year ago. He spoke very well, very direct. He is pro Israel, so that is good. It's in the Bible."

Some Luzerne County residents also are quick to blame Congress, not Trump, for Washington's ills.
"I'd like to see Trump work with some of those moderate Democrats and find a solution to healthcare and all that," said Rick Morelli, a 46-year-old software developer who lives in Hazleton. "The problem is these guys on the far right and the far left. You got to keep those guys out and work with the people in the middle."
RELATED: Trump to hold rally in Pennsylvania instead of attending press dinner
Considered a solid blue bulwark for nearly 20 years, 58 percent of voters in Luzerne County shirked tradition last year and voted for Trump — a move that helped flip Pennsylvania for the Republican.
"He promised to drain the swamp, put Hillary in prison, and repeal Obamacare. He hasn't done those things" — Trump voter Chris Race
Trump trounced Hillary Clinton here, beating her by 26,237 votes — a 20 point margin. Those Luzerne County ballots amounted to nearly 60 percent of Trump's total winning margin in Pennsylvania. The county had gone for Obama by nine points in 2008 and provided him a five-point edge in 2012.
"You got to give [Trump] a chance," said Tom Welkey, a retiree from Wilkes-Barre who voted for the president. "I like what he's done with the military, but with the economy I haven't seen anything change around here. There haven't been any new jobs."
County residents here don't fully fit the Trump voter narrative of the non-college educated out-of-work blue collar voter, pining for better times. While that demographic is at play in an area defined by its weakening unions, nearly 60 percent of residents have white-collar jobs and 78 percent pursued studies after high school.
But the county does struggle with unemployment, which is one point higher than the five percent national average. That number has come down significantly, however, since it hit 10.5 percent in 2013.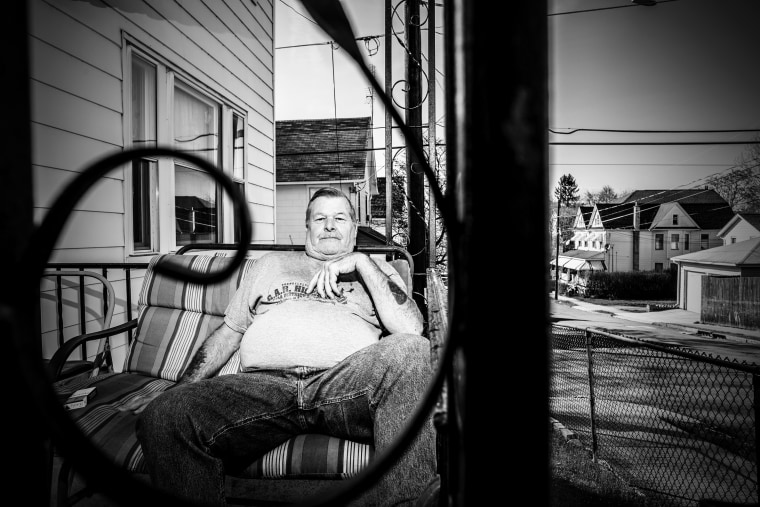 Amazon is Luzerne's top employer after the state and federal governments. Luzerne's newest Amazon facility, among several it has in the area, is a 400,000-square-foot fulfillment center on 51 acres in Pittson. The internet retailer is currently advertising for 350 warehouse positions there with an annual salary of $27,040.
"While unemployment is higher than the state average, it's not terrible," said Dr. Thomas Baldino, a political science professor at Wilkes University and expert on the area's political history. "The problem is that people who have jobs are in jobs that don't pay well. They're working in warehouses, in distribution centers, jobs that pay $10 to $12 an hour. Many of these folks remember places where they could work and support a family."
PHOTOS: Inside the Pennsylvania County that Traded Obama for Trump
Many residents have parents who worked in coal, but the mines shut down in the 1960s. The Knox Mine Disaster in Pittston killed 12 miners in 1959 and effectively led to the end of mining in northeast Pennsylvania. Textile mills and manufacturers, like Proctor and Gamble, then became major employers for the region, but their presence also has deteriorated over the past 20 years.
Trump came to the area during the campaign and spoke to the anxieties of an increasingly economically depressed region. Voters ears perked up to the candidate's overall message.
"I voted for him and he's doing great," said 62-year-old disabled veteran Charles Miller of Pittston. "He's doing what he said he was going to do: Keep us safe and go after the bad guys."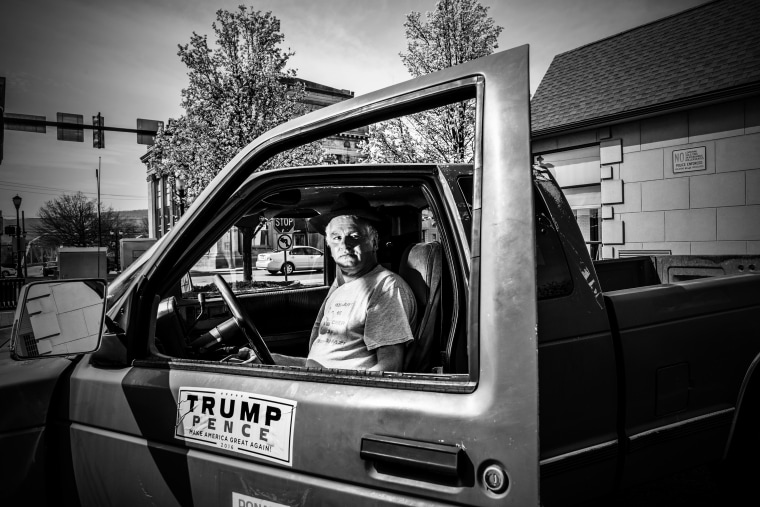 Kiyomi Clendenin, a 28-year-old bartender at the Oyster Restaurant in Wilkes-Barre, listens to a lot of her customers talk politics.
"From what I see, people are quite happy with Trump," she said. "People are hopeful. They say he's going to pull through and do all of the things that he said."
One of her customers, Joseph Jones, a 56-year-old disabled veteran who frequently comes to Clendenin's bar to drink pineapple juice, agreed.
"I voted for him and he's doing great. He's doing what he said he was going to do: Keep us safe and go after the bad guys" — Charles Miller of Pittston.
"Right now, he seems to be succeeding, but I will wait to see how he does after the full year to decide on him," said Jones, who noted that he stopped short of voting for Trump because of the real estate mogul's behavior during the election.
"I'm still leery to be honest," he added. "But I'm trying to give him the benefit of the doubt. He's our leader. I want him to do well."
Outside the bar, local radio show host Edd Raineri escorted an Elvis impersonator to dinner before a show at the region's performing arts center. He said there was no reason to be disappointed in the president — yet.
"He's certainly done more in his first 100 days than anybody else has ever done — give the guy a break," said Raineri, whose radio show is dedicated solely to the Beatles. "The attitude should be, 'Show me.' And if you can't show me, then you can throw your mud. That should be for anyone who takes political office, but at this point it's too early to say whether he's just a windbag."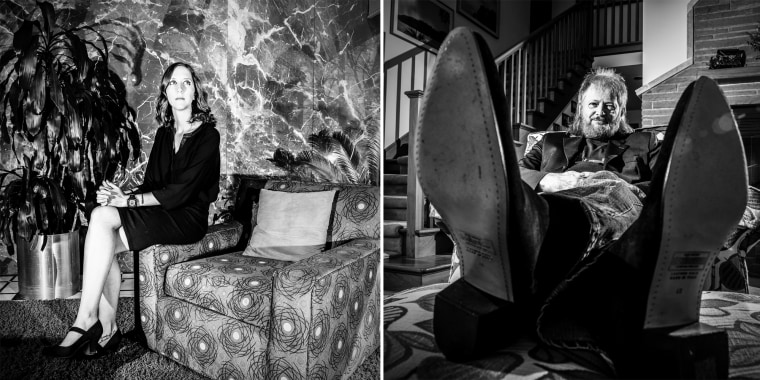 Trump voter Regan Murphy, a 20-year-old junior in college at Wilkes University, is annoyed by Congress and thinks it's the cause of any perceived failures by Trump. The self-described feminist, who dismissed Trump's controversial statements about women as "locker room talk," enjoyed her first experience in the voting booth in 2016 and believes the new president is flexing America's muscles appropriately.
"Congress is giving him a hard time, but he's actually taking action like with the bombing in Syria," she said. "We voted for him to make changes. If we voted for that change, then we can't fight him on everything."
Smith, the car service owner, agreed, finding Washington lawmakers to be an unnecessary obstacle to Trump's agenda and wishing that more people would take the president's message to heart.
"It sounds corny to say," he said, exhaling a plume of smoke from his cigarette, "but I really hope we can 'Make America Great Again.'"