The house in Carolina, Puerto Rico, where Maria Teresa Cancél Rodriguez lived with her husband and two sons was wrecked when Hurricane Maria ravaged the island more than seven months ago.
She and her family are now living in a hotel room in West Springfield, Massachusetts. But the clock is ticking on the assistance from the Federal Emergency Management Agency that allows them to stay there.
FEMA's Transitional Shelter Assistance Program, which is providing short-term housing assistance to about 2,300 families that are still displaced and living in hotels, is set to end on June 30, leaving some of those families with nowhere to go.
"I'd have to practically be in the streets," said Cancél Rodriguez, whose sons are 10 and 13. "Over there and here it is the same. I have nothing."
On Wednesday, more than 100 people displaced by the hurricane traveled to Washington to meet with lawmakers to ask that FEMA activate its Disaster Housing Assistance Plan, a program with the Department of Housing and Urban Development that provides longer-term subsidies to help families get apartments and pay rent after a natural disaster.
With the June 30 deadline looming, advocates say that program would offer a much-needed solution for the displaced families.
"Those families who remain in hotels will at that point have no additional financial support in the housing side so they will for all intents and purposes become homeless," said Tara Parrish, lead organizer with the Pioneer Valley Project, a grass-roots community organization in Springfield traveling to Washington with the families.
Late last month, Senators Elizabeth Warren and Ed Markey, both Massachusetts Democrats, introduced legislation that would require FEMA to activate the longer-term housing program for Hurricane Maria.
FEMA has previously provided longer-term housing assistance after other natural disasters, such has Hurricanes Katrina and Sandy.
"FEMA can simply flip a switch to make this happen," said Denise Collazo, chief of staff at faith-based community organizing group Faith in Action. "For whatever reason, they're choosing inaction."
On Wednesday, FEMA said in a statement that it "continues to provide a variety of housing programs to adequately meet the unique needs of disaster survivors in Puerto Rico that are more timely and effective." FEMA has provided more than 7,000 families affected by the hurricanes with hotel rooms through the Transitional Shelter Assistance Program.
The agency has aimed to help these families by offering transportation back to the island and pointed to the Direct Lease program, which makes use of existing vacant properties in Puerto Rico that either are ready to rent or need minor repairs to make them safe.
"FEMA's Direct Lease program is being implemented in Puerto Rico and provides the same housing option to disaster survivors directly to the survivor in a quicker, more cost-effective way to provide much needed assistance," the statement said. FEMA added that Direct Lease "provides greater flexibility directly to the disaster survivor," compared to the longer-term housing program that advocates are calling for.
In May, FEMA said on its website that the longer-term housing program was not necessary to address the needs of those displaced after Hurricane Maria. The agency cited the Department of Homeland Security's Office of the Inspector General in saying that the previously activated long-term assistance was both inefficient and not cost effective.
But advocates are concerned that FEMA's options for assistance require survivors to return to Puerto Rico, where rebuilding is still underway and thousands of people still don't have power.
Ramon Siaca, who lived with his wife and three children in a wooden home in Bayamón that was blown away by the hurricane, said he cannot return to Puerto Rico.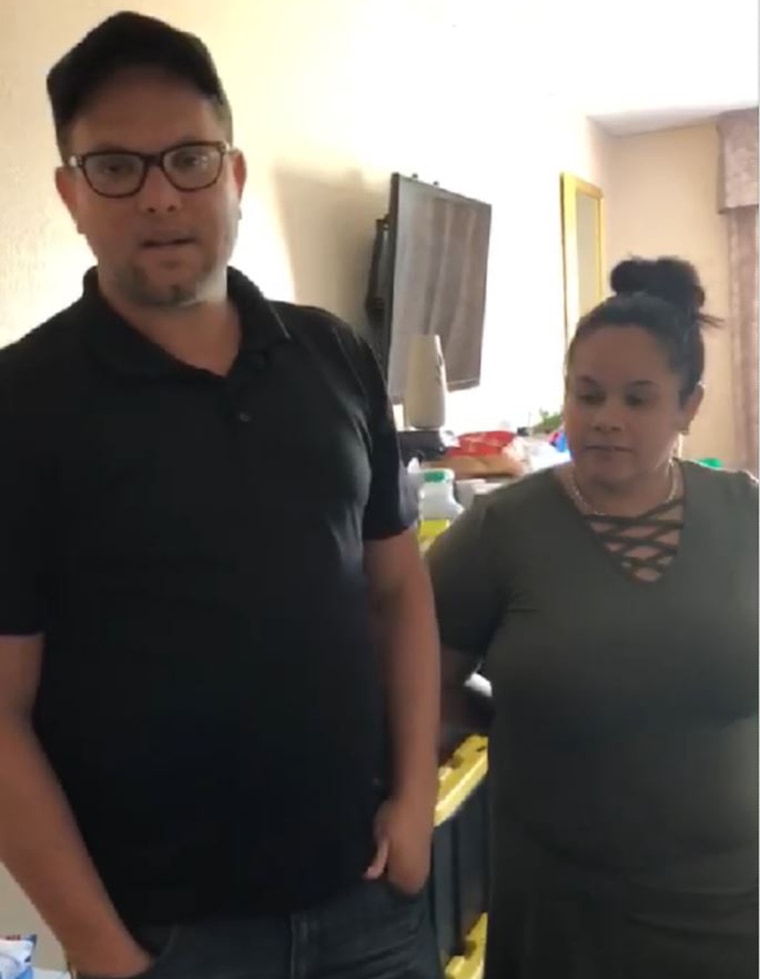 "I have nowhere to go," he said. Siaca, 37, is living in a hotel room in West Springfield with his wife and three children, ages 6, 8 and 15.
"The kids always ask me: 'Dad, are we going to stay here? When do we have to leave?'" he said. "We have the desperation of June 30 when we have to leave."
Siaca said he and the other families were hoping FEMA would enact the long-term housing program to help them rent apartments, after months of living in limbo in a hotel. The rooms have no kitchens, so families either have to microwave food or plug in small appliances and cook in the bathroom, he said.
Cancél Rodriguez, 32, said her oldest son is autistic and has struggled with the transition from Puerto Rico.
"They get desperate," she said of her children. "As parents, we are anguished and they notice."
She said she also has no intention of returning to the island.
"My kids are already in school here," she said. "I don't want to move from here. We need FEMA to help us."