RIO PIEDRAS, Puerto Rico — Every week for the past months, Raquel Lopez Oliver and her family wonder, "What do we do on Sundays?"
Lopez Oliver remembers a time when most of her family gatherings would take place at the home of her husband's grandmother, known to everyone as Abuela (grandmother) Paulina. On Sundays, that was the place to visit.
That tradition ended exactly a year ago after Hurricane Maria ripped through Puerto Rico and took the lives of nearly 3,000 people in the deadliest natural disaster in the U.S. in 100 years, which has come to define a sad turning point in the island's history and for Lopez Oliver's family.
"She was like the matriarch of our family, the life of the party," Lopez Oliver said. "My most beautiful memory of her is that she would memorize verses from the Bible, because she used to say that if she ever became blind or with Alzheimer's, she wanted to be able to pray and she would make us learn them with her."
Paulina, 94, had been hospitalized at the Cardiovascular Center on Sept. 19, 2017, just before Maria made landfall. During the storm, the glass windows on the hospital's second floor exploded and patients were relocated to the first floor.
With no power and a generator that lasted only two days, the health conditions of many elderly residents deteriorated quickly.
"She looked at us scared, because she could not breathe," said Lopez Oliver. A day later, Abuela Paulina died.
Funeral homes were at full capacity. The family had no other option but to cremate her body even though her dying wish was to receive a Christian burial because of her deep religious background. It took the family one month to receive her ashes.
At the same time, Lopez Oliver's family was living in a shelter after their home in the town of Levittown flooded during the storm. And although they were reeling from material losses and Abuela's death, they connected with other organizations, churches and municipal officials to help other Puerto Ricans in need.
"I still remember spending three consecutive days without eating. There was barely any money for food, the supermarkets were empty. It was horrible," said one resident.
And a year after Hurricane Maria, the family is still fixing their damaged home and missing family members who left the island after the storm.
"We're getting used to a new normal," Lopez Oliver said. "And as part of that process, we have to cry and mourn because we're basically burying our old life in Puerto Rico."
Amid surviving the catastrophe and overcoming other hurdles, many Puerto Ricans like Lopez Oliver felt like they didn't have a chance to properly grieve and bury the loved ones who died after Hurricane María.
On Thursday, dozens of people attended a mass at Parroquia Nuestra Señora De La Piedad, a Catholic Church in Isla Verde in San Juan, to not only remember the tragedy but mourn the lives of thousands who died in Maria's aftermath.
At the beginning of the ceremony, the names of hundreds of the deceased where read out loud.
"Jonathan Ramírez… Julia Rincón Mercado...Isabel Resto Burgos... Consuelo Millán Gutiérrez... Paula Martorell… eternal rest, grant them Lord," read Juan Miguel Orta García, funeral director at Servicios Funerarios Católicos.
Lucy Rey, who lives in the town of Carolina, was in attendance and during this part of the service, she couldn't help tearing up.
"I have a cousin who died after the hurricane because she didn't have access to adequate medical care," said Rey with watery eyes. "To this day, I can't watch any of the specials of footage from the hurricane. The wound is still too fresh."
Archbishop Roberto González led the commemorative mass that gave much-needed closure to many at the ceremony.
"Puerto Rico will never stop crying for them," said González about Hurricane María victims. "Not counting them, not crying for them, goes against the Christian values," said the Archbishop. "It is insensitive to others' pain."
Near the light rail station, known as Tren Urbano, remnants of that "old life in Puerto Rico" were still visible.
Government offices and businesses are open and classes for students from the University of Puerto Rico and a nearby public school are in session. But mentions of Hurricane Maria still jolt people.
"I don't even want to remember it," said Porfirio Guerrero, a tailor who has worked at his own shop for three decades near the Calle Roble rail station.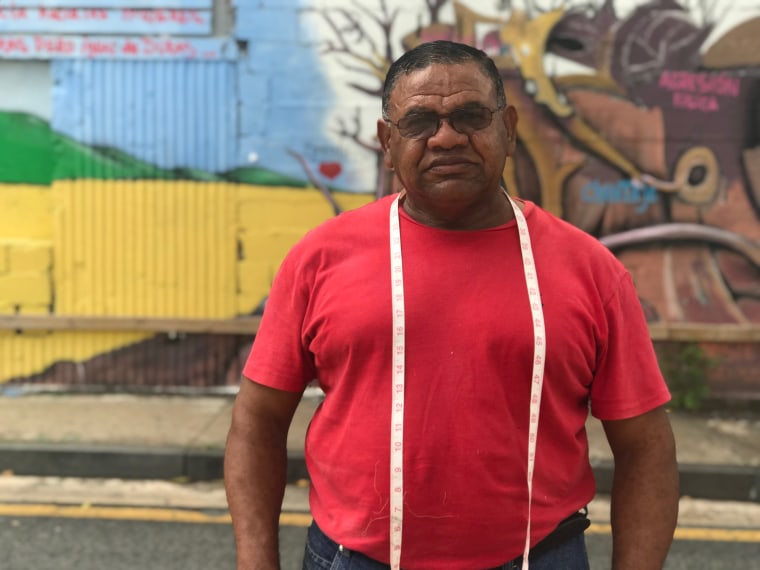 And yet, Guerrero is reminded of Hurricane Maria every time he goes to work at Sastreria Pachín, his tailoring shop.
He had to wait more than four months for the island's electric authority to restore power in Rio Piedras. It was then that he could afford to reopen his business since he had used all of his savings to pay his home's rent.
"I still remember spending three consecutive days without eating. There was barely any money for food, the supermarkets were empty. It was horrible," Guerrero said.
A year after the hurricane, he still hasn't been able to make up for the economic losses from the time he was out of business.
"Right now, I don't even have enough to fix my car. It broke six months ago and I haven't been able to do anything about. I've been taking public transportation ever since," Guerrero said.
In Washington, D.C. on Thursday, several members of Congress and representatives from community organizations sponsored a day-long conference on Capitol Hill to look at the impact of the storm and how the federal government can improve its response and recovery efforts moving forward.
New York Democratic congresswoman Nydia Velázquez, who was born and raised in Puerto Rico, said Hurricane Maria "is about life and death — and how our government failed 3.5 million of our fellow citizens. The American people deserve to know what happened."
Rep. Velázquez has introduced legislation to establish a "9/11" style commission to provide a full report of what happened in Puerto Rico.
"I've also introduced the "COUNT Act", which would establish federal procedures for establishing death tolls after disasters," she said.
Mental anguish, slowly healing
On the island, Suzanne Roig, the main administrator of Puerto Rico's Office of Mental Health Services and Addiction Prevention, known by its Spanish acronym as ASSMCA, said emotional recovery could take up to 18 months after a disaster occurs.
According to Substance Abuse and Mental Health Administration's (SAMHSA), post-disaster recovery processes take place in six phases. Based on her work at ASSMCA, Roig puts Puerto Rico in the fifth phase known as the disillusionment phase, in which "optimism turns to discouragement."
"But what we lived was not a disaster, it was a catastrophe. So for the purposes of our work, we've extended the [SAMHSA] plan to two years," Roig said.
As Puerto Rico faces Hurricane Maria's anniversary, Roig said the mental health recovery trends they've been seeing in the island are consistent with what science and research suggest, like a spike in suicides five months after Maria.
However, Roig is hopeful that amid difficulties and setbacks, Puerto Ricans are overcoming Hurricane Maria's havoc.
"Mental health is about our emotions. Sometimes we have our highs and we're happy, and sometimes not so much. That's what we're seeing in our people," Roig said. "However, when we analyze what we've seen at a global scale, we can say that more people are now stronger. But others are still in need of support, even though they feel like they've recovered."
Nicole Acevedo reported from Puerto Rico and contributor Patricia Guadalupe reported from Washington, D.C.
FOLLOW NBC LATINO ON FACEBOOK, TWITTER AND INSTAGRAM.