HUMACAO, Puerto Rico — It was shattered.
Puerto Rico's second-largest solar farm provided about 40 percent of this island's renewable energy, but it took a direct hit from Maria, the category 4 hurricane that sliced through southeast Puerto Rico. More than six weeks later, thousands of panels are still strewn across a massive field right next to the freeway.
It's among the images that capture the seemingly insurmountable challenges facing the financially strapped island. Across rural mountainsides, there are miles and miles of mangled power poles. Forty-six days after the storm, Puerto Rico's embattled utility company is reporting only about 40 percent power generation.
Consuelo Burgos and her husband, Luis, have been living without electricity since Maria hit in the outskirts of Morovis. They also had lost power during Hurricane Irma weeks earlier. Their home is still standing, but their son's home next door collapsed.
"It's very hard," she said.
They depend on their son and good Samaritans to bring water and supplies. But like many Puerto Ricans, they insist it could have been much worse.
"Others have lost everything. We were the lucky ones. We'll survive," they say.
On a piece of crumpled paper, Luis has jotted down Dec. 15 — the goal Gov. Ricardo Rosselló has set for restoring power to 95 percent of the island. Luis Burgos is skeptical that it will happen.
"If it does, I'll give him a huge hug," Luis said.
There's no secret behind the deep skepticism: The island's finances are in a shambles. The Puerto Rico Electric Power Authority went bankrupt in July under a crushing $9 billion debt. The publicly funded utility had a long history of maintenance problems and corruption allegations.
So it's no wonder that promises the lights will be switched back on don't inspire confidence.
But several weeks ago, a surprise came to a children's hospital in San Juan, when it got a call from a tech giant with a bright idea.
Juliana Canino Rivera is the administrator at El Hospital del Niño de Puerto Rico, which houses 35 children with disabilities like cerebral palsy.
In the days after the storm, the power was out and fuel for generators was nearly impossible to find.
"It was chaos," Canino said.
As the hospital struggled to keep its backup generators running, it got the call from Tesla, the company that days earlier had engaged in a Twitter conversation with Rosselló about bringing more solar technology to Puerto Rico.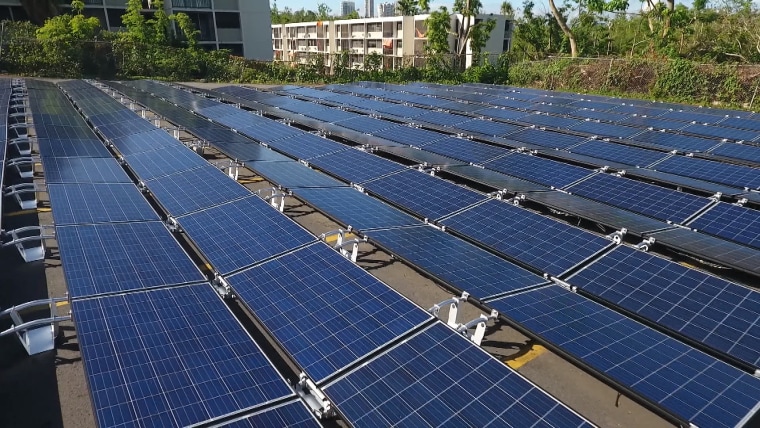 The company's representative said it wanted to make a donation to her hospital — quickly.
"I'll believe it when I see it," Canino said. "When I saw them, I was amazed."
In just eight days, Tesla built more than 700 solar panels in the hospital's parking lot. The company's founder, Elon Musk, calls it the "first of many solar + battery projects going live" on the island.
"After this terrible event happened, after the hurricane, we have to reinvent life as we know it," said Glorimar Andujar, Puerto Rico's secretary of family affairs.
But reinventing life by going solar won't be easy. Even with the island's dire financial situation — it has more than $72 billion in debt, and it filed for what was essentially the largest municipal bankruptcy in U.S. history — there is still sharp opposition to privatizing the electric grid.
Ángel Figueroa Jaramillo is president of UTIER, the electrical and irrigation workers' union. He said that while solar technology should be studied, it would be difficult to implement on a wide scale.
"The energy demand of Puerto Rico is a high-consumption demand — continuous and reliable consumption — especially for the pharmaceutical industry," he said. "The public model will always have better costs than the private model."
But according to the U.S. Energy Information Administration, on average, the island's residents use much less energy than is used by consumers in the 50 states. The agency reports that in 2016, 47 percent of Puerto Rico's electricity came from petroleum, 34 percent from natural gas, 17 percent from coal and 2 percent from renewable energy.
For Canino and her children's hospital, solar seems to be the perfect fit — at least for now.
"Of course it's realistic," she said. "We're a tropical island. We receive sun 365 days a year."