Residents of Loiza, a poor but vibrant beach town devastated by Hurricane Maria, are desperately trying to rebuild what's left of the area on the northeast coast of Puerto Rico, approximately 20 minutes from San Juan.
In the storm's wake, nearly all of Puerto Rico's citizens are urgently trying to find the crucial resources — food, clean water, gas, and medical services — they need to survive. But small towns like Loiza face especially dire circumstances.
"They need everything," said Dr. John Torres, emergency medicine doctor and NBC News medical correspondent, who has been in Puerto Rico since Friday. "Food, gas, medicine, volunteers, Wi-Fi service to contact their family members … they need all the basic necessities."
Torres traveled to Loiza with Project Hope, a Virginia-based non-profit disaster relief organization that responds to disasters and emergency heath crises around the world. The team, consisting of eight medical and community health experts, is providing medicine, supplies, and equipment to those they say need it most.
Related: How to Help Victims of Hurricane Maria
The team was providing hope for patients like Isabelino Aponte Rivera, 70, who recently had a stroke and suffers from high blood pressure, one of thousands awaiting care. Rivera was stranded in his home after the storm and this is the first medical care he's received in a month.
"We don't want these chronic conditions to become medical emergencies when left untreated," said Dr. Michael Millin, associate professor in emergency medicine at John Hopkins and medical officer with the disaster medical assistance team (DMAT).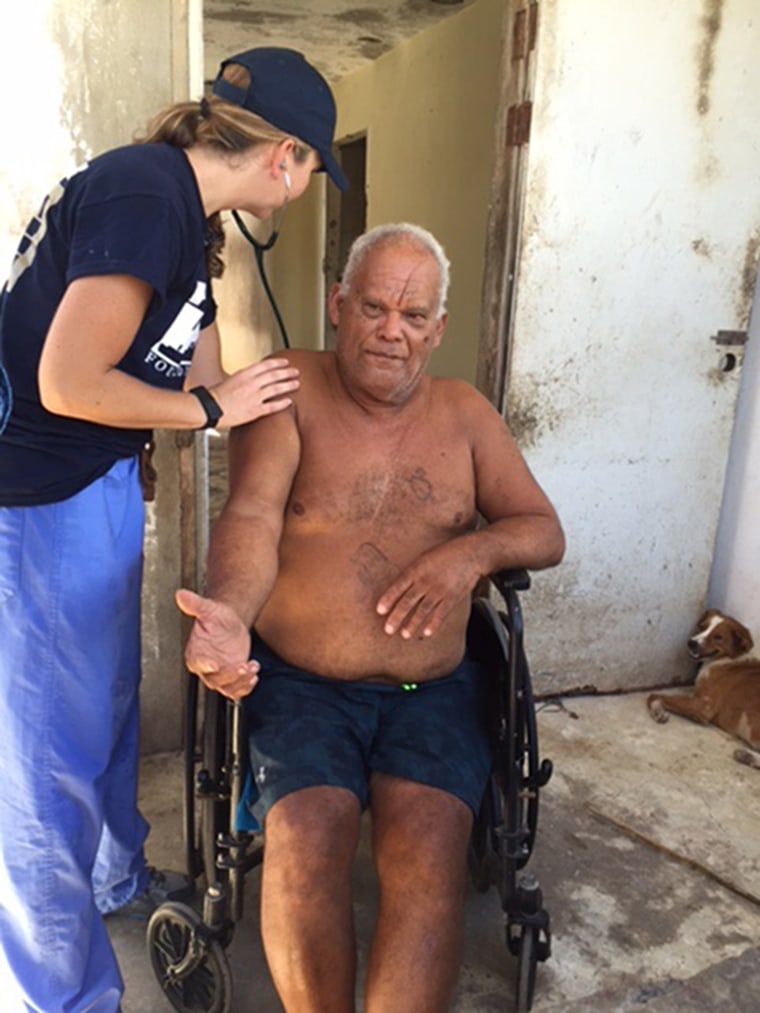 Medical care is a major problem on much of the island, but organizations like Project Hope are delivering what medical resources they can to hardest hit places like Loiza.
Loiza is home to Puerto Rico's largest culturally Afro-Caribbean community — 65 percent of the residents identify themselves as black according to the U.S. Census Bureau.
"La Capital de la Tradicion" — The Capital of Traditions, as the city's residents call it — is unlike any other part of the island of Puerto Rico. It has a distinct and rich African-influenced culture, cuisine, dance and music. Nearly half of the 30,060 residents live below the poverty line, but remain resilient despite being hit with two hurricanes, Irma and Maria, in the past month.
'Things are pretty bad'
Residents wait in long lines for gas to power generators and are repairing roofs that have been damaged by Maria. Project Hope was caring for patients suffering strokes, severe asthma and heart conditions, and providing electricity to power breathing machines. But resources are scarce.
"One of the most important things we can do is to let the people know that we care about them. It's not as much about the actual medicine, it's demonstrating the most amount of good we are doing."
"We need organizations to come in and help right now," said Torres. "Things are pretty bad."
The governor, mayor, and volunteer organizations on the ground, frustrated by the slow delivery of life-saving supplies, are still preaching patience while the 3.4 million U.S. citizens affected by the storm anxiously await assistance.
"Time is prime. Patience is prime because we don't want to have a disaster within a disaster, which is what happens," said Dr. Charlie Gomez, emergency room medical director at the Puerto Rico Medical Center, the island's largest public hospital and one of the only medical facilities with power. "You start looting stores and killing people for your basic needs and that's what we don't need."
Many of the most vulnerable patients — the elderly, pregnant mothers, and young children — are trekking to these hospitals, in need of help against dehydration, infectious diseases and malnutrition. The hospital workers are helping with much more than medicine.
Related: Hurricane Maria Leaves Puerto Rico Facing Months Without Power
"One of the most important things we can do is to let the people know that we care about them," said Millin. "It's demonstrating the most amount of good we are doing. There's a lot of triaging to making sure we put the resources in the right places."