An estimated 2,975 people died in Puerto Rico in the five months after Hurricane Maria devastated the island last September, a far higher number than the government's official death toll count of 64.
The new findings are from an independent study conducted by George Washington University's Milken Institute of Public Health, which was commissioned by island officials for more than $300,000.
During a press conference on Tuesday afternoon, Puerto Rico Governor Ricardo Rosselló announced that his administration is updating its death toll count of 64 to match GWU's 2, 975, "keeping in mind that it's still an estimate."
"The number of excess deaths is still very big and now, as a society, we need to come together and look forward to the future," said Rosselló.
The Puerto Rican government said earlier this month that it was not updating its official death count until the findings were published.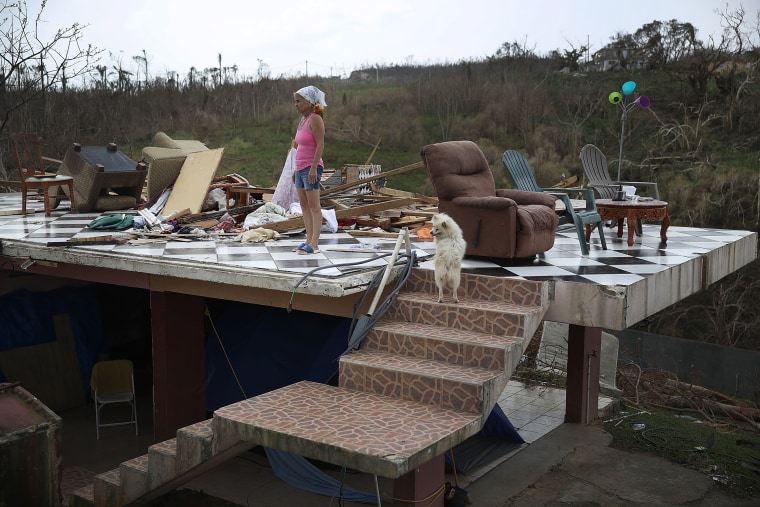 According to the report, the number of excess deaths, which took place from September 2017 to February 2018, represent a 22 percent increase from what would have been expected during that time period.
This is not the first study that has tried to calculate the deaths following the storm; a Harvard University study out in May estimated that 4,645 more people died from Sept. 20 to Dec. 31, 2017, than in that same period in 2016.
However, GWU researchers said on Tuesday that their study is different in that it factored in the number of people who left the island right after the storm.
According to their calculations, they estimate that Puerto Rico saw an 8 percent drop in population after the hurricane, which triggered one of the longest power blackouts in history and pushed thousands of people to the mainland.
The study said that the risk of dying over this period was 60 percent higher among people living in the poorest municipalities and 35 percent higher among elderly men. During a call with reporters, researchers said that the elevated risk of death persisted beyond the five months that were studied for these two subgroups.
"We still don't know when deaths came back to baseline," Goldman said.
Rep. Nydia Velázquez, D-NY, who has introduced legislation that would set federal standards for measuring death tolls following disasters, said the findings are evidence of the "enormity of the tragedy that befell Puerto Rico."
"These numbers are only the latest to underscore that the federal response to the hurricanes was disastrously inadequate and, as a result, thousands of our fellow American citizens lost their lives," Velázquez said in a statement.
Enrique Fernández-Toledo, director of Puerto Rico Relief and Economic Policy at the Center for American Progress, also criticized island officials for taking so long to update their initial death toll of 64.
"According to this serious study, the actual death toll is more than 46 times that of the official count, placing it among the highest death counts caused by an Atlantic hurricane in the last 100 years," said Fernández-Toledo in a statement.
GWU also makes a series of recommendations to help Puerto Rico effectively account for deaths during a disaster, such as providing doctors with the proper training and resources to issue death certificates based on the newest guidelines from the federal Centers for Disease Control and Prevention and improve interagency communication protocols.
Rosselló announced that the Puerto Rican government plans to create a committee, made up by local officials and "people from other sectors," to find ways to implement the recommendations brought up in previous studies, including GWU's.
He also plans to start a registry that keeps tabs of the most vulnerable populations in the island, such as people with disabilities, elders and those with severe medical conditions, so emergency responders are able to quickly and effectively locate people in need during a disaster.
The recent findings are just part of the first phase of what GWU expects to be a two-part investigation, in which they hope to interview families of victims who died during Maria's aftermath, in an effort to identify how many of the 2,975 deaths can be attributed directly to the hurricane.
GWU researchers told reporters they don't expect the 2,975 number to change during the next phase, "but it might get subdivided as to what situation caused certain deaths in the months after Maria."
For the first part of the report published on Tuesday, GWU interviewed "key leaders," including seven mayors and other officials from local agencies and FEMA.
Unlike previous studies on the matter, GWU's has not yet been subjected to the rigorous process of being published in a peer-reviewed medical journal. Researchers at GWU told reporters on Tuesday the study is still in the process of submission.