Dozens of displaced Puerto Rican families were suddenly informed last week that their temporary housing assistance in Connecticut was being cut — just days after being given an extension, according to local officials.
"I write today to request immediate reversal of the Federal Emergency Management Agency's (FEMA) sudden decision to rescind" the assistance for 36 families, Connecticut Gov. Dannel P. Malloy said in a critical letter to Administrator Brock Long on Jan. 18.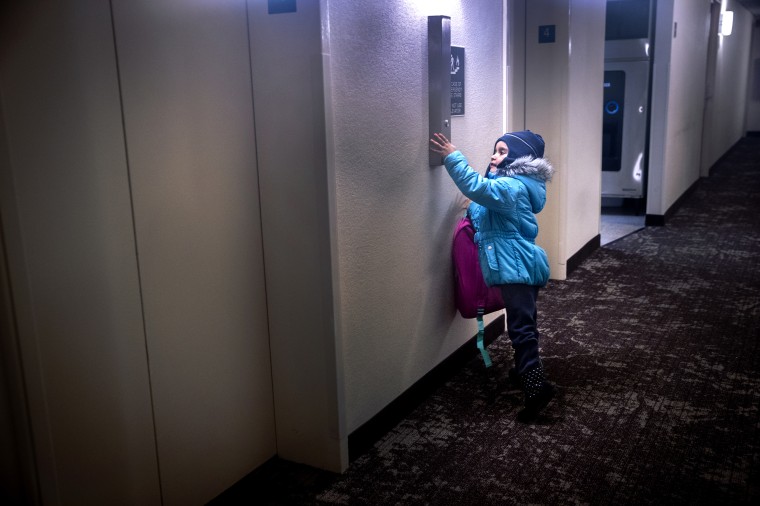 The families, from areas devastated by Hurricane Maria, had been staying in Connecticut hotels and receiving short-term housing assistance under the Transitional Shelter Assistance (TSA) Program following the deadly storm.
"This about-face is outrageous and unacceptable, and because of your agency's abysmal management of this situation, 36 families — all of who are American citizens — are now, with no warning, being told by FEMA that they have no place to live," he added.
The state on Jan. 11 had formally requested a two-week extension for about 45 Puerto Rican families in the TSA hotel program, according to the governor's office. State officials were informed by FEMA that the extension was granted through Feb. 14.
But on Jan. 17, FEMA allegedly changed the status of those families in their database to terminate their hotel stays beginning the following day, according to the governor's office.
The governor's office said that according to FEMA, the families were mistakenly given the extension and no longer qualified for TSA.
FEMA did not contact the families to notify them and they learned of their change in status through the database or through their hotels telling them they would need to vacate, according to Malloy's office.
Malloy was not informed of the change until Jan. 18 at noon, just two hours before the families were expected to evacuate their hotel rooms, according to the letter.
Related: Anger grows and hope fades as Puerto Rico's ground zero remains without power
"All things considered, it is hard to come to any conclusion other than that the federal government sees the United States citizens who inhabit Puerto Rico as second-class," said Malloy.
"Before we were able to take action ourselves, hotel owners saw this change in their system and let families know that they had to be out by 2 p.m.," Jason Novak, the governor's deputy press secretary, told NBC News.
Novak said state officials scrambled to reach families and work with their partners to provide a small pool of emergency funds to keep the families in their hotels until Feb. 1.
There are 166 households from Puerto Rico currently in the TSA program statewide, according to officials.
FEMA spokesman William Booher said in a statement to NBC News that the agency "periodically evaluates the continued eligibility of individuals and families for the TSA program based on data collected during the home inspection process."
"As a result of the latest eligibility review, 36 families located in Connecticut hotels were determined to be ineligible for further assistance," Booher said in the statement. As of Wednesday, there were 3,894 Hurricane Maria survivors benefiting from the TSA program and checked into hotels in 42 states, FEMA said.
The TSA program was extended to March 20 by request of Puerto Rico Gov. Ricardo Rosselló, with eligibility reviews after the original program ended on Jan. 13 and again on Feb. 13, Booher said by phone later Wednesday.
"As part of the extension the government of Puerto Rico has placed some additional eligibility requirements," he said.
"That's when the subset of 36 families came up as ineligible," he said, adding, "The original extension for this subset was done in error."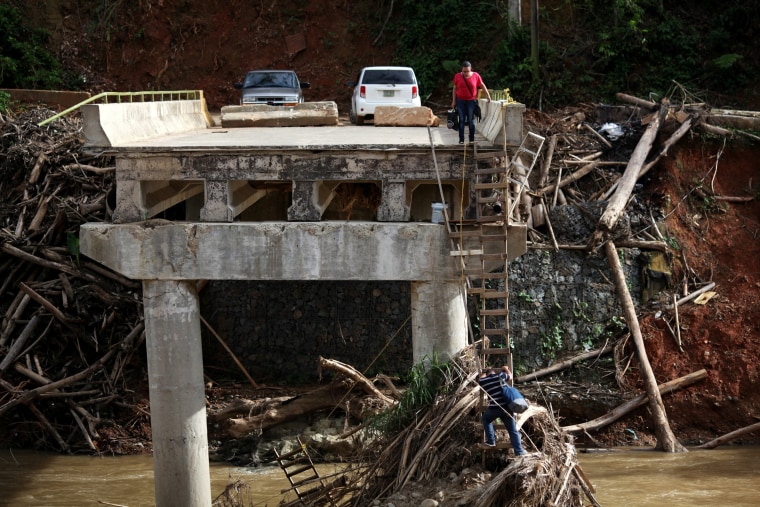 Booher said FEMA has been working with those families so that only 24 of the 36 were ineligible. The remaining families were able to provide additional information that maintained their eligibility, and there were one of two families that either found alternative housing solutions or voluntarily checked out of the program since, he said.
"We've resolved 12 of those case to this point and have continued to work with those remaining families," he said.
Several of the affected families spoke during a news conference with local officials on Friday.
Related: Puerto Ricans could lose their homes as mortgage moratorium expires
"I'm here because I lost my home in Hurricane Maria, it took the ceiling and it flooded my home," said Yahaira Falcon, of Aguadilla, Puerto Rico. "We deserve to stay until our extension date. There are kids here, there's elderly people here."
Yara Vasquez, of Toa Baja, said she was "desperate" when she came to Hartford after her home flooded over and she lost her belongings.
"Every night I get hit with a depression, I shut myself inside to cry because one day FEMA tells me that they will give me an extension, and then another day they say no," she said in Spanish.