ARECIBO, Puerto Rico — When Hurricane Maria ripped through Martell, a neighborhood in this northern coastal town, the river swelled, rushed through the windows and doors of homes and swept away the life residents once knew.
"The nights are very hard because of the heat, the wet mattresses," Ana Toribio Vargas, 62, said in Spanish from her home. "We thought about sleeping tonight on this little mattress our friend brought us, but it's not easy to sleep on a wet mattress and then with the suffocating heat."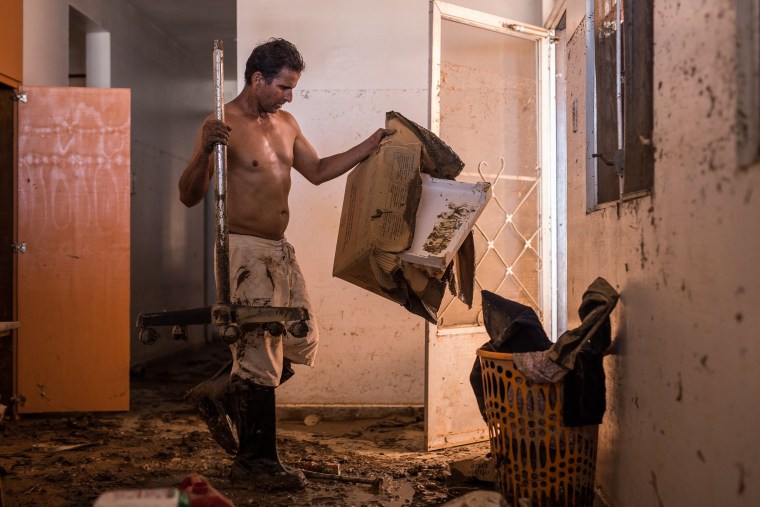 It's been two weeks since the monster storm blasted through Puerto Rico, and residents in hard-hit areas far afield from metropolitan San Juan, such as those in Arecibo, want to move forward. But they are stifled by the slow restoration of cellphone service, electricity and safe drinking water.
Toribio Vargas and her 33-year-old daughter rode out the storm in a nearby shelter. After staying a few days with a relative, they returned to their flooded home.
"Everything was covered with water and mud," Toribio Vargas said. "Everything was lost. Everything."
"There were so many tree trunks and branches that the river had brought that I couldn't even open my door," she added. "We couldn't do anything."
Related: Puerto Rico's Hospitals Still in Triage Mode, 2 Weeks After Maria
They've been cleaning out what little Maria left behind. While running water came back on Tuesday, it is dirty and unsafe to drink.
"Sometimes I feel like I'm living in a nightmare," she said through tears.
The cement homes near the Rio Grande de Arecibo bare flood lines 7 to 8 feet high. While the water has receded, it left floors, walls and even appliances caked in mud.
On Wednesday, Edwin Cortes Medina, wearing vinyl galoshes in the sweltering heat, lifted a metal sheet from his driveway and carried it to a pile in the median of the street outside his home. He repeated the chore again and again, removing soaked debris that arrived from elsewhere and damaged furniture.
"This is the first time I've ever seen anything like this in my whole life," said Cortes Medina, 47. "This whole community of about 200 houses, they lost everything."
His partner, Emilia Burjosa Rivera, said when they first came to survey the damage a day after the storm subsided, they found their fridge overturned by floodwaters and all of their belongings ruined, including photographs of her children as babies.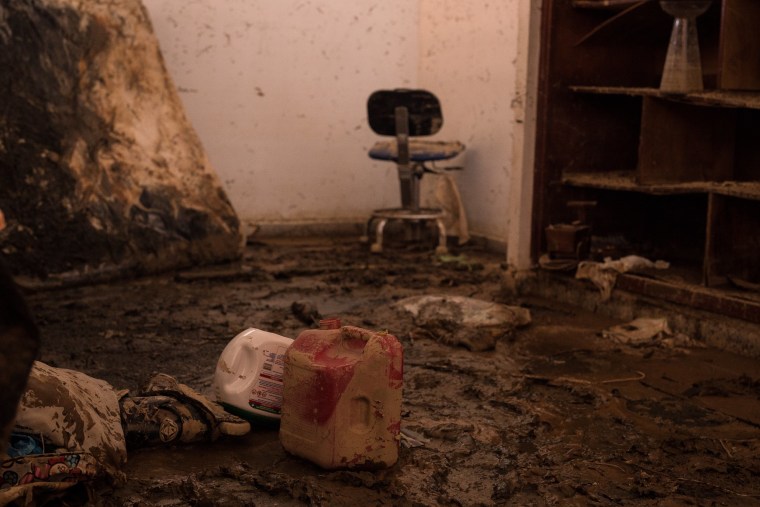 "It was horrible, I burst out crying," Burjosa Rivera, 45, said in Spanish. "Now I'm tolerating it and assimilating it, but it's not easy."
Inside their home, the mud was about an inch thick on the floor. A mattress lay in the front room. The invasion of mud and water in her children's room, where a "Do Not Enter" sign was plastered on the door, had left a jumble of clothes and debris dumped on bunk beds. Just a few days ago, there was still water in the house.
They are trying to salvage what they can and have been living with Burjosa Rivera's mother in a home for the elderly in another part of Arecibo.
Related: Puerto Rico Faces Critical Drug Shortage
A neighbor who stayed behind during the storm was swept away by floodwaters and killed, she said. She has heard of other deaths, too. The island's official death toll from the storm stands at 34.
"What made me happy was that I left, because if I would have stayed, I would have died," Burjosa Rivera said.
Burjosa Rivera said she got an emergency relief kit at a coliseum in Arecibo after the storm, but had not seen any Federal Emergency Management Agency workers in her neighborhood.
FEMA said on its website that it has more than 800 personnel on the ground in Puerto Rico and the U.S. Virgin Islands for Hurricanes Maria and Irma. The agency said that it has provided "millions of meals and millions of liters of water" to both areas and that they "continue to arrive to the islands regularly via air and sea."
Cortes Medina said the family had prepared supplies for about a week but were running thin.
Burjosa Rivera waited nine hours in line to gas up her car just four days ago.
"We're going to see how the island goes on, how it picks itself up," Cortes Medina said. "And we hope to God that help from FEMA gets here to the people who need it the most."
Crews were in the town Wednesday replacing power lines so that electricity could be partially restored by Thursday to banks, supermarkets and businesses, according to some of the crew members.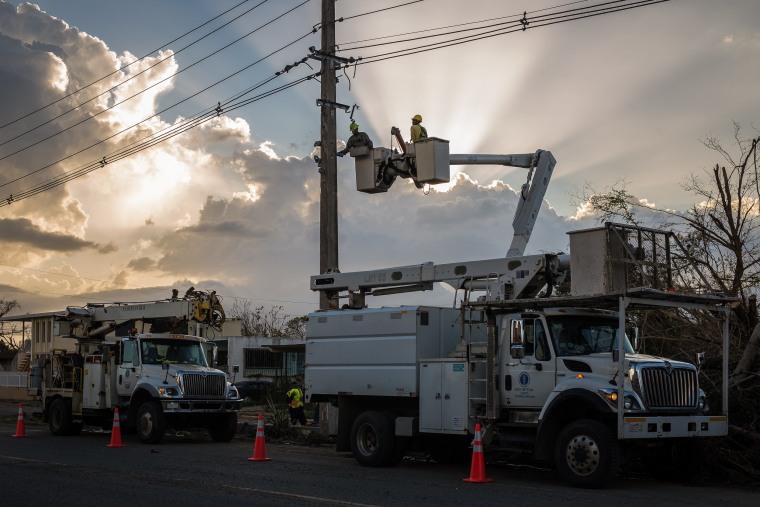 Many residents were still scrambling for basics on Wednesday.
Nancy Torres was standing in a line for ice in the late afternoon in Arecibo.
She had traveled from Miraflores, a rural town about five miles south of Arecibo that has no fruit, vegetables, gasoline or water. Torres said her freezer is empty.
But she has discovered that getting in line before dawn is not enough to get staples. Priority is given to police and government workers. At Areceibo, the ice distribution for civilians ended at 4 p.m., after which only those who could prove they were government workers could get some.
Torres lingered a little longer hoping to get lucky. She watched government workers who'd been behind her in line carry out two bags of ice. Eventually, she gave up and walked away empty handed.
"We are not well," Torres said in Spanish. "Puerto Rico has a lot of needs."