SAN JUAN, Puerto Rico — Puerto Ricans remained in survival mode on the eve of President Donald Trump's visit — and many residents were downright exasperated.
"He's pretty late," Bethsaida Colón said Monday as she waited in a wheelchair in line at the airport, bound for New York. "His general came here eight days late."
The president and first lady Melania Trump's visit on Tuesday — which will include meeting with survivors, and briefings with senior political figures and military personnel — has been preceded by escalating criticism that his administration has responded too slowly to the hurricane that left virtually all of Puerto Rico without electricity and basic necessities in September.
"He should have come sooner. What we're living here is a crisis," Michael Garcia, 26, of Mayagüez on the west coast of the island, said in Spanish.
Garcia, who has two young children, was returning to the island for the first time since the storm hit on Sept. 20 — after being stuck on the mainland while on vacation in Orlando, Florida.
"I still haven't seen my house and my kids," he said. "I've been worried."
Garcia said he believed if Trump had come sooner, relief efforts on the island would be further along by now.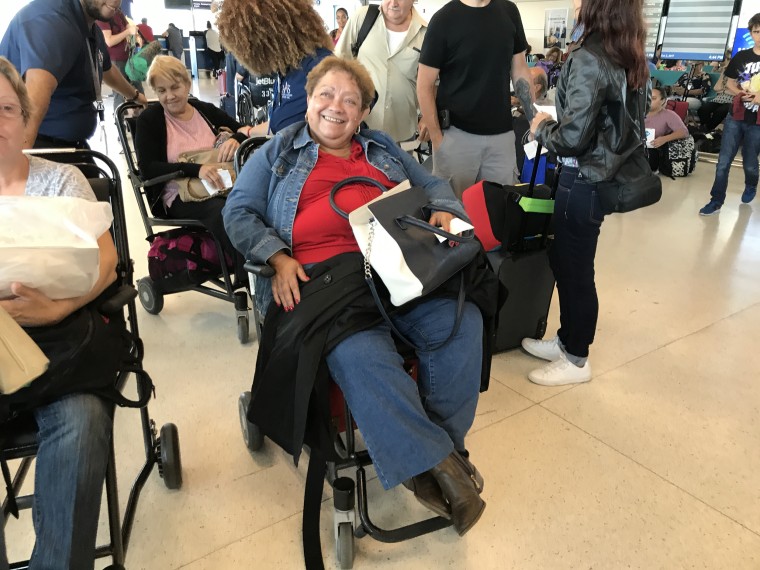 "I hope that he will be able to do something. To help us, send more food, send more people to fix the electricity," he said.
Only about a quarter of Puerto Rican households are expected to regain power by next month and about half currently have no running water, Gov. Ricardo Rosselló, said at a news conference Monday.
And cell-phone communication remained an issue, with mobile service returned to only about a third of the island.
Even in metropolitan San Juan, cell coverage remained spotty in areas and debris from trees and other rubble lined the roads. People would pull over their cars on the shoulder of the highway near the airport in the hopes of getting cell service.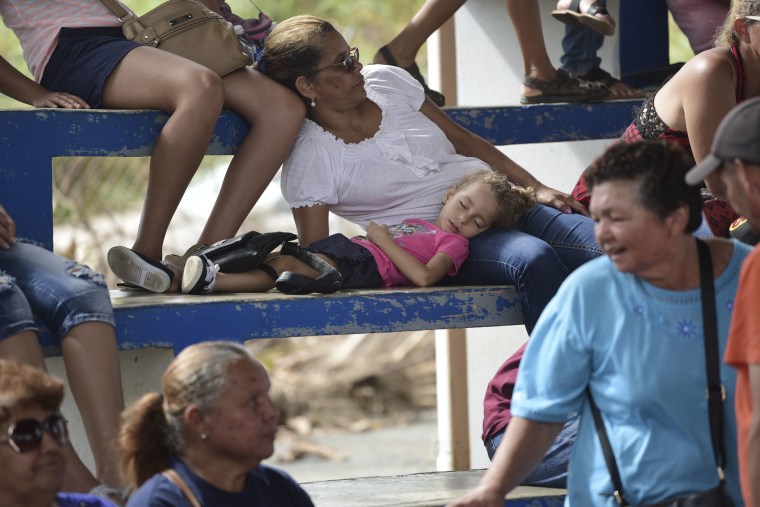 Bruce Sparks, 49, on the island from New York, said one benefit of Trump's visit would be that officials would have to clean up San Juan for just him.
But "it's not going to help all the other" regions, he said.
"It looks like more could've been done. They could've sent some things earlier," he said.
Sparks was headed to Cayagues to check in on his mother-in-law. He spoke with her shortly after the storm, but has not heard from her since, he said. Sparks was going to drive to her house and try bring her back to the mainland, he said.
Jasmin Rivera Woods, 38, hauled 200 pounds of canned food and clothes in her checked luggage when she flew from New York to San Juan on Monday.
She was ultimately headed to Guayama in the south to check on her aunt, uncle and cousins. She last heard from her aunt on Facebook about a week after hurricane they were surviving on cookies and water they captured in buckets.
Related: Puerto Rico Governor: A Quarter Of the Island Should Have Power Next Month
She hoped Trump's visit would be "positive."
"My concern is that he takes a lot of things personal and he needs to just stay focused and if we get Puerto Rico back on its feet, it's a win on him, no matter who likes him or doesn't like him," Rivera Woods said.
Some Puerto Ricans hoped Trump would see just how dire conditions are for those who remain.
"He'll see our needs and that we're going through a very difficult period," Maribel Rodriguez, 53, of the municipality of Hormigueros, said in Spanish.
"We're leaving our island right now because even the most basic services are paralyzed. Fundamental needs," said Rodriguez from the airport, while waiting in line for a flight to New York with her wheelchair-bound mother.
"For example, my mom has heart problems and the closest hospital is closed we had to decide to leave our island and leave behind our families," she said.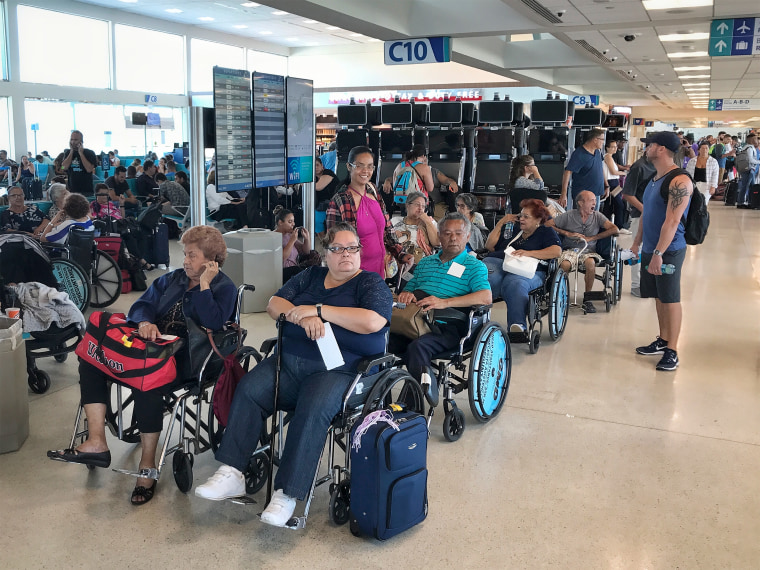 Rodríguez said Hormigueros, which is on the east side of the island "was devastated" by the storm.
She said she hadn't personally seen a heavy government presence where she lived, from either federal or local officials.
"We need them to move ... and to bring attention to the island because if not, there might be more illnesses and it'll be more difficult to resolve the problems we have," she said.
"I think that now that we see that this is affecting all Puerto Ricans, [Trump] should really come so he can live what we have been living," she added.