ARECIBO, Puerto Rico — In a crowded courthouse, the battle for Puerto Rico's future is underway.
Teachers, parents and students are fighting to keep their schools open. The island's government plans to close more than 250 of them after years of a devastating economic crisis and now plummeting enrollment in the aftermath of Hurricane Maria.
"Where there is no school there is no community," said Providencia Figueroa, an educator working with one of Puerto Rico's teachers unions. "The community is dead."
Noeliz Fernandez's school in Arecibo, the Ramon Emeterio Betances School, was among those the government planned to close. The 12-year-old has seen an exodus of friends leave to move to the U.S. mainland. "It's going to be hard because I've always loved going to this school," Noeliz said.
"Seeing people leave is like I've lost a little piece of my childhood," she added.
This week will mark nine months since Hurricane Maria slammed into Puerto Rico. While most of the island finally has power back, there are new concerns: It's hurricane season again and the grid isn't ready for another storm, hundreds of schools are set to close, and Maria's true death toll is still a mystery.
The island's power authority says more than 95 percent of the grid is back online. But several mountain communities complain that number is inflated — and that the electricity is intermittent.
Puerto Rico's main morgue is now overflowing with unclaimed bodies. Dozens of them are being kept in refrigerated containers in San Juan.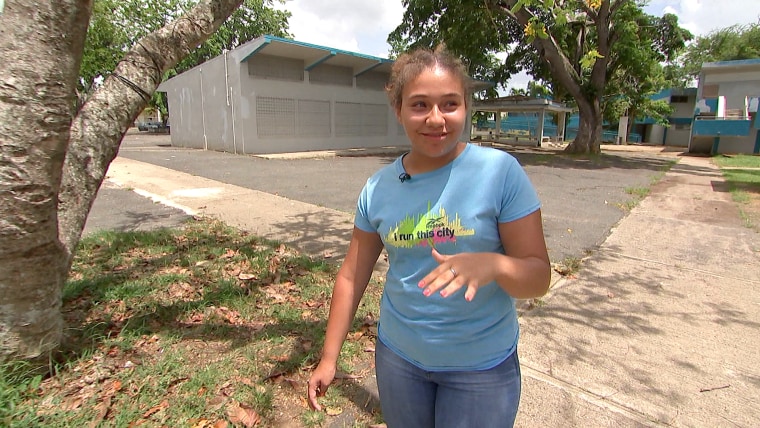 Last month, a Harvard University study estimated thatmore than 4,600 people might have died in the hurricane's aftermath — dramatically higher than the government's official count of just 64.
Under pressure, Puerto Rico's health department then release updated figures showing about 1,200 more deaths in September and October of 2017 than during the same period the previous year.
"We've been saying that the numbers were going to be much higher," Gov. Ricardo Rosselló told NBC News. "The reason is we followed a CDC protocol — that got us to 64. We realized that protocol was not very good. And that's when we decided to look for an alternative."
That alternative, he said, is a study by George Washington University — commissioned in February and initially expected to be finished in May.
It's already June.
"It's a lot of papers," Rosselló said. "It's getting all of that data together. And it's been quite a challenge."
Rosselló insists there was no cover-up.
"This has been the most devastating event in the history of Puerto Rico," he said. "If there were thousands of deaths and our narrative was that this was a devastation, why wouldn't we come out and say it?"
Back in October, Rosselló met with President Trump at the White House. The two have not spoken in person since then. Still, the governor refuses to criticize the president directly.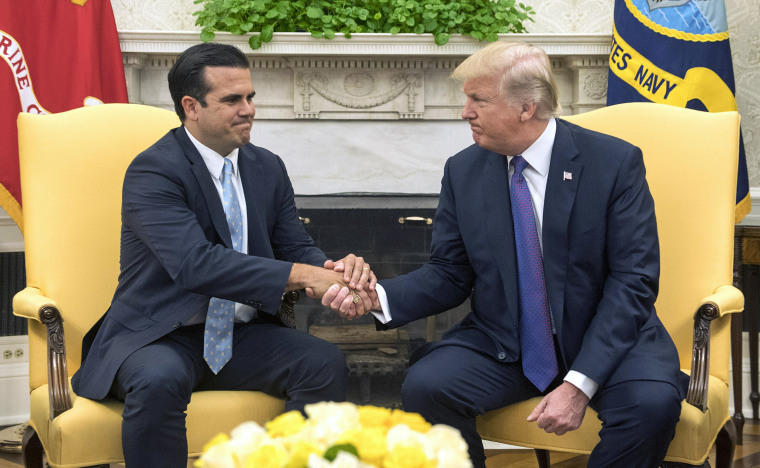 When asked whether the federal government failed Puerto Rico, Rosselló said: "There are some things that I am very satisfied with, with the federal government. And there are some things that I am very dissatisfied and even appalled by. I was appalled by the Corps of Engineers' response. I was disappointed with the bureaucracy in FEMA."
Both the Army Corps of Engineers and FEMA have said that the relief effort presented "unprecedented" logistical challenges.
"There is a total lack of empathy for the people of Puerto Rico," said Carmen Yulín-Cruz, the mayor of San Juan, who has been an outspoken critic of the Trump administration's response. "There was a lack of a sense of urgency. That neglect, and the silence of the government of Puerto Rico gave the president permission to look the other way."
"Why do the children of Puerto Rico have to endure this?" she added.
For Noeliz at least, there's one less heartbreak she'll have to endure.
A judge ruled her school and several others should stay open because Puerto Rico's Department of Education did not provide enough evidence that it should close.
But this summer, thousands of other students like her are waiting to see the fate of their classrooms — and how this island will fare as another hurricane season begins.