MIAMI — Maribel Casas was in the middle of a dialysis treatment when she got an unexpected text message from her sister saying she had to be at Isla Grande Airport, a small airfield in San Juan, Puerto Rico, by 2 p.m. Her relatives in Miami had managed to get her a seat on a humanitarian flight off the island.
Casas ended her treatment two hours early. "I told the nurse: 'I have to go. I'm leaving,'" she said.
Only after she landed in Fort Lauderdale, Florida, did she learn that the private plane she had traveled on belongs to the rapper Pitbull, who lent his jet to evacuate cancer patients and others like Casas, who need constant treatment to live.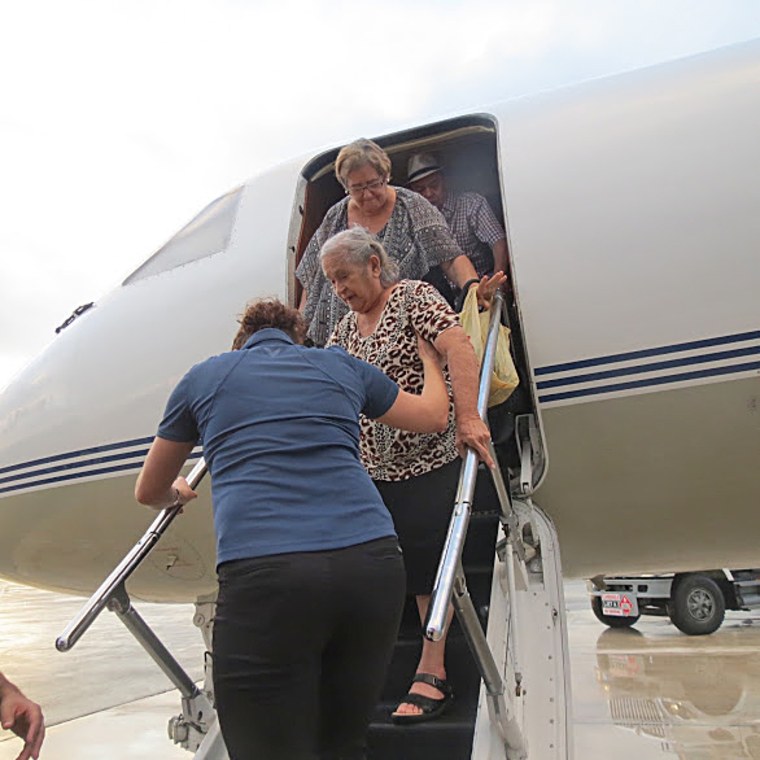 Days after she arrived in the Sunshine State, Methodist Dallas Medical Center called Casas to inform her that they had a match for her kidney transplant — and that she needed to be there the next morning.
"I had been on the waiting list for three years in multiple hospitals," she said from the hospital's intensive care unit just hours after surgery. She would have missed the transplant opportunity had it not been for Pitbull's gesture.
More than three weeks after Hurricane Maria ripped through Puerto Rico, the situation remains bleak and dangerous for the infirm and the elderly. The island is running low on medicine. Many hospitals aren't fully operational, and with the electrical grid practically wiped out, many are still running with backup generators.
People with kidney failure that requires dialysis have had their treatments cut short because centers find it difficult to replenish their generators with diesel.
Related: Puerto Rico's Medical Marijuana Industry Takes a Hit Thanks to Hurricane
The Friday after the hurricane hit, Casas made her way to a dialysis center for treatment, only to find that the generator was damaged and that there were 140 patients waiting. She drove through streets littered with debris and broken traffic lights to another center and waited almost seven hours for treatment.
"I said: 'Oh, my God, I have to leave. I can't stay here,'" Casas said.
The official count is 48, but health experts say they still don't know the true number of deaths related to the hurricane. Experts are warning of disease epidemics and those with fragile immune systems are most at risk. For the elderly or sick in Puerto Rico, the safest option is a ticket out of the island.
Zorimar Betancourt, who founded Fundacion Stefano, has coordinated the evacuation of more than 150 people who are ill, blind or elderly and require frequent medical attention. The nonprofit foundation, named after her son, who was murdered five years ago at age 17, has a list of more than 200 people in dire situations.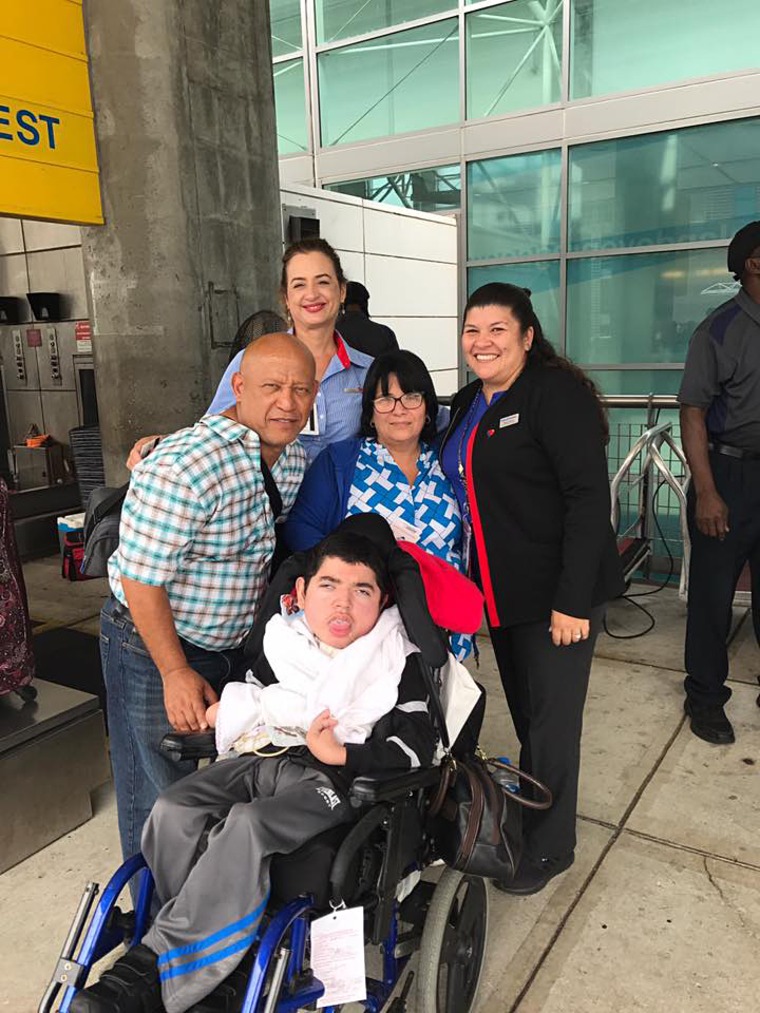 "A patient died on Sunday, and it breaks my heart because I couldn't get him out quick enough," Betancourt said from Miami.
She works with a network of wealthy people and organizations who have lent their private planes to fly to the island with humanitarian aid and fly back out with the infirm. Sometimes, she gets calls from people who have chartered flights to evacuate relatives, and "they say I have two spaces but they have to be at the airport in three hours," Betancourt said.
Related: 'When Did We Stop Being America?' Puerto Ricans Angry, Dismayed Over Trump Tweets
The people on her evacuation list have been screened and interviewed. Betancourt has a network of volunteers in Puerto Rico who unload donations from the planes and take them to hospitals. Volunteers on the mainland coordinate to make sure the evacuees have medical appointments and places to stay.
Vivian Leal, a volunteer in Nevada, laments that the group can't evacuate people who are bedridden — they have to be stable enough to fly to the mainland. And because cellphone service is still out for much of the island, it's difficult to get in contact with people to let them know when a plane is available.
"Some people are dying because we can't reach them," Leal said.
Despite many efforts to fly patients out of Puerto Rico, humanitarian flights are hard to come by.
After the hurricane, Lourdes Cortes, who lives in Tampa, Florida, tried desperately to get her 85-year-old father out of Puerto Rico. He has a hip fracture and is unable to walk.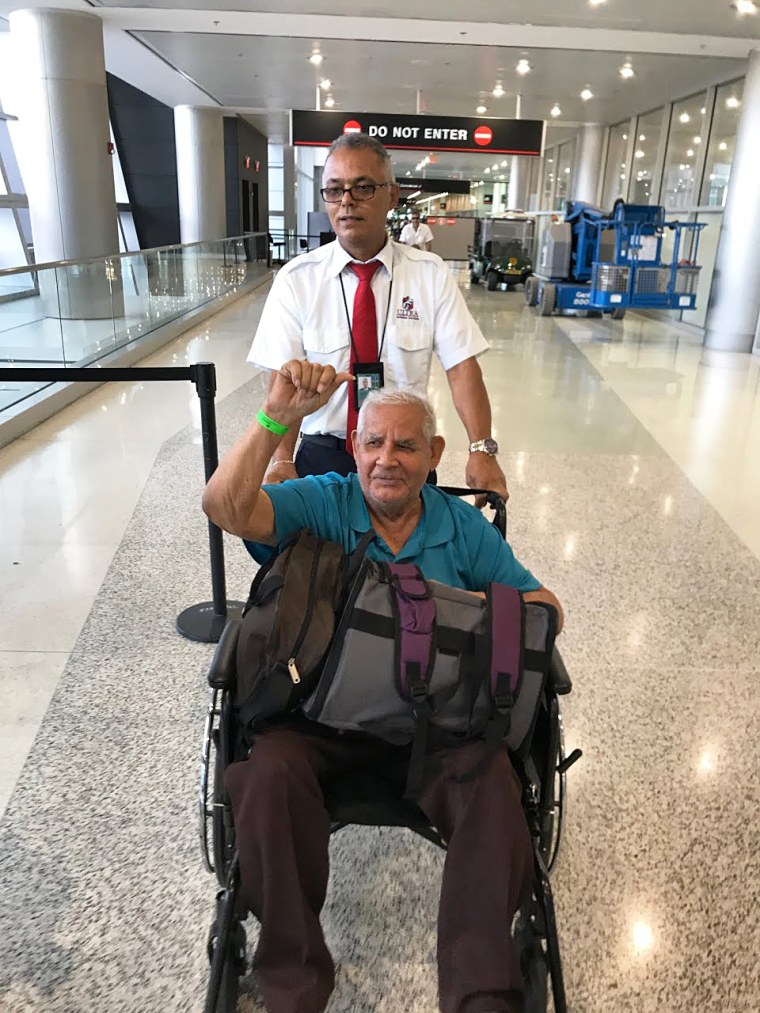 "It was not easy. We tried humanitarian flights, cargo flights, military flights. We were even thinking about getting a chartered flight," Cortes said.
A travel agency managed to book seats on a JetBlue flight. But even planning for the trip from their home in San Juan to the airport was challenging. Because Cortes' father can't walk, he needs a lift to move from the wheelchair to the car.
"I think they are better here. And to be completely honest, I don't think they will be going back," Cortes said.
For Betancourt, evacuating gravely ill patients is particularly gratifying. "It's the best thing I can do," she said.