WASHINGTON — Puerto Rico Gov. Ricardo Rosselló and other island officials are asking Congress for nearly $95 billion in aid to help the island continue to recover from Hurricane Maria, which devastated the U.S. territory and has more than 60 percent of its residents still without electricity nearly two months after the storm. So far, Congress has approved almost $5 billion in aid for the island — largely loans — and island officials say much more is needed.
"We aren't just asking for money. We are asking for what is needed. This disaster has been unprecedented," Jenniffer González, the island's nonvoting representative in Congress, said Monday at a news conference in Washington.
The $94.4 billion request mirrors the amount Rosselló mentioned in a letter to members of Congress last month where he outlined what he said were "independent damage assessments" of the funds needed to restore and rebuild, including housing and the island's infrastructure, in particular its electric grid.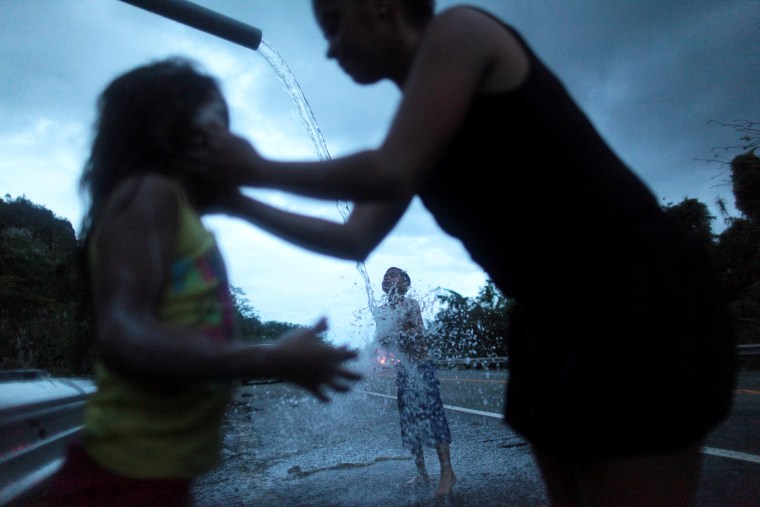 "The longer we stay without energy, the more potential there is for side effects in our health care, business community," Rosselló said at the news conference. "That's why restoring the energy grid is the main priority because so much depends on it."
Island officials are asking that Congress consider several changes to the Stafford Act, which details federal natural disaster assistance for state and local jurisdictions. The Act specifies that critical infrastructure, such as electricity, be restored to its pre-disaster mode, but the Puerto Rico government considers their utility system to be outmoded and want to rebuild it, rather than restore it.
González, along with Rep. José Serrano, D-N.Y., last week introduced a bill that would allow Stafford Act relief funds to be used to construct a ­modernized and more efficient electrical grid.
"This legislation is a necessary modernizing tool that will allow states and localities to update critical energy systems and make them more resilient and efficient by providing them with necessary financial and technical assistance for such an endeavor," Serrano said in a statement. "Puerto Rico has been criticized for having an outdated electrical grid, and this is our opportunity to help them establish a better, more efficient replacement that would help the island face future hurricane seasons as well as save taxpayers money."
RELATED: High-Voltage Lineman Ready to Power Up Puerto Rico, Island of His Parents' Birth
Island lawmakers are also lobbying Congress ahead of a vote on the GOP tax plan — the Senate Finance Committee on Monday began marking up its version — with a particular look at a House proposal that would impose a 20 percent import tax on products manufactured abroad, which would affect Puerto Rico, as the IRS considers the island to be a foreign jurisdiction.
"Puerto Rico is in the unique position of being a U.S. jurisdiction with 3.4 million U.S. citizens, while being considered international for tax purposes. If Congress doesn't make an exception for Puerto Rico and the territories, they will be putting the final nail on the coffin of the Puerto Rican economy," said Federico de Jesús, principal at the Washington-based FDJ Solutions and a former deputy director of the Puerto Rico Federal Affairs Administration, which represents the island government's interests in the mainland U.S.
"For more than a century, goods sold in Puerto Rico to U.S. destinations have been tax free, just like any other domestic jurisdiction. After a devastating hurricane of humanitarian proportions and a decade-long recession, Congress would be shooting itself in the foot by not taking the Puerto Rico case into account in its tax reform legislation," de Jesús told NBC News. "Destroying what's left of the Island's economy will wind up costing Uncle Sam a lot more in the long run."
While island officials were in the nation's capital, a federal judge in New York rejected the island's fiscal control board appointment of Noél Zamot to be the chief transformation officer (CTO) for Puerto Rico's electric company, where he would in effect act as a CEO and oversee the utility's recovery efforts.
Both the Puerto Rico Electric Power Authority (PREPA) and Rosselló were adamantly opposed to Zamot's appointment, and several decried his $350,000 salary as excessive on an island experiencing severe economic woes and for an agency that already has a director. The Puerto Rico Senate last week also rejected Zamot's appointment, which came after a controversy over PREPA's contract with Whitefish, a small Montana-based company, ended with the contract being canceled.
Judge Laura Taylor Swain of U.S. District Court in New York said Monday that under the law that established the control board, it does not have the authority to create positions within entities. The CTO position would have included supervisory powers over the utility's employees — in consultation with the government of Puerto Rico "when appropriate."
Congress continues to investigate the federal and island government response to Hurricane Maria in Puerto Rico — including the Whitefish contract — and Rosselló is expected to be among those testifying Tuesday afternoon before the House Natural Resources Committee.