CATAÑO, Puerto Rico — Parents and students at the Isaac Del Rosario elementary school open house noticed the newly renovated facilities as they filled out school bus transportation forms for their children and met some of the teachers.
"Mami, look at the basketball court! They painted it!" said a little boy as soon as he walked into the school towards a first-grade classroom alongside his mother, while passing by a handful of classrooms that were still being painted and repaired on Friday.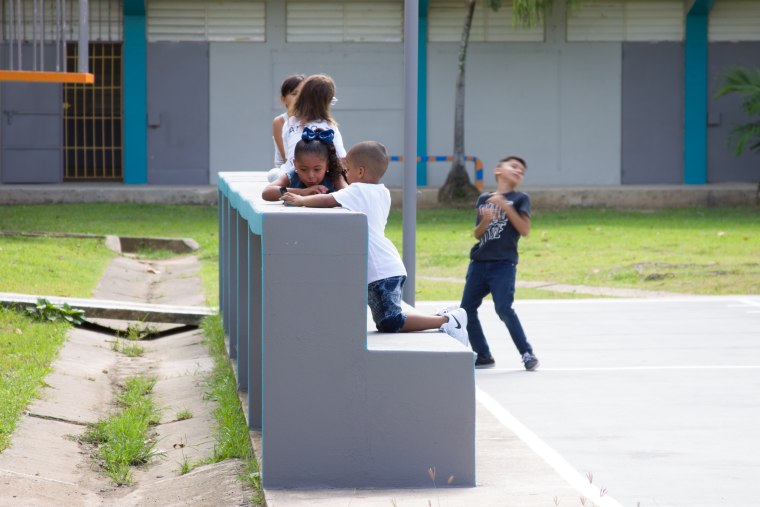 For some people at the kindergarten to fifth-grade school, this felt like a homecoming. For others, it was an opportunity to seek answers before school starts amid marked changes in the island's education system.
These include the closing of 266 public schools and the implementation of new online systems to manage teachers' placements and enroll students — all taking place during the past five months as families still grapple with the ripple effects of devastating Hurricane Maria.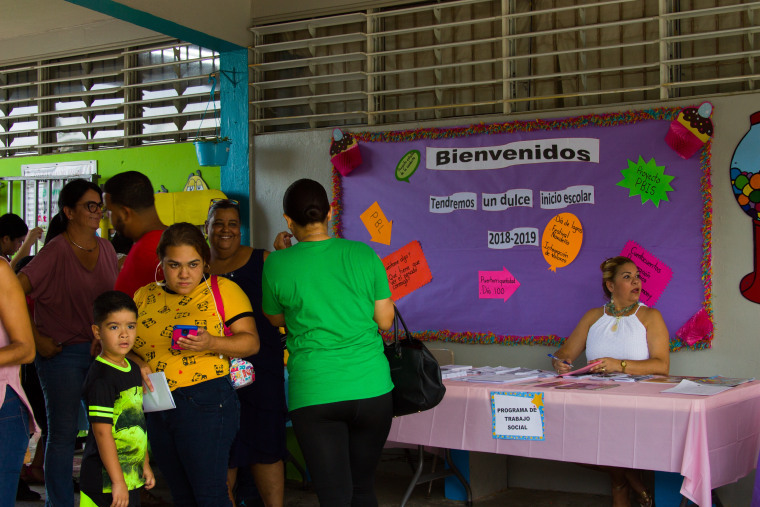 Last year, Del Rosario Elementary had roughly 400 students. After the wave of school closings, they received over 200 new students this semester. Most families at the open house seemed to be grappling with the changes effectively, while other teachers and parents across the island were feeling uncertain.
Officials say the changes — which have stirred controversy — are necessary as the Department of Education deals with a deteriorated infrastructure, a shrinking population and a budget shortfall of $300 million.
"There's a fiscal problem first," Puerto Rico's education secretary Julia Keleher told NBC News. "Transforming the education system from a quality perspective and an academic achievement perspective is hard to separate from the financial and the administrative piece, because that controls what I'm actually able to deliver."
Unlike the mainland U.S., the island's public education system mainly serves low-income communities; the majority of middle-income and upper-income families use parochial or private schools. On average, 70 to 80 percent of the student population at any given school live below the poverty line, according to numbers from the Puerto Rico Institute of Statistics (PRIS). Students under the poverty line are almost three times more likely to drop out of school than a student living in a household above the poverty line.
Roughly half a million Puerto Ricans have left the island in the past 10 years following the crippling financial crisis, resulting in a drop to the student population. In the months after Hurricane Maria, between September and January, schools lost 26,674 students, according to the Department of Education.
However, many are returning. According to the PRIS, 72,000 net passengers came back in the first four months of the year, suggesting the return process has begun for many families who fled the hurricane's aftermath. This includes around 6,000 students who came back to the school, according to Keleher.
Public schools are starting the semester with 305,000 students and 23,000 teachers, according to the Education Department; in 2017, enrollment was at 346,096. Despite Hurricane Maria's effects on student numbers, Keleher said schools had already been seeing a drop of about 20,000 students a year.
Schools grapple with closings, consolidation
Some schools are using trailers, also known as relocatable classrooms, to deal with the influx of new students.
Keleher clarified the trailers are not permanent. In the next weeks the Department of Education will be working with FEMA to determine how to use $142 million from the federal agency "to assess physical plant needs in schools," said Keleher, especially for buildings needing additional construction to accommodate more students.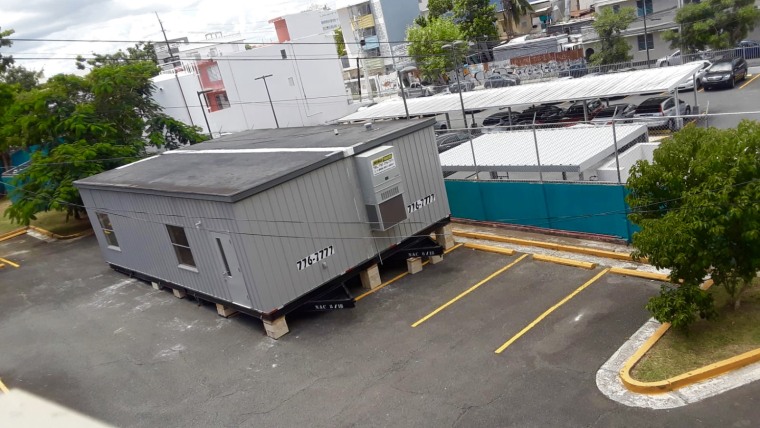 "What am I going to do when these children need to move if they have to do the roof or they have to do the wall or the windows? Am I supposed to wait until we have that problem?" Keleher said, adding they can be used as additional library or teaching space.
About 200 trailers, paid with FEMA funds, are expected to be installed across schools in Puerto Rico. Members of the Puerto Rico Teachers Association, known by their Spanish acronym AMPR, are urging the Department to ensure they comply with safety standards.
"For example, that if the trailer heats up, we have to make sure it doesn't release fuels that could present serious health risks," said Aida Diaz, president of AMPR during a press conference.
For some teachers, back to school equals uncertainty
Wilorys Rivera Alonso is one of 2,700 teachers who had not been assigned to a school as of Friday, according to AMPR. The Education Department put that number at around 800 last week.
"Humiliated, that's how I feel," Rivera Alonso said, drying up tears.
Rivera Alonso is a high school Spanish teacher in the town of Bayamón who has worked at the Department of Education as a transitory teacher for three years. She essentially needs to be hired by the department every single year.
According to AMPR, roughly 128 schools out of nearly 850 operating schools still had teacher vacancies as of Friday.
The confusion over vacancies started after the implementation of a new online tool to assign teachers to classrooms. For years, teachers went to their regional district office and picked their spots from a list of remaining vacant positions only available there.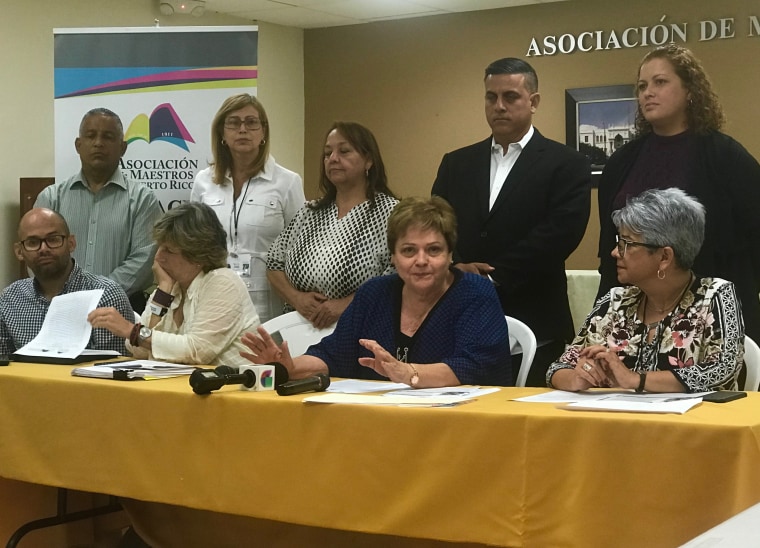 "Whatever you picked that day was going to be your placement for the rest of the school year," said Rivera Alonso.
Keleher said the new online system is part of her plan to transform the island's education system using a data-driven approach to allocate resources and coordinate planning more effectively. Puerto Rico's public school system is about the size of Miami Dade's in Florida or Clark County in Nevada.
"We've never had this kind of system, but we have it now. You can name me any school and I can tell you who's there," Keleher said. "That's normal in most systems."
As part of the new online process, teachers had the option to apply for incentivized retirement. Around 3,500 applied or said they were interested, but not all of them went through with the process. Consequently, the Education Department prepared for such vacancies. But then, many teachers decided to not retire.
"It would have been irresponsible of me to not plan for 3,500 vacancies," Keleher said.
When the teachers' relocation process started, Keleher said no teachers with a permanent position would lose their jobs. However, the same promise was not made to transitory teachers like Rivera Alonso. Therefore, her fate as a public school teacher remains unclear.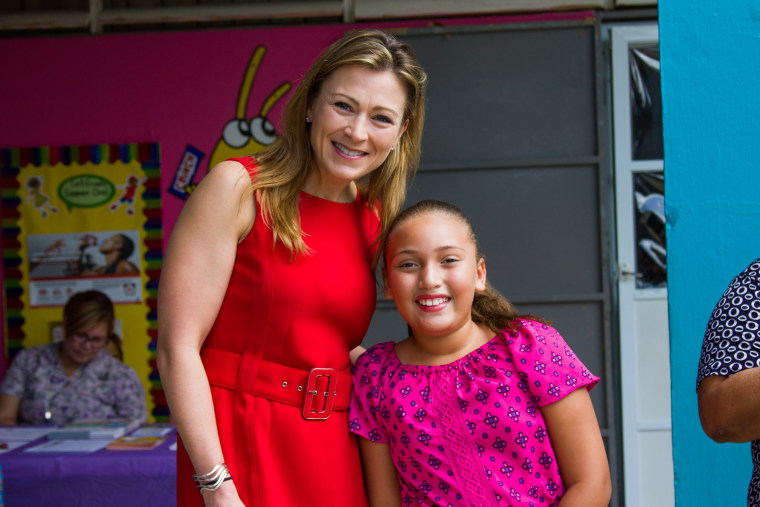 Adjusting to new routine
Yaitza Barez, a mother of two elementary school students, used to walk her kids to Escuela Hato Nuevo located in the town of Gurabo. This commute arrangement was convenient for the family of four who only has one car.
When the Hato Nuevo school was shut down this summer, her children were relocated to S.U. Josefina Sitiriche in the nearby Celadas community, If she walks her kids to school, like she used to, it would take her 43 minutes to get there; driving adds about six more minutes. The family adjusted their commute.
"My husband starts work at 7 in the morning. That means I have to wake my kids earlier, get them ready earlier, so I can leave the house in time to drop my husband at his job and then take the kids to school," Barez told NBC.
According to a map provided by PRIS, additional travel times after school closings range from 20 to 45 minutes — mainly in mountainous towns like Orocovis, Jayuya and Utuado.
Even though the Department of Education offers school bus transportation services for families who request it, Barez feels it's safer to drive her kids; she's worried about safety issues in the new school's community.
"Right now, I don't have a lot of choices, but I'm considering homeschooling my kids if necessary," Barez said.
Yarisel Lozano, a former social worker and the director of the after school program Apoyo Empresarial in the community of Península de Cantera in San Juan, raised similar concerns.
Lozano pointed out that "a certain animosity" has historically existed between some neighborhoods in that part of San Juan. She said it's always a cause for concern when children have to go into each other's communities to attend school.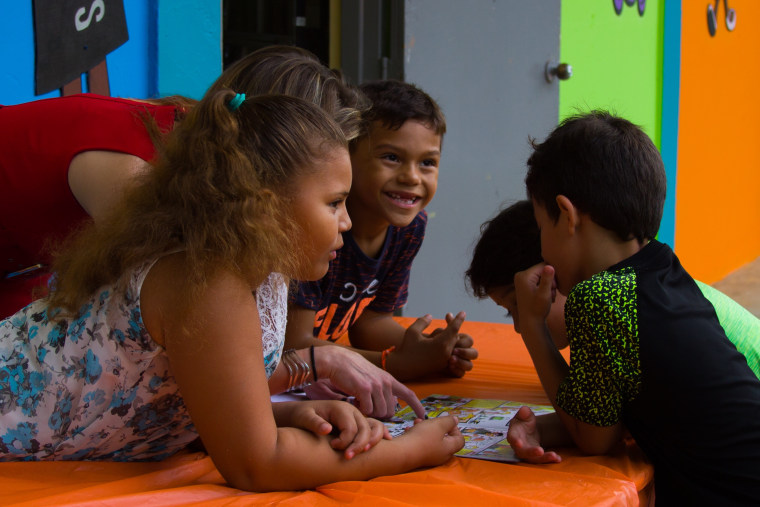 Amid debate, a need for change
While educators, officials at the Education Department and critics disagree on the best ways to improve Puerto Rico's education system, they agree it has been failing students for years.
In a recent report, the New York Federal Reserve Bank recommended that Puerto Rico reinvent its education system as a mechanism to boost economic development. "Over the last several decades, there is a growing concern that the quality of its education system has deteriorated in recent years, particularly at the primary and secondary levels," the report stated.
Keleher said some of her next steps are going to focus on addressing some of the recommendations from the Fed report and creating a curriculum that responds to the needs of the labor market.
As part of the island's education changes, officials are moving forward with a plan to open several charter schools, a move that has generated debate and discussion. The Puerto Rico chapter of Boys and Girls Club will be operating the island's first charter school starting on Aug. 20.