SAN JUAN, Puerto Rico - Puerto Rico's Governor Ricardo Rossello on Monday pressed proposals for privatizing the U.S. commonwealth's shattered electrical grid as part of its painstaking recovery from devastating September hurricanes.
Rossello used his State of the State speech to say that he had introduced an energy reform bill on Monday, while outlining ideas for cutting taxes, increasing police pay and introducing education reforms.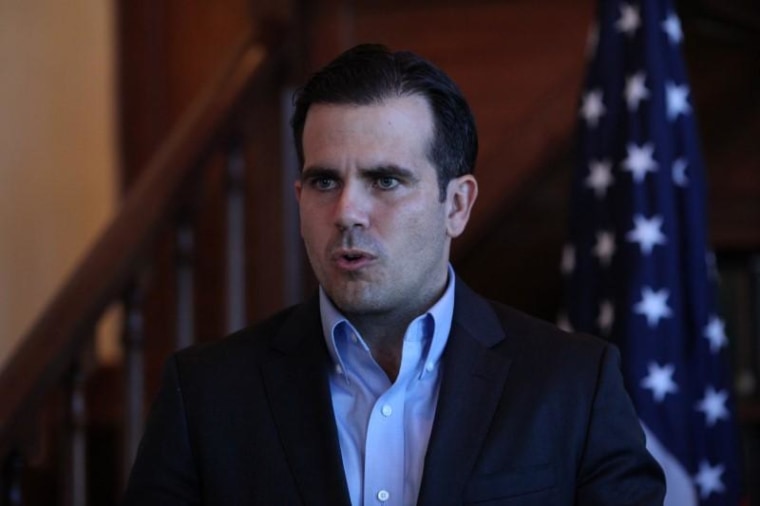 Hurricanes Maria and Irma killed dozens of people and caused an estimated $100 billion in damage to a recession-bound economy in which more than 45 percent of its 3.4 million U.S. citizens live in poverty.
Rossello also repeated his call for the federal government to stop treating Puerto Ricans as "second-class U.S. citizens" in terms of disaster relief.
"Disaster response should not be based on the notion of being Republican or Democrat, but rather on the equal treatment and aid to U.S. citizens," Rossello said, while recognizing support from New York Governor Andrew Cuomo, a Democrat, and Florida Governor Rick Scott, a Republican, who was in Puerto Rico and attended the event.
RELATED: Why does restoring full power in Puerto Rico seem like a never-ending task?
In January, Rossello announced his intention to sell off the Puerto Rico Electric Power Authority's power generation assets, and said it could take about 18 months to complete.
On Monday he said the energy reform bill would "define the process" for privatized and public-private partnerships (P3s). These so-called P3 projects would shift development costs onto the private sector, and in return typically would be paid fees from government to manage a property.
Hurricane Maria took out the island's power. More than 5 months later, 12.5 percent, or 185,200, of customers, do not have electricity, according to the latest data from the U.S. Department of Energy.
The goal is to reduce Puerto Rico's high energy costs to less than 20 cents per kilowatt hour (kWh). A year ago, PREPA, Puerto Rico's electric utility, was instructed by the federally appointed Financial Oversight and Management Board to achieve customer rates no higher than 21 cents per kWh by 2023.
Under a 2016 federal Puerto Rico rescue law known as PROMESA, the board was given the authority to push Puerto Rico into a court-supervised restructuring akin to U.S. bankruptcy, which it did in May as it reeled under $120 billion in combined bond and pension debt.
RELATED: Anger grows and hope fades as Puerto Rico's ground zero remains without power
The board extended the deadline for certifying the government's revised fiscal plan to March 30, which Rossello said "should be approved within the next weeks."
"This plan cannot be merely fiscal; it needs to be transformative and include the aspirations of our people," he said.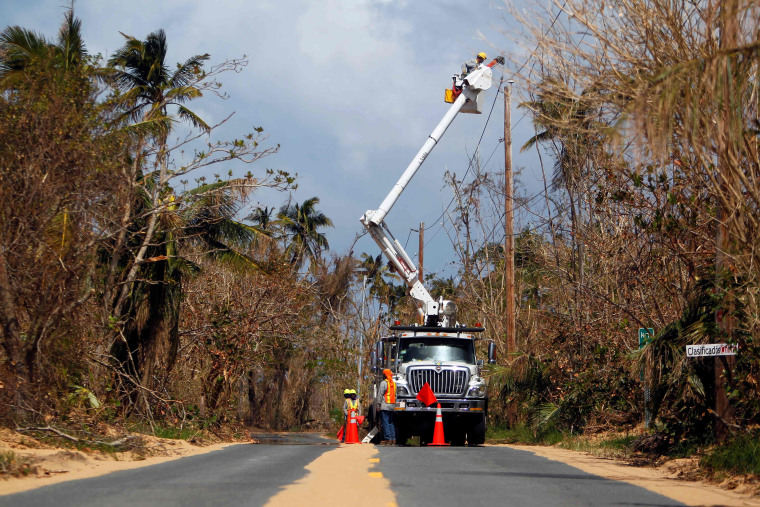 His plan calls for using $18 billion in additional funding from the U.S. federal budget to turn a deficit into a surplus of $3.4 billion within six years.
While Rossello has focused on cutting spending by reorganizing and reducing the size of the government, he is advocating more resources for police including a salary increase of $1,500 per officer, and higher pay for teachers.
Rosello also vowed once again to cut income taxes for individuals and businesses, and reduce sales tax on prepared food. Once completed, individual taxpayers could see savings from $450 to $950 a year, the governor projected.