More than five months after Hurricanes Irma and Maria knocked out power to Marisol Rodriguez's home in San Juan, Puerto Rico, the lights finally came back on Friday.
"I started to cry," she said.
On Sunday afternoon, her jubilant neighborhood, Cupey, made a feast of traditional dishes — rice and beans, roast pork, potato salad — for the electrical brigade workers who had been restoring power to the area. "It was a great time," Rodriguez said.
By 9 p.m., the power was out again.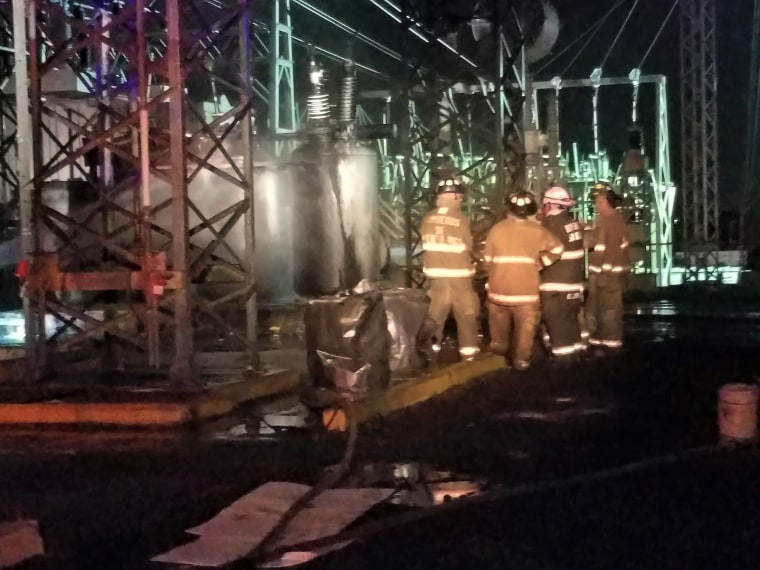 An explosion and a fire at an electrical substation on Sunday night knocked out power to parts of San Juan as well as several other northern municipalities in the metro area, utility officials said. The latest blackout highlighted how fragile the island's electrical system remains as the U.S. territory has struggled to recover from the Category 4 and 5 hurricanes that essentially wiped out power to the whole island.
Related: Puerto Ricans fix their town's power grid with their bare hands
By Monday, electricity had been restored to "a majority" of the customers who were affected by Sunday's outage, according to the Puerto Rico Electric Power Authority (PREPA). Power had returned to Puerto Rico's largest public hospital and its main international airport, according to The Associated Press.
"At the moment, most of the clients that were affected by this event already have electricity service and we are working to restore the service as soon as possible to the remaining clients in the sectors of Trujillo Alto and Cupey," Justo González Torres, PREPA's executive director, said in a statement Monday.
Photos posted to PREPA's Twitter account showed charred equipment where a switch exploded at the substation in Monacillo.
"We started a damage assessment process to see what failed," González said in the statement. "We understand that it could have been a mechanical failure within the system. We have to look at the lines that arrive at the Monacillo Transmission Center and check the substations that were affected."
More than 75 percent of customers, or more than 1.1 million people, now have their electricity restored, PREPA said.
But that leaves more than 400,000 PREPA customers still without power nearly five months after Hurricane Maria made landfall.
Recovery efforts have been marred by the island's outdated power grid, a lack of supplies and a controversial contract that was later canceled.
Related: Puerto Rico to privatize its hobbled electric power company
The indebted power authority "has a long history of sloppy management and a lack of transparency," which has created a lot of distrust in Puerto Rico, said Cecille Blondet, the executive director of Espacios Abiertos, or Open Spaces, an advocacy group that is calling for more transparency in the Puerto Rican government.
"It's obvious the fragility of the system continues and that we're not back to where we were," she said. "Even the people that have no power, they have no certainty whether that power is going to continue to be supplied or not."
Rodriguez said the anger and anxiety of the last few months returned when the power went out again on Sunday.
"It was frustrating," she said. "They didn't let me get used to having light."
Although her family used a generator after the storm for a few hours each day, she said "you never get used to" living without electricity for that long. Rodriguez's home had its power restored again early Monday, but she said she was worried that she would have to continue to deal with outages.
"You are always with uncertainty," she said.
Related: No power and growing anger at ground zero in Puerto Rico
Last month, Puerto Rico Gov. Ricardo Rosselló announced that he would privatize the island's electrical authority, painting a bleak picture of PREPA, which owes some $9 billion.
"What we know today as the Electric Power Authority does not work and cannot continue to operate like this," he said. The system is 28 years older than the average electrical utility in the U.S., Rosselló added in a televised speech.
Blondet said privatization in itself would not be a quick solution for the people of Puerto Rico, and her organization was concerned about competing interests involved in the process.
"We don't see a solution in the near future for this situation," she said.
"The blackout last night once again left us in the dark, not only because we had no power but because we had little information as to what was happening," she said. "Even people with power now, we continue to be in the dark."